This Messy Bun Beanie Design is worked in simple stitches from the top down, with a hair elastic built in for support!
Messy bun beanies seem to be a trend that is here to stay for awhile. The convenience of putting your hair right through the top of the hat (and the cuteness of having your own bun work as a "pom" for the top of the hat) has made this original idea become a staple for women all over. Today's project is an easy messy bun hat crochet pattern for several different sizes. With this design, you can quickly make messy bun/ponytail beanies for many of the girls and ladies in your family!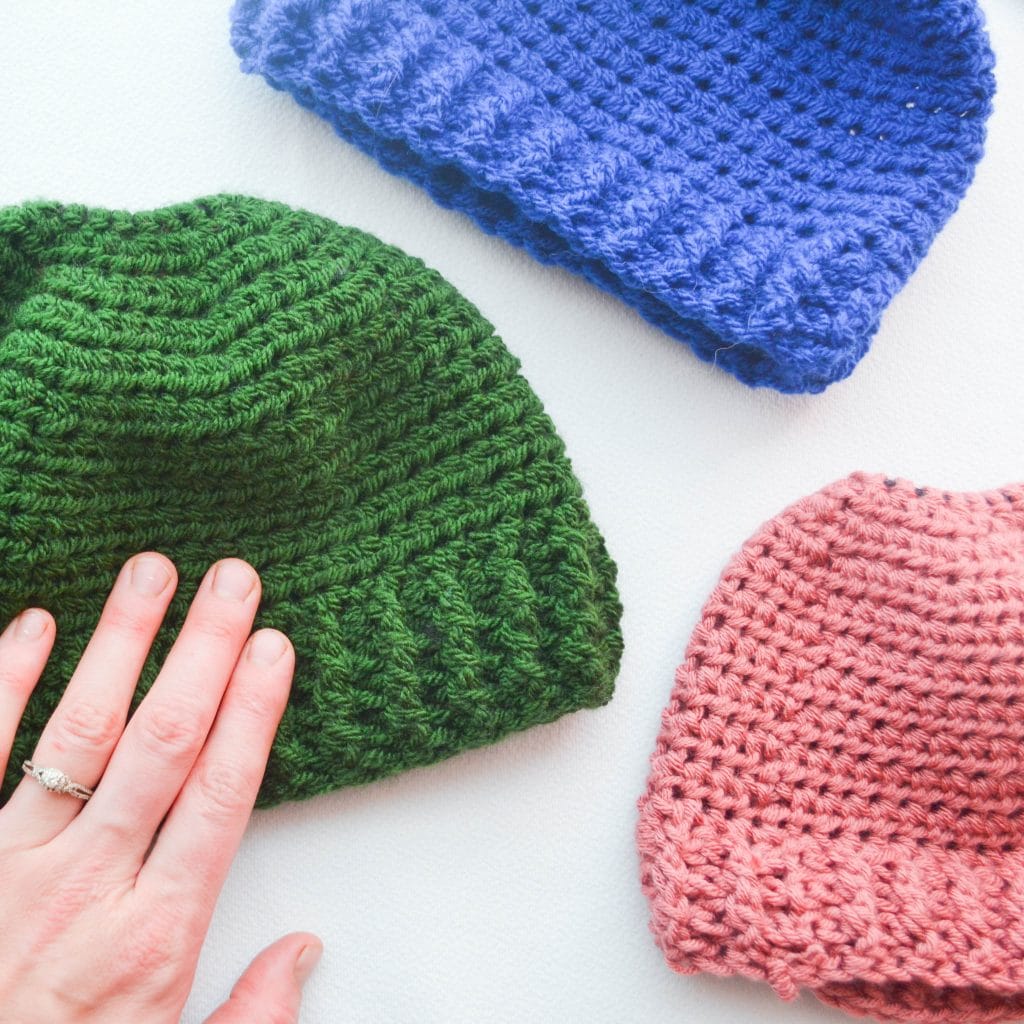 Want a few popular patterns as free PDFs?
(Note: This post contains affiliate links, meaning that if you make a purchase it may benefit me at no extra cost to you. You can read all of my affiliate disclosures and other disclaimers on the disclaimers page. )
About The 1 Hour Messy Bun Crochet Beanie
This Beanie happens to be one of the designs published as part of the 2020 Crochet Spree. If you happen to be discovering it while the Spree is still going from November 27th to December 24th, 2020, be sure to enter the giveaway below! You can also see more details about the spree on this page.
Gauge
The gauge of this project is
The gauge for this project is 12sts and 9 rows of hdc per 4" square.
Sizing
As of right now, the 1 Hour messy bun beanie is available in three sizes: child small, child large, and adult small. It works very well as a child's messy bun hat crochet pattern, as well as for adults.
For all of the sizes, this messy bun hat has been designed for having the hair gathered right at the crown of the head, and for the hat brim to just cover the ears. Having a shorter hat length makes this beanie work up quicker, and makes it less likely that the edge of the hat will be at an awkward place that is uncomfortably close to the eyes.
With this in mind, any of the following sizes can be altered with extra rows (after the increases are done) to create a longer messy bun beanie. This is a good option if you think that the ears need a bit more coverage for the specific person you are crocheting for. It is also an easy change to make if you want to create a folded hat brim.
(By the way, if you like the beanie versions with the bows on them, be sure to keep following this Crochet Spree series!)
The child small is suitable for head sizes that measure about 18-20" around. In my own experience, this seems to often be children in the 2-4 year old range.
The child large is for head sizes that measure closer to 19-21". Most 5-10 year olds that have tried this on so far fit in this size.
And finally, the adult small is the size that will fit many adult women. It suits head sizes 20-22", and is also a great option for teens. If you scroll down to the pattern directions, this is the size that is included. You can also get ALL the sizes in a convenient download by joining the Crochet Makers Vault .
Materials Needed
To make one of these crochet bun beanies, you'll need the following:
70-80 yards of aran weight yarn.
H/5.00mm hook
A strong hair elastic
For every size of this beanie, I the very generic, black hair elastics that are made for adults. These are nice and strong, and widely available. Whatever types of elastics you choose, make sure to give it a nice stretch before starting, to test that it won't snap easily.
SKill Level
Even with adding a hair elastic into the mix, this design is easily a beginner-level pattern. The main stitches used are single crochet and half double crochet. Front and back post stitches are also used for the bottom ribbing, but the whole hat is done in one piece.
Does this messy bun beanie really take 1 hour to crochet?
Whenever I see a claim that something can be crocheted in such a short time- 5 minutes, 30 minutes, 1 hour, etc.- I always wonder if it's true. So, let me just give a few notes behind the claim that this is a "1-hour" pattern:
Each person's individual crocheting speed is, obviously, going to make a difference in how quickly this design works up. If you know that you tend to go a little slower, or if you are very much a beginner, than this bun beanie may take longer than 60 minutes. However, you don't need to go super fast to make that happen.
Secondly, what will make this beanie go more quickly is being familiar with the pattern. Making multiple beanies with this pattern will mean that on average, each one takes less and less time to make. Crocheting the very first one can easily take a little longer as you look at the pattern for each step.
And finally, sizing is going to affect the actual total time you might spend on one of these hats. A child small will go more quickly than the adult size, and adding extra rows will mean the beanie takes a little longer. Hopefully, these notes give you a good idea of exactly how quick this project can be for you!
Directions
To create your own messy bun beanie in the adult size small(head size 21-23″), here's what to do:
Round 1: Sc 20 around your hair elastic. Ss to close. (20 total sts)

Round 2: ch2(does not count as a stitch) , hdc, hdc2 in one repeat for the entire round. ss in to
your first hdc stitch to close. (30sts)

Round 3: ch2, hdc2, hdc2 in one repeat for the entire round. ss in to your first hdc stitch to close.
(40sts)

Round 4: ch2, hdc3, hdc2 in one repeat for the entire round. ss in to your first hdc stitch to close.
(50sts)

Round 5: ch2, hdc4, hdc2 in one repeat for the entire round. ss in to your first hdc stitch to close.
(60 sts)

For the next 7 rounds: ch2, hdc in every stitch, ss to close.

Ribbing rounds:
For the last 4 rounds: ch2, FPdc, BPdc repeat for the entire round, ss to close. Your FP
and BP stitches should line up in all the rounds to create a nice ribbing edge.

Bind off your yarn, weave in your ends, and you're done!
Pattern Download
For more details, you can check out the Vault page here.
And, if you just like the types of patterns you are seeing here, be sure to get on our list to be notified about new projects here at Amelia Makes. Not only will you receive weekly encouragement and crochet-related news, but you'll also get a few of my most popular patterns for FREE as a nice bonus.
Keep the Crafting Delightful!
Amelia
The 1 Hour Messy Bun Beanie is a quick and easy pattern for a crochet bun beanie in multiple sizes
You might also like:
Don't Forget to Pin this for Later!