This handful of Easy Crochet Patterns are made with simple, straight rows and create home accents that are both Pretty and Useful.
While there are unlimited options of projects to crochet for the home, sometimes it can feel intimidating. Many times making a home décor project or even something practical to use means that your work will potentially be on display, and it is natural to want to do a good job. Here, I've gathered just 5 projects for the home that you can use to get comfortable with this area of crochet. Plus, they work wonderfully as starting points for your own creativity!
Get your own copy of 101 Crochet Ideas
The following projects are arranged from quickest to longest, based on my own experience. Below each project idea, there is a link to the post for that pattern where you can get each pattern. For those who still feel new to crocheting or just want something easy to work on, check them out as some examples of straight-edged crochet patterns for the home:
1. Contrast Coasters
First off in our list of home projects are these very modern looking coasters. My examples are done in stark black and white and I do think strong contrast go well with this design. However, any combination of two or even more colors would be worth a try for this project.
Done in the Griddle Stitch(Link), these coasters have a somewhat raised texture and the stitches create a slight zigzag stitch when the colors change.
2. Straightforward Soap Sack
The Straightforward Soap Sack is meant to be a very beginner-level pattern that is done in a single piece. With just one stitch, it is extremely quick even with weaving in a cord for closing and hanging it. It fits most standard soap bars that are sold in stores.
3. Trevi Washcloth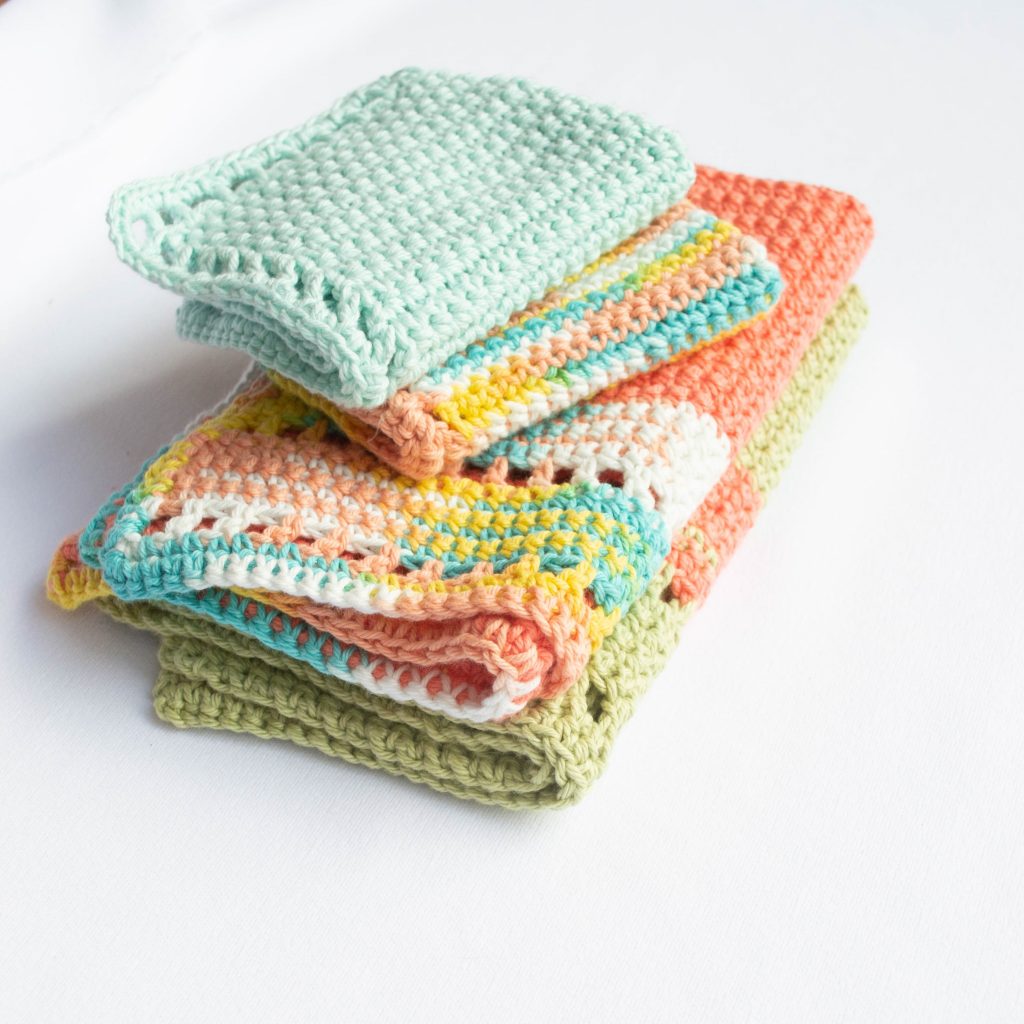 Middle of this list is the Trevi Washcloth(shown here with the matching towel pattern, which is next on the list). This is my washcloth design that is made to be very solid and durable. While the body of the washcloth is made solely in single crochet, a simple lace edging around the edge adds just a little bit of interest. This washcloth also matches the Trevi Towel below.
4. Trevi Towel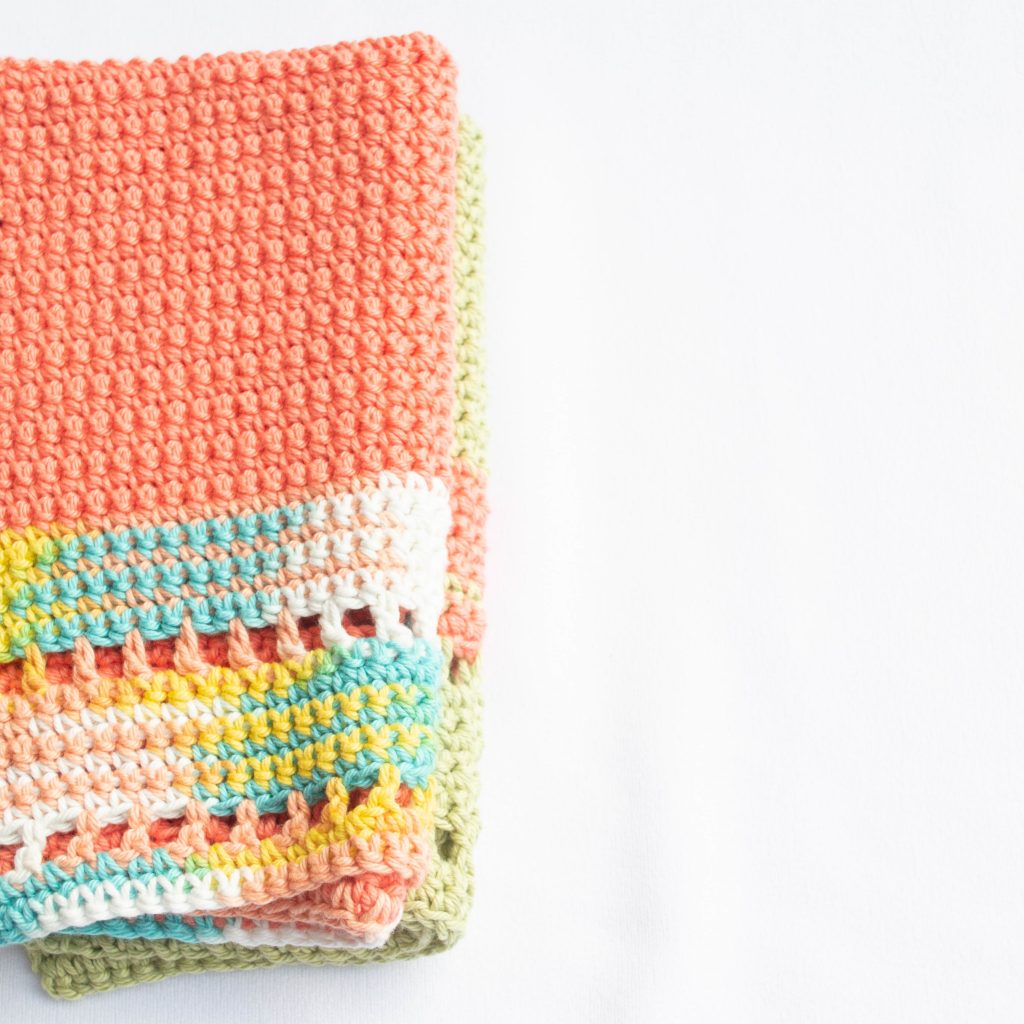 Made in a very similar way as the Trevi Washcloth, the Trevi Towel is also made with a solid construction and easy lace accents. Other than just being larger, the main difference is just that the eyelet lace in the Trevi Towel is done in rows rather than added later. This is my own go-to pattern for a simple and durable kitchen or bath towel.
5. Colorful Envelope Pillow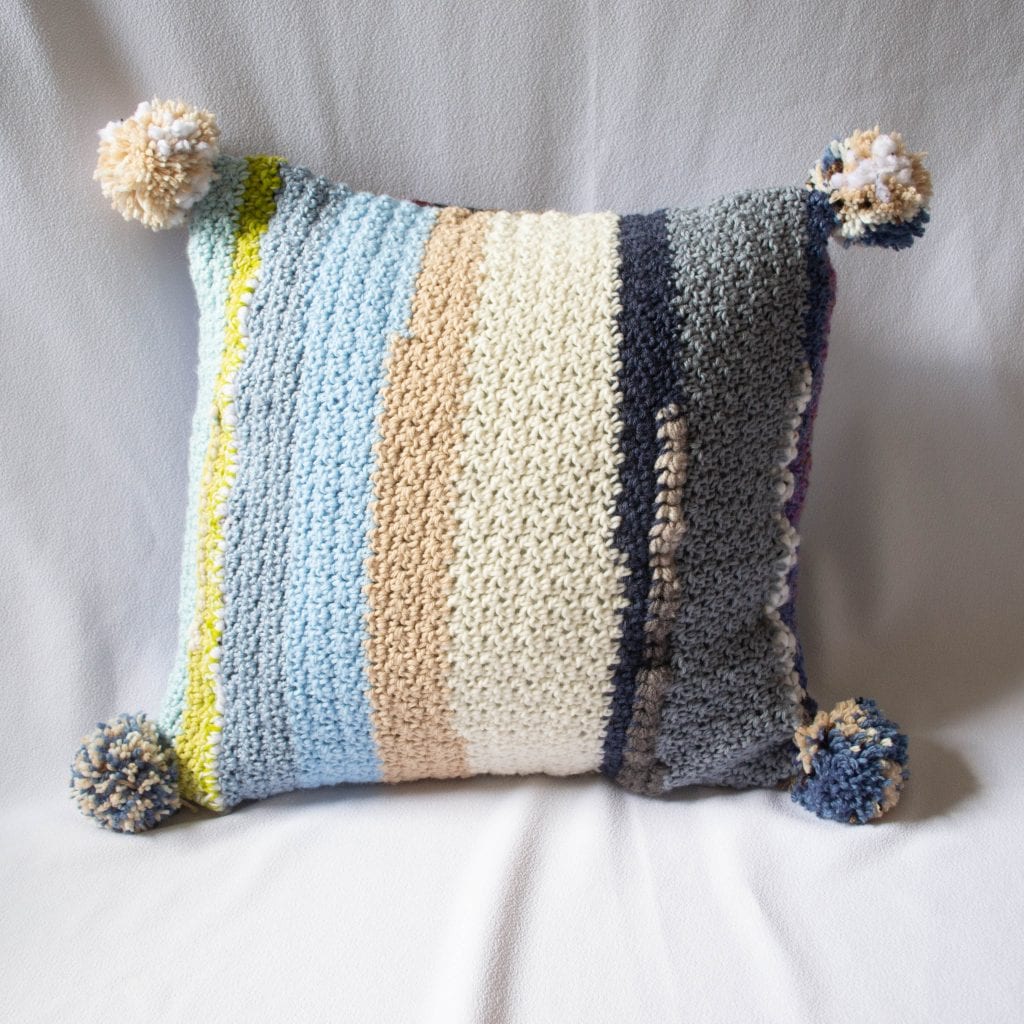 And finally, the last project in this round up is the Envelope Pillow. As a technique, the envelope pillow can be made for pretty much any size of pillow form. It's a great way to make your own pillow covers because the design doesn't require any zippers, buttons, or other closures.
The pillow picture you see here is available as a pattern in my Crochet Maker's Vault, but if you go to the post on envelope pillows you can learn more about the steps needed to make this kind of pillow cover, no matter what size you want to create.
Learn more about making envelope pillows
Final Thoughts
I hope these ideas get you excited about making something for your home! While some are larger than others, they are all simple in their construction and easy to customize as your confidence increases.
If you would like to be notified about new projects and tutorials here at Amelia Makes, be sure to sign up for my emails! As a bonus, I will send you my list of 101 crochet ideas right away as a free download.
Crocheting for your own home does not have to mean a large or complicated project. These five patterns are all done with easy rows and no shaping at all.