This crochet necklace project is a great design to try if you are new to beaded crochet, or just want something simple and striking.
If you haven't tried adding beads to your crochet work yet, it can seem a bit intimidating. Maybe it's because beads are a completely opposite material to work with when you're used to soft, pliable yarn. Or, maybe it's just because beads seem "fancier". Either way, using beads is not something that most crocheters try right away, which is why I'm excited to share today's beaded necklace project.
This necklace has a very simple concept. As long as the beads you choose can be threaded on your crochet thread/cord, you can use whatever types and colors of beads that you desire!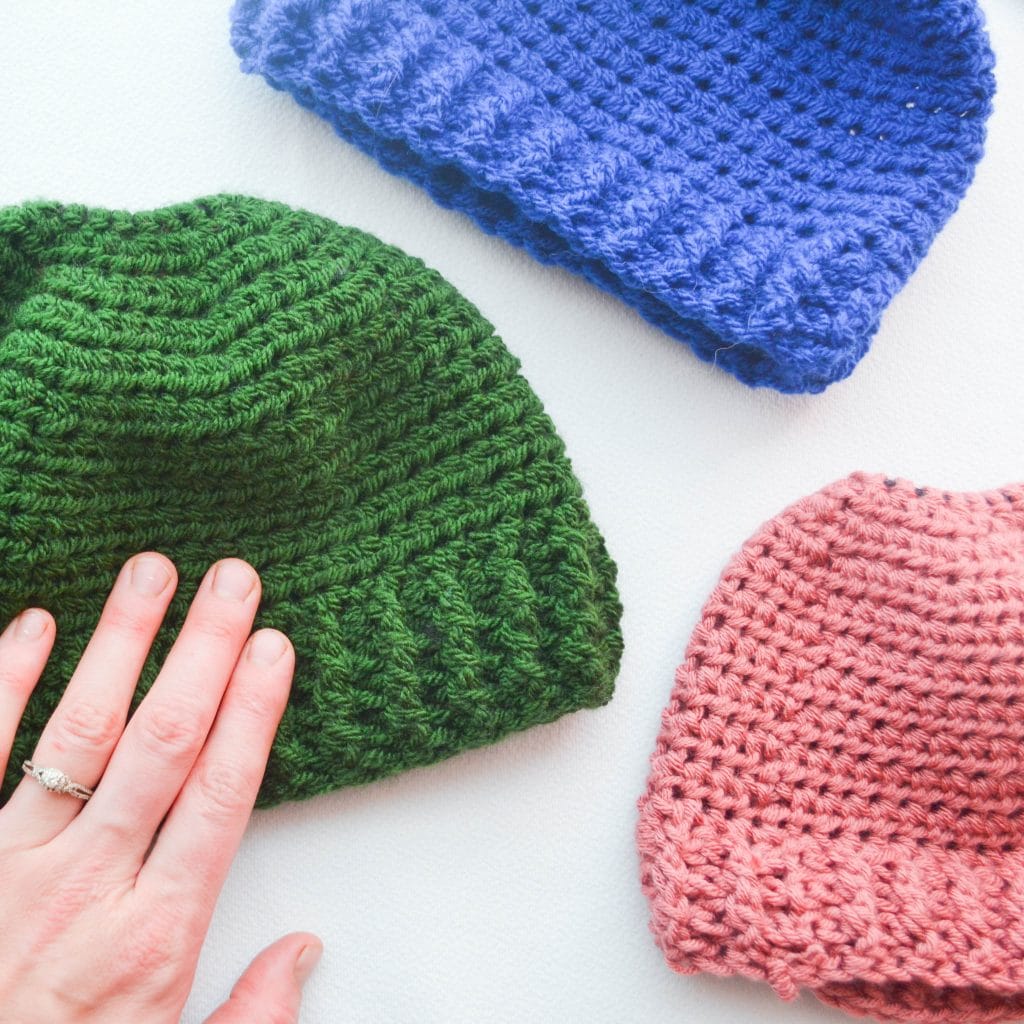 Want a few popular patterns as free PDFs?
About The Multicolored Crochet Necklace
As you can probably see just from looking at the pictures, this necklace design is extremely versatile. The final result of each project will mostly depend on what beads you choose to use and what sort of spacing/arrangement you settle on.
This means that crocheting this necklace can suit many different tastes. The lengths can even be different depending on what sort of look you are going for.
However, I must give the disclosure that this design should probably not be worn by children. Since the finished necklace is very adjustable and the finished product can vary so widely, it seems best that it be worn by adults and not given to young children. Please use your best judgement.
Sizing
As mentioned above, necklaces made with the instructions I've put together can vary in length. My own version as it's pictured is over 7 feet long. If you choose to download the pdf for this project, the specifics of exactly how I chose to space my beads to get that length are clearly spelled out, so that you can adjust things to get the results you want, or do it the exact same way!
Since this is such a long necklace, it can be looped multiple ways around the neck to go with lots of different outfits. It can also be worn as a bracelet or even as a belt!
Materials Needed
To crochet a necklace similar to mine, you'll need the following:
F5/3.75mm hook
About 10 yards of thin cord or crochet thread.
24″ of strung beads
Scissors
Now, even for the necklace you see pictured, I didn't quite use a full 24" of beads. However, having this many on hand should give you plenty of beads to "play with" while making your own design.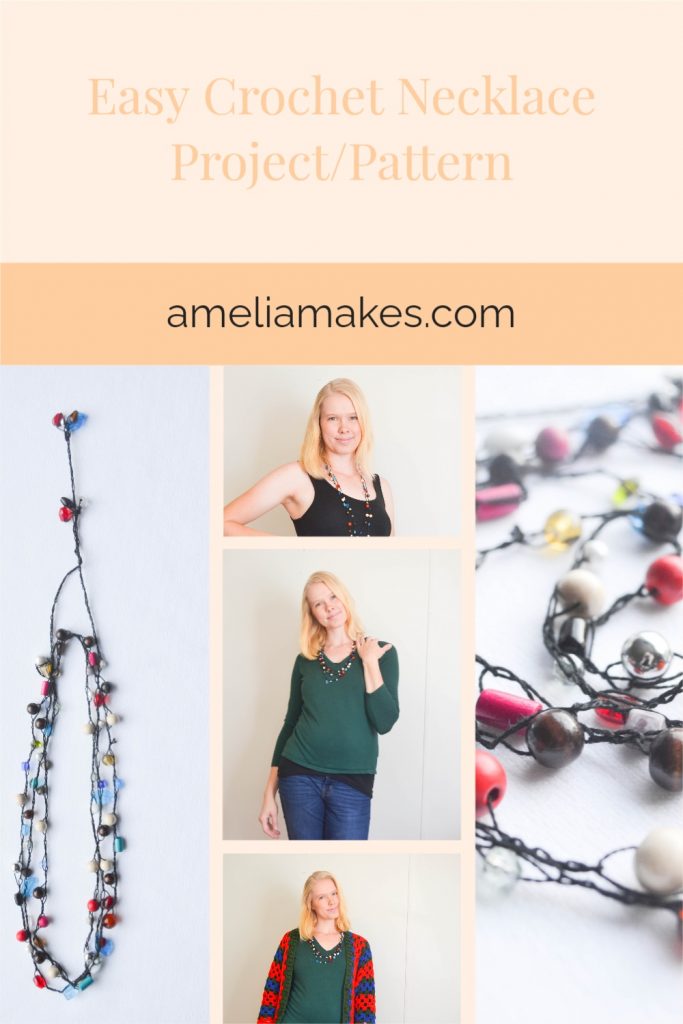 SKill Level
This is easily a beginner project! In fact, even if you haven't been crocheting very long, you can make this. The only stitches required are chain stitches and knowing how to slip stitch. Weaving in ends is not even a factor, so have lots of fun and enjoy the novelty of using beads in your crochet.
Free Pattern Directions
Below, you can find the basic directions for how to make this necklace using pretty much any type of beads and whatever type of cord/yarn will work with those beads. For the pdf download of this patterns(as well as ALL my pattterns) check out the Crochet Makers Community.
1) string all 24″ of your beads onto your chord. If you want specific beads to be in the cluster that begins and ends the necklace, string them on accordingly.
2) Make a few tight ch sts to get started. Ch1 loosely around your first bead: The trick is to pull your last stitch out long enough that this ch gets worked at the end of the bead, and not somewhere along the side.
3) Ch1, continue adding any other beads that you want in the grouping at the end of your necklace, putting ch sts in between them. (I did 3). Once you are done adding beads for this step, ss in the space before your first bead. This will cause the beads to cluster up.
4) work ch sts for 4-5″ without adding any beads.
5) Simply start adding beads(using the same technique as you havebeen, with loose ch sts), chaining as few or asmany sts in between as you prefer. My example uses 3 ch sts/ about 1/2″ in between each bead, not counting the sts that go around each bead
6) When finished adding most of your beads, ch 4-5″ again. Finish by adding your last cluster, and trimming the ends of your cord.
Final Thoughts
If you'd like to see more crochet pieces like this, be sure to sign up for emails. Each week I send out new projects, crochet tips and tutorials, behind-the-scenes info, and other resources for my readers. Plus, as a bonus for signing up you'll immediately get the current free pattern bundle with downloadable pdfs.
To make sure you can get ALL my patterns(including the Thankfulness Cardigan) be sure to check out the Makers' Crochet Vault .
This is where members can download unlimited pdfs, browse organized tutorials for certain projects, and reach out to me for any priority support you need.
you can get more information and enroll here.
Keep the Crafting Delightful!
Amelia
While crocheting jewelry and using beads can seem intimidating, this beaded project makes it as simple as possible and results in a beautiful statement necklace.
You might also like:
PS-don't forget to pin this for later!