If you're looking for a unique crochet stitch that offers a lot of texture, the beautiful boxed bead crochet stitch is a great choice
Have you ever seen a crochet stitch and been totally awe-struck by its beauty? Well, the boxed bead stitch is one of those stitches. Once you learn how to make it, you'll be able to add amazing texture and interest to your projects. This tutorial will show you step-by-step how to crochet the boxed bead stitch.
What's so cool about the boxed bead stitch is how neat it looks-after a few repeats of the pattern the stitches resemble perfectly stacked beads. It's also a fairly dense stitch, ideal for more substantial items like blankets or impressive sweaters and accessories.
The stitch is made up of a few basic crochet stitches as well as two that are a little less common. Don't worry though-below you can see these two stitches and learn them along the way to crocheting the boxed bead stitch pattern.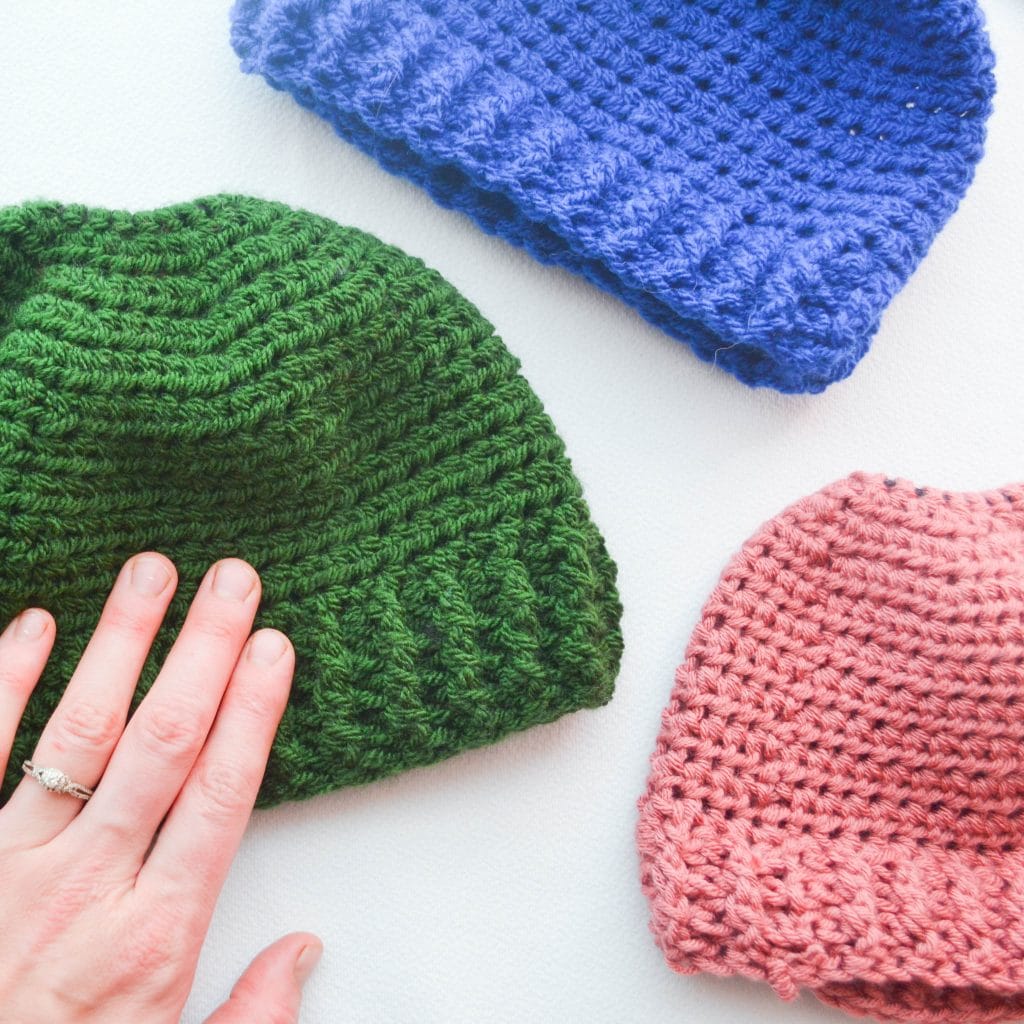 Want a few popular patterns as free PDFs?
Grab your supplies and let's work on crocheting this lovely stitch together:
Getting Started with the Boxed Bead Stitch
If you're interested in learning how to crochet, there are a few things you'll need to get started.
First, you'll need easy to use yarn in a color of your choice. I recommend that beginner crocheters use a medium weight yarn in one solid color, and this is also helpful advice for learning a new stitch-especially a stitch pattern like this where being able to see your stitches will be important. Yarn that is too fine would make learning the boxed bead stitch unnecessarily difficult, and using very thick yarn can create beautiful results with this stitch, but is probably better saved for later because for most people it will be a bit harder on the hands.
And even though it's probably obvious, I'll also point out that you do want fairly smooth yarn for this stitch. A wool with a little bit of roughness to it is perfectly fine, but stay away from overly fluffy or textured yarns for this one. The boxed bead stitch will certainly be eye-catching enough anyway.
In addition to some suitable yarn, you'll also need a medium sized hook(whatever size works best with your yarn of course). Anything too small or large will be difficult to work with. To make my textured pumpkins using the boxed stitch, I used a H/5.00mm hook along with some aran weight yarn.
Once you have these supplies, you're ready to start learning!
The Boxed Bead Stitch Step-By-Step
The basic stitches used in the boxed bead stitch are chain stitches(ch), single crochet stitches(sc) and double crochet stitches(dc). These are all pretty common, but if you are a beginner wanting to learn how to do the boxed bead stitch, make sure you are confident with these before going any farther.
There are also two less common stitches used. The extended single crochet stitch is made by starting a single crochet, but adding another chain stitch in the middle of it before closing the stitch. Trust me, it's not as confusing as it sounds. The result is a smooth knit-like stitch that creates the sides of the "boxes" in our boxed bead stitch.
The other less common crochet stitch you will encounter is the slanted cluster stitch. This is done by first crocheting a double crochet stitch, and then wrapping the yarn around it several times. Each one of the "beads" in our boxed bead stitch is made with a slanted cluster stitch.
Written Directions
The only other abbreviation that you need to know here is simply yo, which stands for yarn over. All together, the written directions for the entire stitch pattern look like this:
Ch25
Row 1: Skip a ch and sc into the second ch from the hook. Sc, esc. *sc2, esc*. Repeat for the rest of the row. Ch2 and turn (24sts)
Row 2: Skip the esc from the previous row.
*In the next stitch(which should be a single crochet), work a dc and then work a slanting cluster stitch around it[(yo, bring hook around and under the dc, working between the dc and the previous stitch, yo again and bring the hook back to the front of the work. Repeat 2x.) yo again and draw that loop through 6 loops on your hook. yo once more and draw the yarn through the last remaining 2 loops to complete the slanting cluster]. Skip a stitch and work an esc into the next esc from the previous row.*
Repeat across the row, finishing with an esc worked into the end of the row. Ch2 and turn.
Row 3: Skip the esc from the previous row. *Sc2, esc into the next esc from the previous
row* Repeat across the row, finishing with an esc worked into the end of the row. Ch2 and turn.
Repeat rows 2-3.
Doesn't it come out beautifully? After doing a few repeats, your work will have that nice effect of having all the slanted cluster stitches line up neatly.
Video Tutorial for the Boxed Bead Stitch
Follow along with this video to make learning this stitch pattern a lot easier. And, if you would like access to another tutorial where I show you how I work this stich in multiple colors, be sure to check out my Crochet Makers Vault Membership.
Making Adjustments
If you're working on a crochet project and you need to adjust the size, there are a few things you can do. First, you can change the size of your yarn and hook. This will affect the gauge of your stitches, so it's important to keep that in mind.
You can also try experimenting with different colors. Within the Crochet Makers Vault, I also have a exclusive video for members about how I change between colors with this stitch in certain places and avoid cutting the yarn. However, just doing each row in a different color will create a beautiful result.
If you're using a light-colored yarn, trying a color combination that includes a dark color can help to make your stitches pop. Finally, considering how this denser stitch will work for you in different projects. If you're working on a garment, for example, you might want to use a slightly larger hook so that your stitches don't pull too tight. These are just a few things to keep in mind when adjusting the size of your project.
Project ideas for using the boxed bead stitch
If you're looking for a home decor project, a blanket or wearable with some texture, or a structured project like a bag, the boxed bead stitch is perfect. You can also take a look at this pumpkin pattern made with the boxed bead stitch, which is perfect for fall.
For something more subtle, try using a slightly lighter weight yarn; for a more striking look, go with a bolder color or thicker yarn. You can also use this stitch to make some statement accessories. The boxed bead stitch is also great for making dense and textured items like scrubbies and washcloths. The bottom line is that this stitch is worth trying for a very wide variety of projects.
Other tips for crocheting the Boxed Bead Stitch
If you're having trouble Crocheting the slanted cluster stitch, here are a few tips that might help. First, make sure you're using a crochet hook that's the right size for your yarn. If the hook is too small, your stitches will be too tight; if it's too large, your stitches may be looser than you want and you can end up with gaps that lessen the structured look of this stitch.
Second, don't keep your tension too tight. The key to this stitch is to work it loosely so that the cluster can form correctly. Finally, take the time to really learn the slanted cluster stitch and the extended single crochet stitch before you start your final project. Once you've mastered those two stitches, you'll be able to Crochet the slanted cluster stitch with ease.
Final Thoughts
I hope this blog post has given you some clarity on the boxed bead stitch and how to do it. Remember, if you're just starting out, it's perfectly normal to make mistakes. Just take your time and enjoy the process of learning something new. And don't forget – practice makes perfect! If you found this post helpful, please share it with your friends and sign up for more beginner friendly crochet tutorials. As a special thank you for subscribing, I'll send you some popular pdf patterns from Amelia Makes as my gift to you.
Keep the Crocheting delightful!
Amelia
Don't forget to pin this for later!