This Donut Design is a Free Pattern that can be used to make toys, props, coasters, or even appliqué for other projects
Happy Donut Day!
National Donut Day is here, and today I'm sharing a festive and quick pattern to crochet your own colorful donut. With this design you can make just one piece to use flat as a coaster or as a decoration. You an also make two donut sides and stitch them together with a bit of stuffing to make a rather realistic and life-sized donut that is 3-dimensional.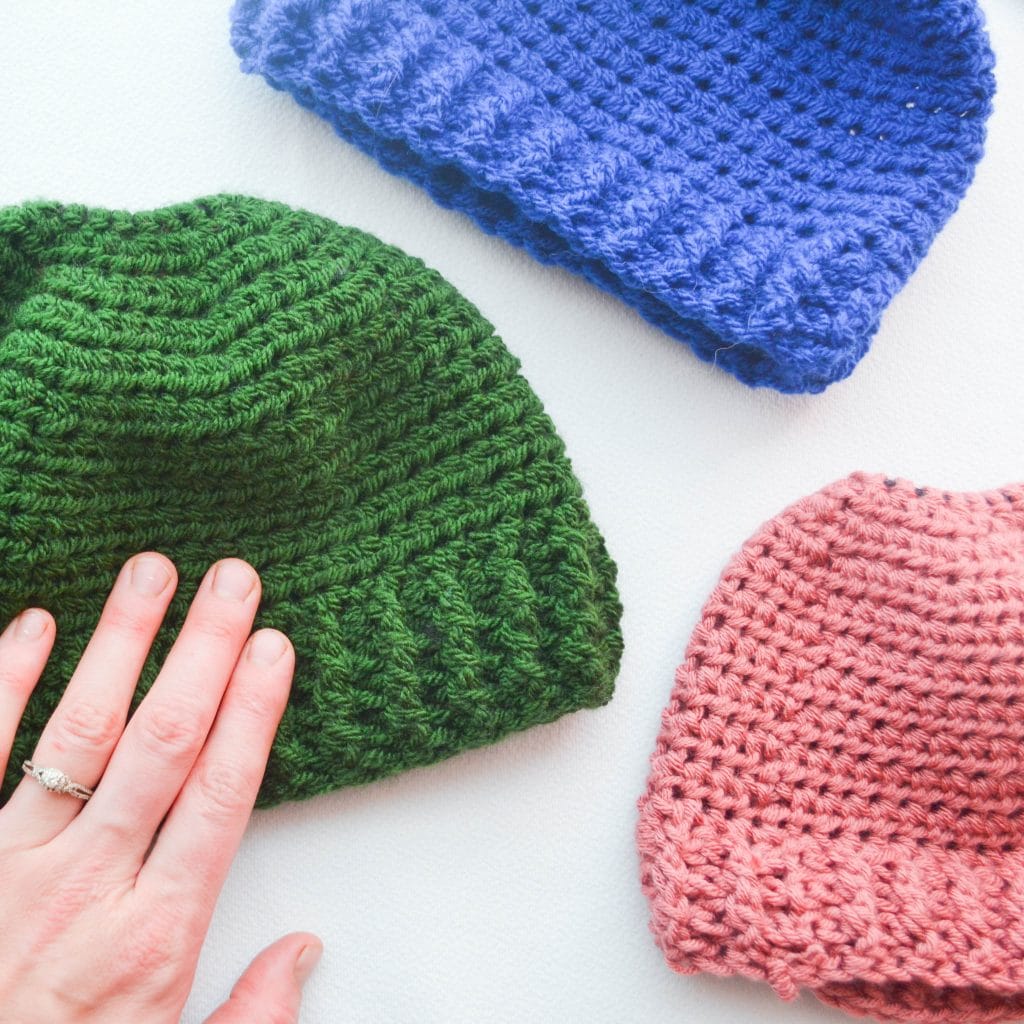 Want a few popular patterns as free PDFs?
About the Pattern
When I found out that Donut Day was coming up quickly, I wanted to make this project just for fun to share and to give everyone a quick project to do. Surprisingly, as this pattern came together it turned out to be a lot more useful than I was expecting.
The flat version of this donut can be made into a coaster or stitched onto a fun blanket or other project, as well as used for decoration. The 3D crochet donut, on the other hand, works well as a toy/gift idea but could also be a really unique photo prop.
And while there are other crochet patterns available for making donuts, this a little different in being easy to work up. It uses mostly half-double crochet stitches, and the "icing" is worked right into the main piece of the donut(instead of being an extra layer). Both of these things mean that the pattern is finished very quickly-it really can be a nice impulse project to make in between other things or "just because".
One other thing I like about this pattern is how it uses up little pieces of yarn. Recently I started saving my yarn ends instead of throwing them away. Some of the ends I had collected so far was perfect for my 3D donut, and the rest I used as part of the stuffing!
Donut Pattern
In addition to being able to download this pattern for easy access, you can find the full directions below.
Materials Needed
G hook
Aran yarn- about 10 yards in icing color and 10 yards in body color for applique(If making a 3D donut this means between the top and bottom you will use 40 yards total-30 in body color if you just do the icing color on top)
Donut sprinkles can be made in multiple weights and colors of yarn, in very small amounts.
Fiberfill or other filling
Tapestry needle(for stitching sprinkles and weaving in some ends).
Abbreviations
Ch-chain
St/sts- stitch/stitches
ss-slip stitch
Repeat are shown inside of **
Notes
The Ch2 at the beginning of each round does not count as a stitch.
Always slip stitch into the top of the first counted stitch in each round.
Don't ss into the top of your ch2.-the first stitch in each row should go in the same space as the ch2
Directions
Donut Main Pieces:
Ch 12. SS first and last chains together to form a circle. (12 sts)
Round 1: ch2, *hdc, hdc2 in one st* repeat around. Ss to close(18 sts).
Round 2: ch2, *hdc, hdc2 in one st* repeat around. Ss to close(27 sts)
Round 3: ch2, *hdc, hdc2 in one st* repeat around to the last stitch. Hdc and ss to close(40sts).
Note:if using two different colors, change colors here by doing your closing ss in round 3 with color 2.
Round 4: (in color 2) ch2, *hdc, hdc2 in one st* repeat around. Ss to close(60 sts).
Round 5: ch2, *hdc3, hdc2 in one st* repeat around. Ss to close and cut yarn/finish(75 sts).
If making a 3D donut as a toy, etc., make another donut just in color 2. After adding sprinkles where you want, seam the two pieces together with slip stitches (around the both the inner and outer edge of the donut) and stuff with fiberfill. Work from the bottom of the donut while seaming for a cleaner look.
Adding the sprinkles:
With one or multiple colors of yarn, make stitches around the top of the donut wherever you want to create the look of sprinkles. A tapestry needle works well for this, but a crochet hook can also be used if it is small enough.
Straight stitches in various sizes are great for sprinkles, but for a little more variety different stitching techniques can also be used like French knots. While I didn't do this in either of my examples, I think beads would also be very pretty stitched on.
Here's one of my own donut pieces waiting for sprinkles: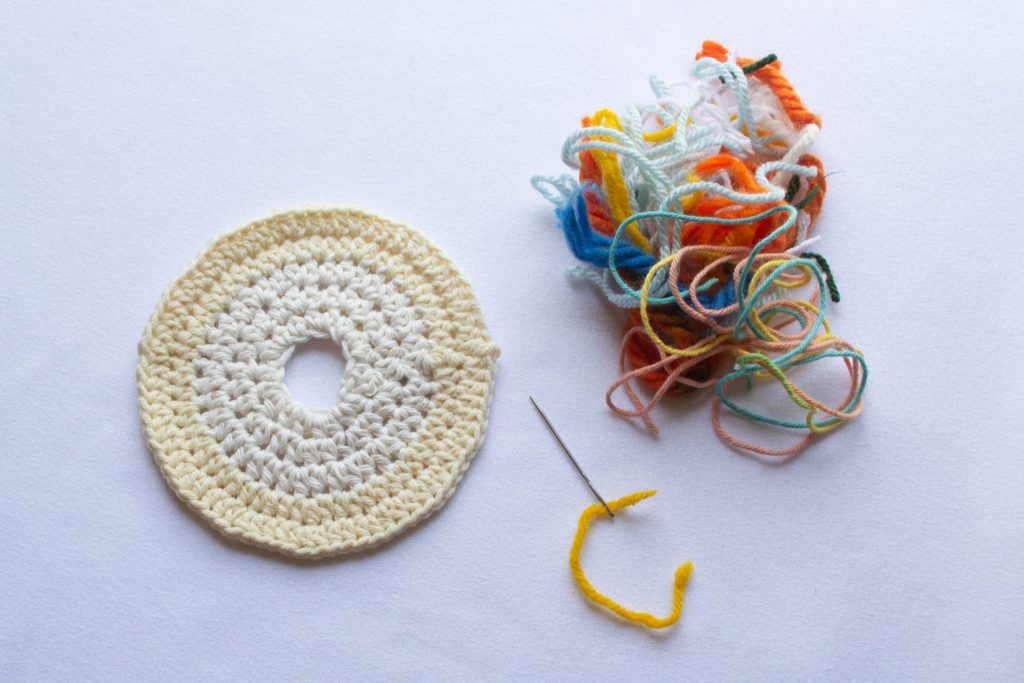 On the wrong side of the work, different ends of yarn can simply be tied together and trimmed short.
When finished, simply weave in the few ends that you still need to!
Final Thoughts
I hope you enjoy this pattern and that it brings a smile to your face as a fun little project you can whip quickly. If you'd like to see new patterns, projects and news right away, be sure to sign up for my emails! Plus, as a bonus for signing up you'll immediately get my mini bundle of surprise patterns straight to your inbox! Become a Vault Member: The Crochet Maker's Vault is my exclusive membership for crocheters which allows you to access ALL of my patterns in one place.
Keep the crafting delightful,
-Amelia