Crochet Baskets are easy to create even if you don't have a specific pattern. This post goes over everything you need to know to create a basket in any size you want.
Whether they are made for storage or for holding special gifts, crochet baskets have a special charm about them that balances practicality with just being cute. As a storage solution, they are a great way to create your own custom size for your needs. And in the process, you might use up a lot of scrap yarn as well!
Today, I'm going over the basic steps to crocheting a basket so that you can easily customize your own project based on what size and look you are going for. Although my example basket is circular, most of this information will be just as helpful for making baskets in other shapes as well. The possibilities are literally endless. In fact, once you make one basket you may very well start to see new opportunities to crochet more and use them all around your house!
If you want, you can get a template for making any size basket you want inside a membership to the Crochet Maker's Vault. Use it to customize your own basket patterns!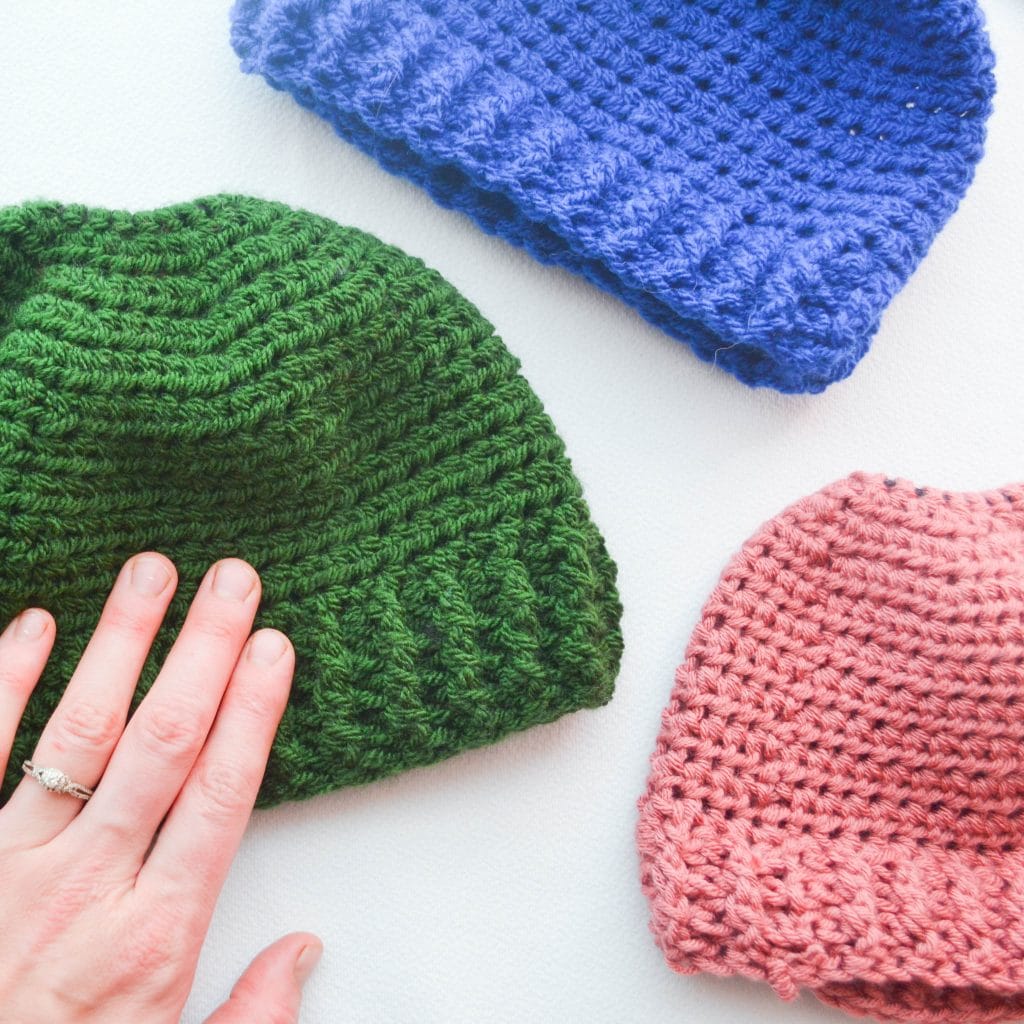 Want a few popular patterns as free PDFs?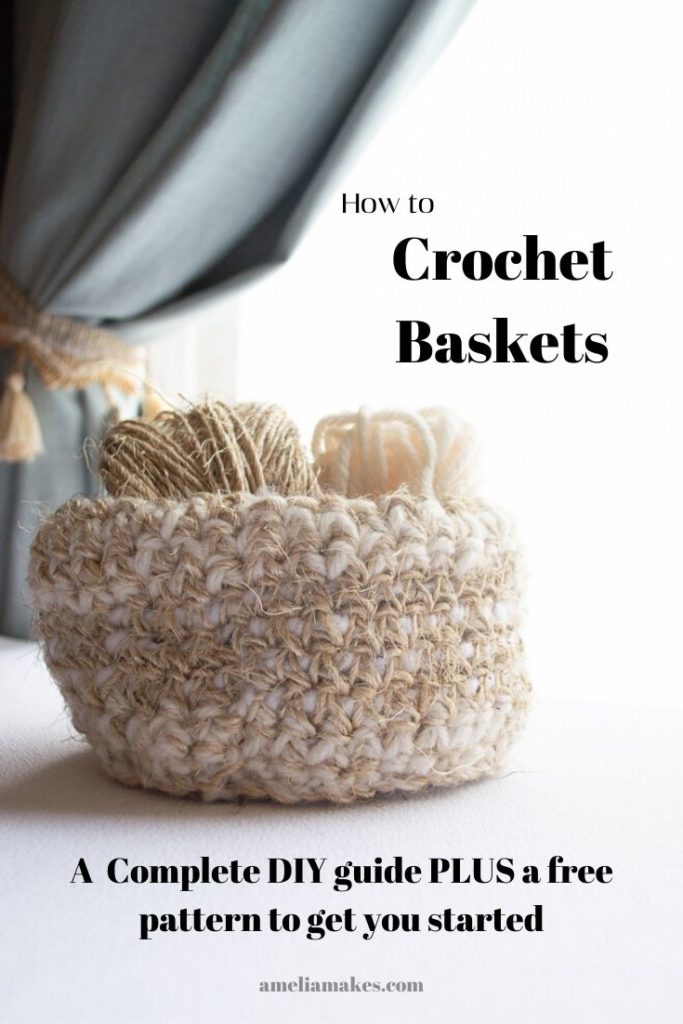 So let's get started by looking at how to better crochet for long-lasting baskets, and then we'll get into some directions to make whatever size you would like.

The Keys to Crocheting Sturdy Baskets
If you want to create a sturdy container that is more like a basket than a bag, then this section will go a long way to helping you do that. The gauge of your stitches and what hook and yarn combination you use are all pretty much the same consideration. But, reading how they act together may save you some time in trial and error and also give you some ideas for how to structure your own project.
Tight Gauge

A crochet basket that holds its shape is going to be the result of a tighter gauge than one that slouches. This doesn't mean that you need to crochet so tight that you'll struggle with each stitch, but it probably does mean going down at least one hook size. Compared to crocheting a blanket or something to wear, your yarn for a basket should seem bigger than your hook. Obviously, creating tighter stitches is going to result in a basket that stands better on it's own and holds it's shape.
Yarns to use
Considerations when choosing yarn
Choosing yarn for your crochet basket is a big part of creating the gauge. While technically any yarn will work for crocheting a basket, some will be best used in combination with other yarns.

Very thin or fine yarns will take a long time to work up in a gauge tight enough for a basket(unless it is really tiny). For that reason, it is a good idea to combine them with other yarns for ease of use. Later, I will highlight how they can be used in different ways, depending on what method of crocheting a basket you want to use.

Yarns that are bulkier fall into the same category as thinner yarns if they are very soft or lofty. This is because when worked up in tight crochet stitches, some yarns will compress down much smaller and therefore may not hold their shape as well. You may also just need a smaller hook to get good results, but keep in mind that a smaller hook size = more stitches and more time.

Your choice of yarn should also come from how you want your basket to actually look when it is done. Beyond how sturdy it is, yarn choice(s) will of course decide what color and texture your basket has. Do you want it to have a rustic vibe, a smooth modern look, or an eclectic design when finished? The same basket pattern done in the exact same weight of yarns will still have completely different looks if crocheted in a fuzzier or spun yarn versus a t-shirt yarn.

So What Yarn Should I use for my crochet basket?
As you can see, the basket I made (in the pictures) is made to have a very rustic look. I chose two "yarns"- white lofty yarn and twine-that would give the basket a fuzzier texture and also use very natural-looking colors.
So what types of yarns are ideal for a basket? Well, whether you use one yarn or a combination of yarns(great for a stash-buster project) you will want to end up working with something that is dense enough and thick enough to work up your basket in a hook size that is convenient for you. While this is largely a matter of preference, I really think most baskets that are at least a medium size(like the one I make below) should be made with yarn(s) that end up being bulky or extra bulky in weight. It would be most simple to pick one bulky yarn, but you could also use several strands of smaller yarn to get this result.

If you would like a more smooth or modern look, I recommend you look at some t-shirt/fabric yarn. These show off your stitches very clearly and make beautiful baskets.

Using Clothesline, Rope, and other added materials
There is one notable way that you can make baskets without a bulkier yarn, and that is by using a smaller yarn or string to crochet around a much denser material like rope or clothesline. These baskets tend to keep their shape very well, and it is a good way to use a material that would be difficult to crochet on it's own.

Directions for a Basic Basket
Crochet Baskets have two basic parts: a bottom and sides. Since this guide is mainly covering circular/curved baskets, the side portion is going to be considered all one piece or section.

There are also two other considerations that these directions cover. Transitioning smoothly from the basket bottom to sides gets special attention. There are two main ways to do this and either one may work for you. Secondly, the directions cover adding simple handles to your baskets by crocheting them directly into the last couple of basket rounds.

Let's look at each part of a basket in more detail and how exactly we can crochet them:

Basket Bottom
Unless you purchase a pre-made basket base, that will be crochet as well. Crocheting the bottom of a circular basket is as simple as crocheting a circle. Your circle can be started with either a few chains slip stitched together, or using the magic circle technique.
But, if you've never or rarely crocheted a circle before it may not seem that simple! If you need practice with crocheting a circle, feel free to work on that skill by itself and then "circle back around" to this tutorial.
You can choose to crochet your basket in single crochet(like I did) or even using another stitch. However, you can also choose to crochet one yarn around another strand or multiple strands, which I did for a few rounds of the basket you see pictured. Crocheting around other strands opens up some really interesting options, like using rope or clothesline for a very sturdy basket, or even making colorful designs with tapestry crochet. Either way, both methods can have beautiful results.

Keep in mind that especially if you are making a larger basket that may be picked up and moved around regularly, you will want the bottom to be strong. Keeping a nice tight gauge here and picking a strong enough yarn or cord will help to make a long-lasting basket.

Transition from basket bottom to basket sides.
Once you have your basket bottom as large as you want, the next thing to do is make the transition from increasing bottom rounds to crocheting up the basket sides. There are two basic ways to do this.

One way to start on the sides is to simply crochet the next round of your basket without doing any more increases. While it may take a couple of rows to see the difference, the sides will start to take shape above the basket bottom. This is a good method to use for a very strong basket bottom, since you continue to crochet through both loops of your stitches as you start creating the sides.

The second way to crochet the basket sides is to make one row that is worked differently and creates a very clear transition. Basically, on the first round of crocheting the basket sides you only crochet into one loop of the stitches from the previous row. If you are facing the inside of the basket, this means crocheting in the front loop only. Likewise, if you are facing the outside of the basket you would crochet in the back loop only. Either way, this transition round immediately lets the new stitches rise at a 90 degree angle from the bottom of your basket, almost like a set of hinges. It creates a very distinct ridge around the bottom and has a crisp look, but it may not be as strong as the first method.
Crocheting the side(s)
Now once you get past the transition round, crocheting the sides of your basket is incredibly simple. Just keep crocheting in rounds! Literally, all you need to do at this point is crochet rounds in your chosen stitch until you are satisfied with how tall your basket is.

Now as simple as that is, I will throw out just a couple of thoughts just in case they apply to you or you want to look into any of it.

First of all, there is the stitch(es) you choose to use. If you are using the single crochet stitch like me, the knit stitch/waistcoat stitch, or any of the other basic stitches, then your rounds really should be straightforward. However, if you want to use something more involved to make a differently patterned basket, then you may need to take some extra time to ensure that you are working that stitch correctly in the round.

You may also decide that you want to close your rounds with a simple slip stitch or some other method. There are different ways of making the beginnings/endings of your rounds invisible, and admittedly this is one area where I know I haven't yet tried everything. Feel free to experiment with different types of slip stitches or other methods until you are satisfied with how your joins are looking.
Optional Handles
At the top of a crochet basket, it is very common to add handles. Depending on how you would like to use your basket and how you want it to look, you can add handles very easily right into the last couple of rounds.

To add two handles that are evenly placed in the top of your basket, start by dividing your number of stitches in each round by two. Then, see how large you would like the handles to be by either chaining or just looking at how far along the basket top you would like the handles to start and stop. A good starting point is to plan on skipping however many stitches you are chaining to create the handle(s), but you may always choose to adjust this. After figuring out how many stitches your handles will take up, you should be able to see how many stitches will be left to crochet normally(like you have been crocheting all the other rounds) in each half.

As a quick example, let's say I had a basket with 50 stitches in each round. If after looking at it I decide that I want handles that are about 15 stitches large, that means that each half of my basket would have 10 stitches left over that I would crochet normally(50 divided by 2=25, and 25-15=10). Working my handles might look like this:

Handle round: *Chain 15 stitches. Skip 15 stitches and then single crochet 10* Repeat once for the second half of the basket and ss to close the round.

After creating the handles, it usually looks very nice to crochet one or two more rounds, putting one stitch into each of your handle chains.

Depending on your choice of yarn and your tension, crochet handles may twist or lay inward. Since I was working with a pretty tight twine and combined it with another yarn, there were a lot of "competing" twists that showed up when I tried to demonstrate handles. This isn't really ideal, but it's not a big deal if you like your basket and want to keep the handles.
Crochet Basket Design Options-Stitch Choice, color, stripes and patterns.
Although I have already mentioned a few different design options for your baskets. Obviously, the stitch that you choose will affect the overall look and texture of your basket, and the yarn that you choose will determine the color and texture as well.

However, there are a lot of creative possibilities for using different combinations for a crochet basket that is even more unique. Here are a few more examples of what this could look like.

Stripes of color
Using different stitch combinations, even in the same color.
Different textured yarns(this would make a fantastic stashbuster project!)
Multiple colors in a tapestry design
Beading
Crocheting Baskets in other shapes
Everything so far has been about crocheting round baskets, but there are many other creative shapes you can make! In fact, with increases/decreases and differently shaped bottoms, I think you could literally make any shape of basket you want. Below are a couple of common and very useful variations:
Oval
If you want to crochet an oval basket, the only thing you need to do differently is crochet an oval-shaped bottom. You can find some good directions for crocheting an oval here. Afterwards, crocheting your basket sides and even adding handles if you want are all going to use the same methods that I described above.
Square Baskets
Another fantastic type of basket that you can crochet for yourself is a square or rectangular basket. Going in a different direction with a completely non-round shape, square baskets might be even more useful depending on your space and what you are looking to hold. For a cube shape that can be used in those cubby organizers, check out this pattern.
Your Own Template for Crochet Baskets

Are there any elements of crocheting a basket that you still have questions about? If so, please reach out and I will do my best to update this information so that it can address those things too. And, if you want that template to design your own basket, you can find more info about becoming a Vault member and accessing ALL of my patterns HERE.

In the meantime, grab my free pdf patterns if you haven't already!

I can't wait to see all the gorgeous baskets you make!
Keep the crafting delightful,
Amelia