This Super Easy Pattern Creates a Crochet Belt that is Both Practical and Versatile to Wear
In the world of easy crochet wearables, there are things we tend to come back to over and over again. Things like scarves and cowls, all-in-one slippers, and easy beanies are all fitting examples. The only problem is that sometimes it's nice to have something…different. Occasionally, it's nice to have a project that's not only wearable when it's finished and easy to think about, but that is at least a little refreshing. In this post, I'm giving you just such a project in this simple crochet belt pattern.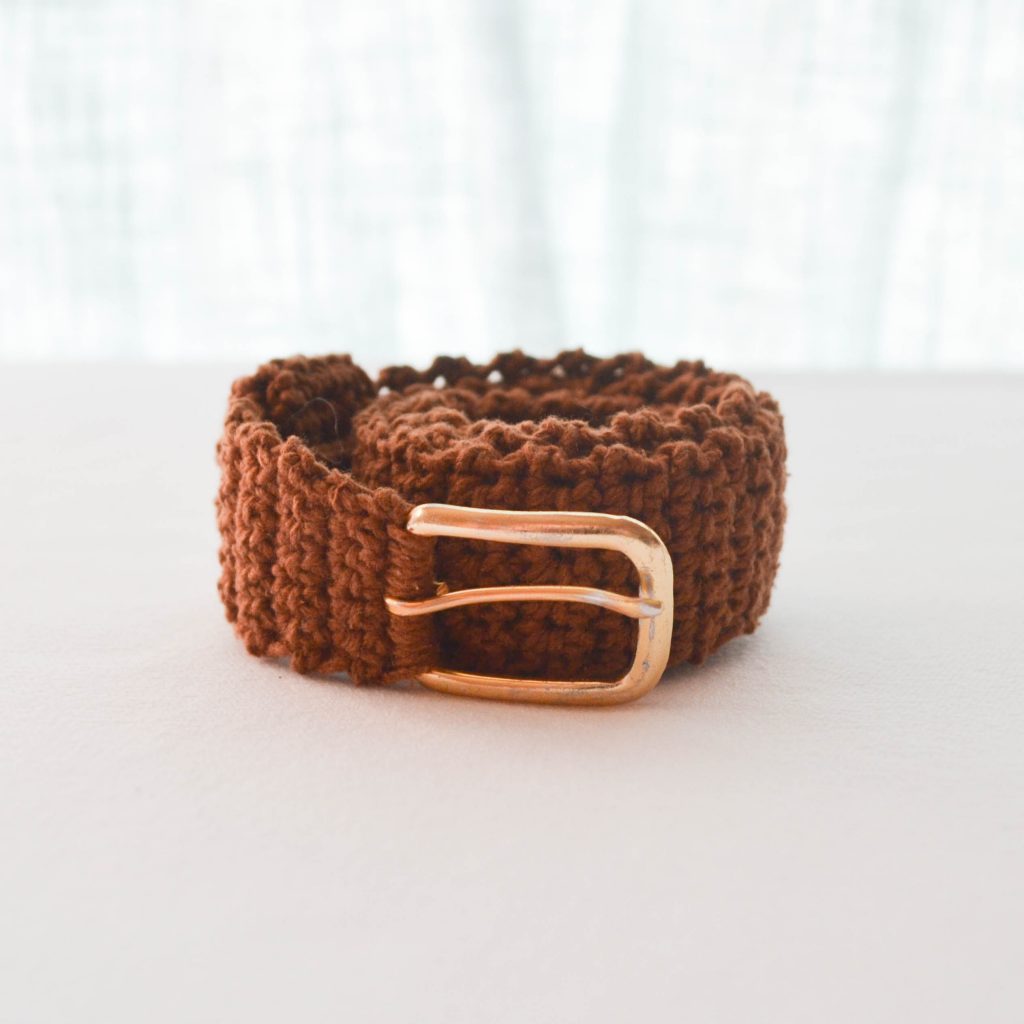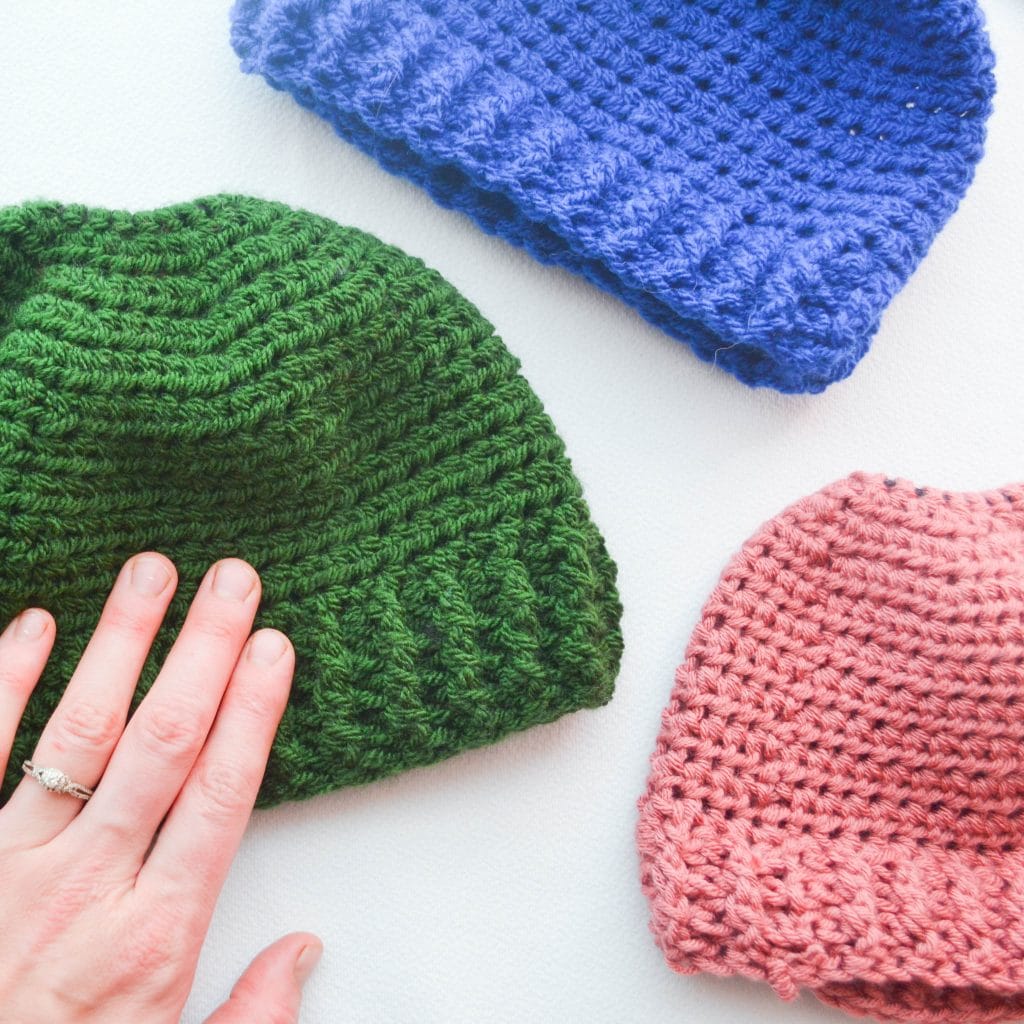 Want a few popular patterns as free PDFs?
You can scroll down to read more about this project and what it requires, and to see some more pictures as well!
On This Page(Click any link to jump down)
(Note: This post contains affiliate links, meaning that if you make a purchase it may benefit me at no extra cost to you. You can read all of my affiliate disclosures and other disclaimers on the disclaimers page. )
If you'd like a very easy, very practical crochet project that you still get to wear and show off, this crochet belt is a perfect thing to try.
About The Simple Crochet Belt
While my pattern is made to create a very specific size of belt, the basic principle can be used for any size. You'll see very quickly that by simply changing the size of belt buckle you choose(see below), adjusting your stitch count, and making your main piece or shorter, you can really create a basic belt
Materials Needed
Size E4(3.5mm) hook
Approximately 60 yards of worsted weight yarn (see notes below)
1-1.5″ belt buckle
Scissors
Tapestry needle(not crucial, but very useful for weaving in ends)
Notes on Yarn
When it comes to choosing yarn for your own belt, I highly suggest choosing a nice smooth yarn that is not going to fray or pill easily. This will increase the durability and wear of your finished project. In addition, I think natural fibers are generally going to be a better choice.
For my own belt that you see in the pictures, I used a 100% silk yarn that was already in my stash. It's actually fairly old and the labels don't include any modern gauge recommendations( the gauge for this belt is at the beginning of the pattern, so that you can match it).
One comparable yarn that you can use for this belt is Lion Brand's 24/7 Cotton, which I was able to compare with my silk. Since the cotton in this yarn is mercerized, it has a little bit of shine and is very smooth. It also matches the gauge for this pattern without a lot of effort. And finally, 24/7 Cotton comes in a wide range of colors, including a rich brown (the color "cafe au lait") that you can choose if you want a similar look.
You can check out 24/7 Cotton by Lion Brand HERE.
Skill Level
One of the best things about this project is that it's very beginner-friendly. Short rows, very simple directions, and the use of one basic stitch make this a project that anyone can tackle. Working on the belt would be a convenient project to carry with you. Or, you could also whip one up while watching an episode or two of your favorite show.
The only thing that will really make a difference with this project is having straight edges. If you are still very new to crochet or just struggle with keeping your edges straight, or keeping consistent stitches, then this belt may take a little longer to crochet. Of course, you can practice keeping straight edges before actually starting on the belt, but you don't have to. This belt design is so simple that it's very easy to get it started, work on a section, and simply take certain rows back out if you find they aren't staying consistent.
I did design this belt with a tighter-than-normal gauge. This makes it just a little bit more stiff and sturdy-and more like a belt! Getting the exact gauge right for your own belt isn't critical for a good fit(since the belt will turn out to be adjustable). But, slight variations in your own results may affect the width or your belt slightly, and yardage of yarn that you end up using. The main goal is to have a belt that goes well on the buckle that you choose, and that you are happy with.
Crochet Belt Free Pattern Directions
You can watch a whole tutorial on making this project below. Here, feel free to read along with the written directions.
Setup Row:

To get your belt started, sc 6 around the belt buckle. With a belt prong in the middle, this means three stitches should go on each side of the prong. Ch1 and turn.

Rows 1-128: sc6. Ch1 and turn.

Tapered End

Row 129: sc2tog, sc2, sc2tog. Ch1 and turn.
Rows 130-187: sc4. Ch1 and turn(after your last row, simply bind off.)

Belt Loop

Ch5 Row 1: skip the first ch and sc4. Ch1 and turn.

Rows2-18: sc4. Ch1 and turn. Ss ends together around the belt.

Finishing

Weave in your ends with a tapestry needle. To keep the belt loop in one place you can put a very small stitch in the very top and bottom of the loop where it sits on the belt. This will also keep it from coming off.
Crochet Belt Video Tutorial
Pattern Download
The Simple Crochet Belt is available as a pdf download as a part of the Crochet Makers Vault Membership. This is where I stash ALL of my patterns so that members can easily browse them and make whatever you want! Some content is also exclusive and can ONLY be found there.
Final Thoughts
It's been great having you at Amelia Makes today! If you like this project, be sure to get on the list for updates and so you can be the first to see new projects just like this one. Each week I send crochet tips and tutorials, behind-the-scenes info, and other resources for my readers. Plus, as a bonus for signing up you'll immediately get my mini bundle of surprise patterns straight to your inbox!
Grab it here:
Keep the Crafting Delightful!
Amelia
Enjoy This Crochet Belt Pattern to Create Your Own Easy-to-Make Accessory!
You might also like: