The Holly Boot Cuffs are a cute and cozy crochet project worked in smooth waistcoat stitches and bobbles!
Today I'm excited to bring you some warm and cute cuffs that you can crochet yourself. Originally worked up to match the Holly Headband, the Holly crochet boot cuffs pattern can be made in any color you would like to go with the season, and your own unique style. If you choose to work them up in wool(as I did), they are particularly cozy. Plus, working them in rows means that they can be done a little more easily, with the opportunity to adjust your sizing as needed.
You can keep reading for all the information you'll need to make this project. What's more, you can even download the pattern for free as well.
Would you like this pattern set as a free download?
(Note: This post contains affiliate links, meaning that if you make a purchase it may benefit me at no extra cost to you. You can read all of my affiliate disclosures and other disclaimers on the disclaimers page. )
About this Pattern
Skill Level
The Holly Boot cuffs (and the other projects that match it) are what I would call intermediate patterns. The main pieces of these boot cuffs are worked in rows and then seamed up, and then ribbing is added in the round.

However, don't let the intermediate label scare you off! I think that if you're an ambitious crocheter who tends to pick up new stitches pretty quickly, then you could certainly make these even if you've only been crocheting for a short time. If you at least know single crochet and have had success with a few other basic stitches, then I would say these patterns may still provide a challenge but aren't out of reach.
Stitches used
The main stitch used to make them is the Waistcoat Stitch, which is basically a modified single crochet. The thicker and smoother texture of this stitch provides some extra coziness as well as a more knit-like finished look.

If you don't yet know how to work this stitch, you can learn with my crochet Waistcoat Stitch tutorial here.
In addition to the main stitch, some bobbles are used in this project as a festive accent. The way I work these bobbles is very simple and explained in the project directions. However, there are several ways to make bobbles or clusters in crochet, and you are welcome to try this project with a method that you already know or maybe prefer.

Finally, front and back post stitches are also used to make ribbing in these boot cuffs, and slip stitches are used to seam them up.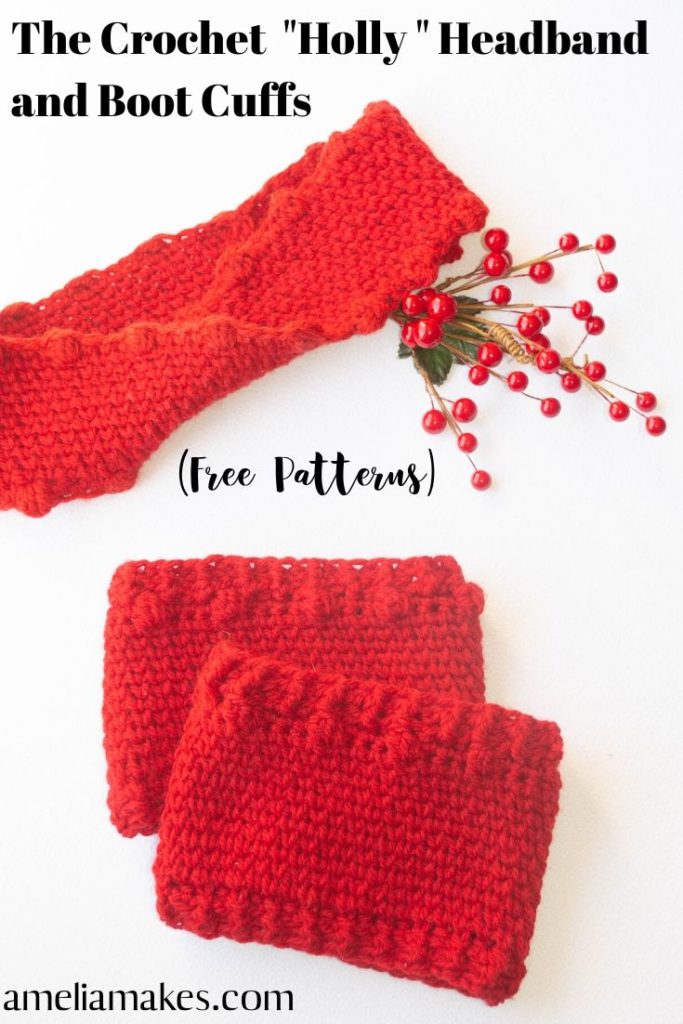 Yarn Choice
The Holly Boot Cuffs have been designed using wool yarn to make them nice and warm. Paton's Classic Wool yarn is one of the only 100% wools that I actually see consistently in "mainstream" arts and craft stores that carry yarn, and the festive red version is perfect for adding a pop of color to your outfits.

Of course, if you don't like the idea of using wool for whatever reason, any other type of yarn can be used instead. Just make sure that you choose something very close in weight(thickness) to the Paton's classic wool.
So with all that said, below you'll find the full pattern for these boot cuffs. As I mentioned, the same pattern is also available for download.
One Note on sizing:
My cuffs, and the number of stitches I used, is rather generous. The finished cuffs fit rather loosely on me, and would probably be okay for thicker calves as well. With this in mind, please feel to use slightly fewer stitches, if it seems like that will make the fit better for you. You will still want to have a multiple of four stitches in your rows, to easily keep the same pattern in the bobble rows.
Alternatively, you can also get a tighter fit by seaming you boot cuffs up a bit tighter in.
The Holly Boot Cuffs Crochet Pattern
Materials Needed
About 110 yards Patons Classic Wool (per pair)
g (4mm) hook
scissors and a tapestry needle(for weaving in ends)
Abbreviations
Directions
(Make two cuffs)
Ch 45
Row 1: Sc into 2nd chain from hook and across the chain(44sts). Ch1 and turn.
Rows 2- 12: waistcoat stitch across. Ch1 and turn.
Row 13: *sc3, hdc4tog* repeat across. Ch1 and turn.
Note: doing a nice tight sc after each hdc4tog(each bobble) makes the bobbles pop nicely.
If you've tested the length of the cuff at this point, you may decide to place your last bobble based on where your seam may need to be.
Rows 14- 15: *fphdc, bphdc* repeat across. The front post and back post stitches should line up in these two rows to create a 1×1 ribbing.
Seaming up
Without cutting your yarn, fold your cuff in half with the front of the bobbles on the inside and ss down the short edge of the cuff to seam it up. This is where you can adjust the fit of your boot cuffs to be a bit tighter by adjusting where exactly you put your slip stitches. Slip stitching as close to the edges as you can will keep the most "wiggle room" in your cuffs, while seaming them up farther from the edges will make them smaller and tighter.
(Don't cut your yarn when you are finished with your seam) we will continue with the ribbing on the bottom, and make fewer ends to weave in!)
Bottom Ribbing
Finally, to finish each cuff and give it a nice fit we will add ribbing to the bottom as well. From where you finished your seam, simply ch one or two stitches and proceed to work alternating fphdc and bphdc stitches like you did for rows 14 and 15. SS to close(since you are now working in the round) and add another identical round on top of that.
Now it's time to cut your yarn once you ss to close your second round of ribbing.
Once you have two of these finished, you can weave in your ends and enjoy your finished crochet boot cuffs!
Conclusion and Downloadable Pattern
I hope you've enjoyed this pattern and have fun making some boot cuffs for yourself or others. Also be sure to check out the matching earwarmer pattern and baby bonnet!
Once subscribed, you'll also get regular emails from me full of tips, encouragement, and updates on what I'm working on. You can absolutely opt-out of these emails anytime, but you can also reach out with feedback anytime-I love to hear back from readers!
So to get in on all of this and get these two patterns as a bonus, simply fill out the form below:

Keep the crafting delightful!
Amelia
The Holly Cuffs are the Perfect Crochet Boot Cuffs Pattern for adding a festive pop of color without crocheting in rounds