Do you like the sound of furniture scraping across a wooden floor? Me neither! It's an irritating enough sound under normal circumstances. Aside from that, those scraping sounds can mean real scratches on the floor that really add up over time. Add a sleeping baby in the next room, and lately this has become one of my top sounds to avoid.
Since I love to make what I need or want whenever it's practical, I was excited the first time I saw that people actually make their own little cozies to go on the bottoms of chairs and solve this problem. They're called chair socks!
(You can scroll down for the pattern itself, and also be sure to grab this download for a whole list of project ideas to make your nest more beautiful and cozy.) 
Below you'll find my own original (and pretty cute in my opinion) pattern to crochet your own chair socks. Each one takes about fifteen minutes to complete, so they make a very quick project. In fact, once you get going you could probably do enough for all your dining room or kitchen chairs in just a day or two! They also make a fantastic small project to have in your purse and work on between errands.
For the chair socks that you see in my pictures and video, I'm using Quince and Co.'s cotton yarn "Whimbrel", in the color "tiller". 
(Above is my version of the chair sock on one of my dining chairs. It was nice to find that the same design works on these curves legs as well as the more simple vertical legs of our barstools.)
I would consider this pattern to be at the level of an intermediate to advanced beginner. You will be crocheting in the round, using the magic loop technique, using half-double crochet stitches, crocheting into the front loop only, and skipping a few stitches in the very last row. If you are unfamiliar with any of those terms or techniques, feel free to look them up and practice a little bit before attempting this pattern. Either way, I think you'll find that it's pretty easy!
The finished diameter of these chair socks is about 1½ inches, but you can also experiment with changing hook sizes to fit slightly different chairs. The original pattern works for several different styles of chairs in my home(as you can see in my pictures above), but once you make one you may find that it can be easily customized to make other sizes that you may need for your furniture.
Here are the few abbreviations I use:
ch: chain
hdc: half-double crochet
ss: slip stitch
(every round ends with a slip stitch, but it is only mentioned the first and last time).
Materials needed:
Approximately 8-10 yards of a lightweight worsted yarn per chair sock(something easily washable is probably best).
Size F/ 4.0mm crochet hook
Lets begin!
Crochet chair socks
Round 1: make a magic loop and ch2 into it. Hdc 7 into the magic loop as well and ss into your first ch2 to finish your first round (8 stitches).
Note: make sure to pull your magic loop nice and tight!
Round 2: ch2, hdc once into the same stitch. Now, hdc2 into each stitch from round 1(16 stitches total). You should continue to have 16 stitches for the remainder of the pattern.
Round 3: ch2, hdc into the front loops only in each stitch from round 2. (16 stitches)
Round 4-6: ch2, hdc around normally. (16 stitches)
Round 7(completely optional): ch3, skip one and hdc in next stitch. *Ch1, skip 1 and hdc into next stitch.* Repeat between the "* *" 5 more times. Ch1 and ss into the second stitch of your first ch3.
All Done! Now, just weave in your ends and you have one cute and functional chair sock ready to protect your floors from scratches(and to protect everyone's ears, too!). 
Here are a few more examples of our finished project: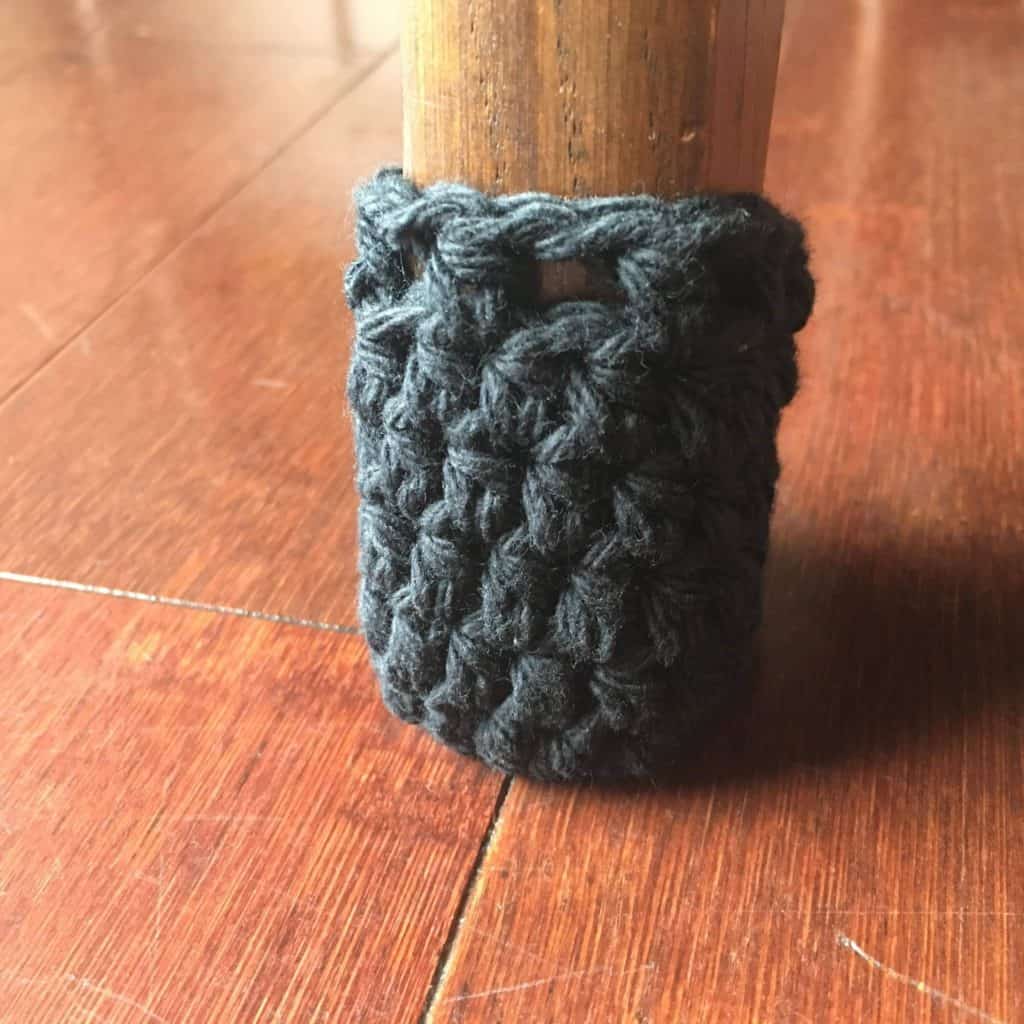 I was so glad Ashley chose a striking black for her chair socks(above). They look so classy!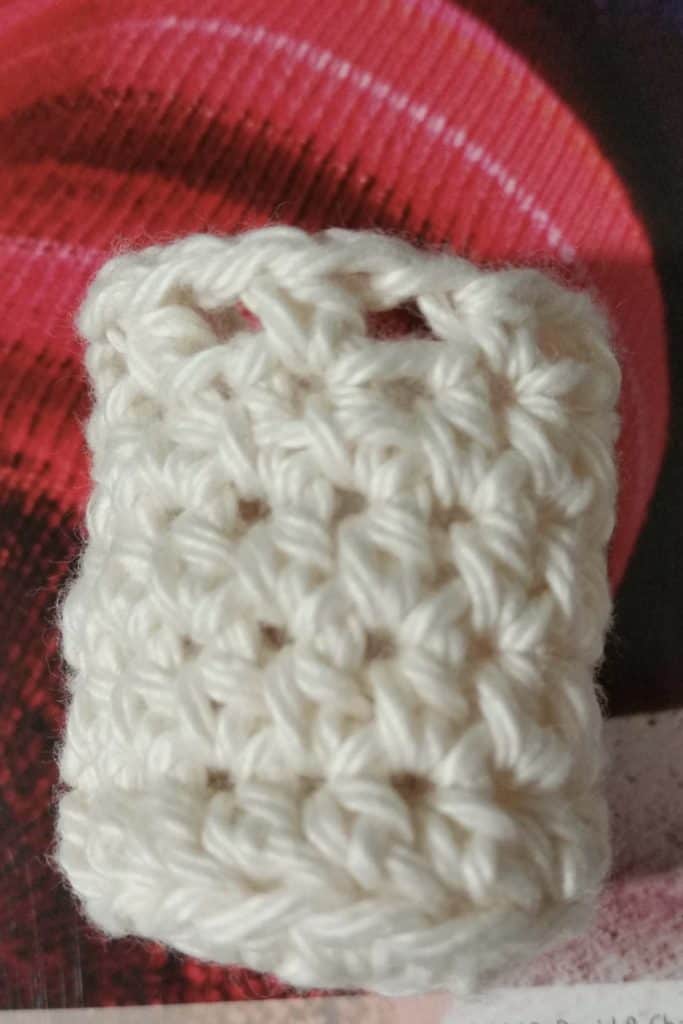 Kathy picked a neutral like me and got this great detail shot.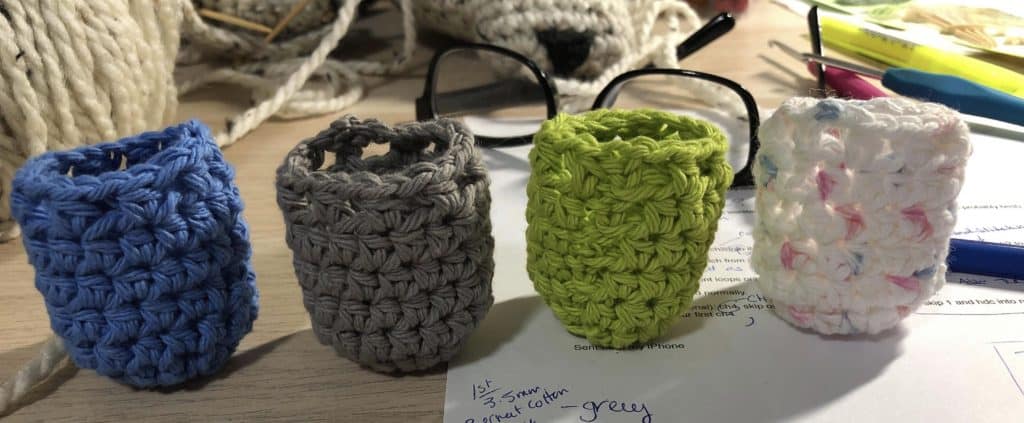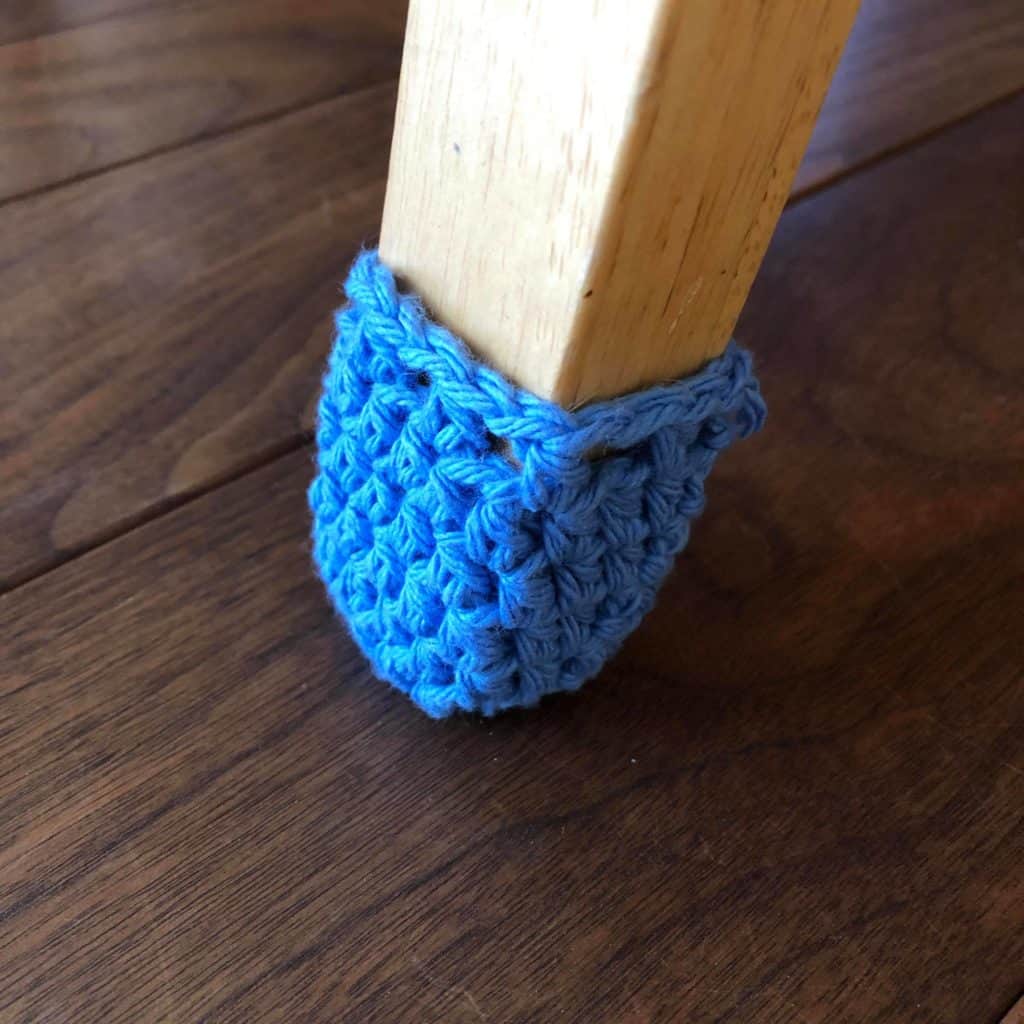 Monica used a bunch of striking colors to catch the eye. Just look at that blue!
This pattern is part of a whole list I have available for download: The Crochet Projects Master List.  In this download you'll find dozens of projects for yourself, for others, and for the home. Not only are there ideas to make lovely things and be creative, there are also plenty that are really practical-like these little chair socks!
To get the download, simply fill out the form below: 
[convertkit form=1036448]
Now whenever you hear someone's chair squeak annoyingly across the floor, you can remember chair socks and use this pattern to whip up a few more so that you never have to hear those sounds from that chair again. Whenever the socks start to get dirty or dusty, simply toss them in with your next load of laundry to get them clean and brightened up in no time.
Keep the crafting delightful!
Amelia