This Christmas Ornament Design Creates a Cute Bobbled "Mini Tree" in Just a Few Minutes
Ready for Christmas Yet? Whether you are working waaaaay ahead of the game or you are coming across this with only a few days left, it can sure feel urgent to check off a thoughtful something for everyone on your list. Thankfully, the crochet Christmas ornament you'll find below is perfect for working up quickly. This little crochet tree, with it's evenly spaced bobbles and literally-takes-one-minute little stump, if fantastic for last-minute handmade gifting.
Another great thing about this pattern is that since it's super quick to crochet and can be given to just about anyone, this is a great option if you want to create something in bulk. I greatly enjoyed attaching a few of these to Christmas presents as a "bonus gift", but they would also go great in Christmas cards as a standalone gesture.
Below, you can read all about what you need for this design, see the written directions, and even follow along with my video tutorial!
On this Page:
(click any link to jump down)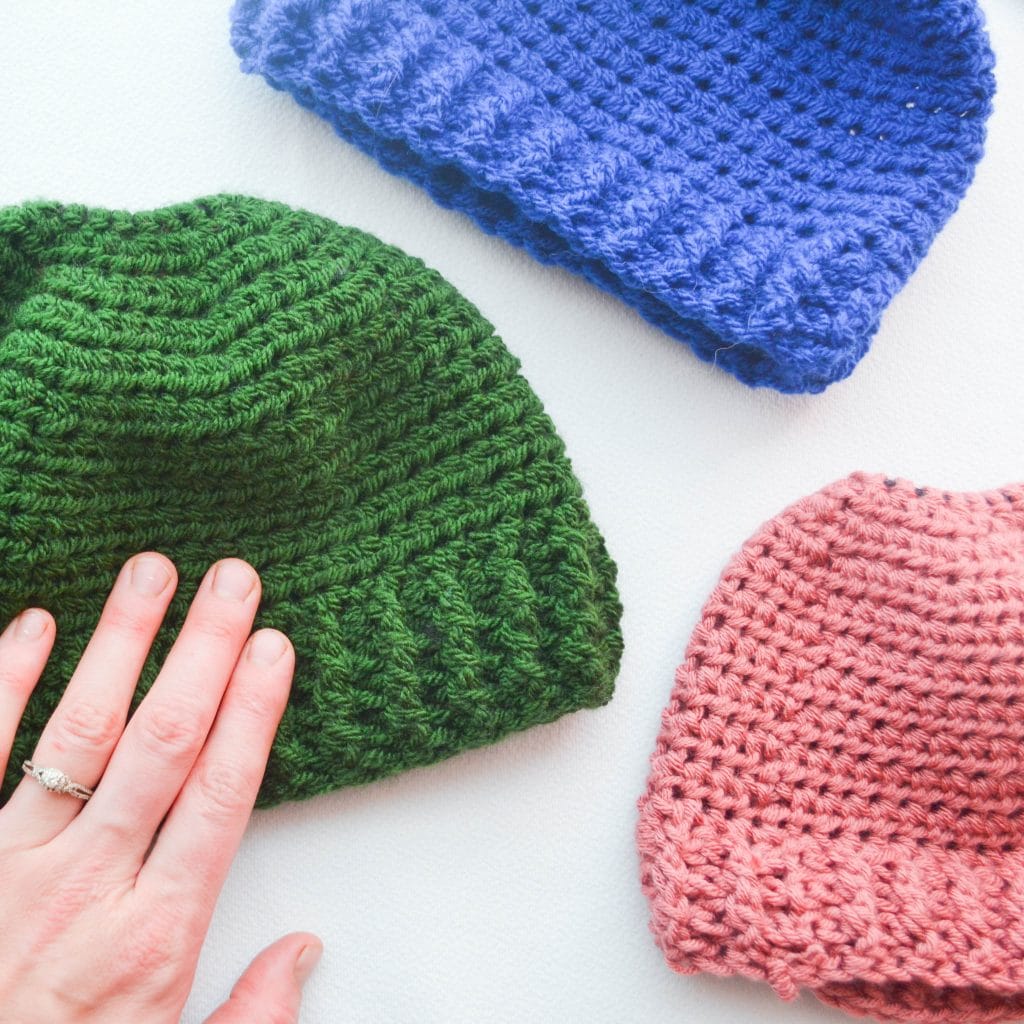 Want a few popular patterns as free PDFs?
About This Project
Gauge
13 stitches and 6 rows per 4×4" square. However, gauge is really NOT critical for this pattern. With that said, if you've been stumped about the concept of gauge and want to get better results measuring gauge in your projects, you can check out this post to understand gauge better.
Sizing
As mentioned above, creating this little ornament with a certain gauge isn't required for you to enjoy the pattern and whip up as many of them as you want. This means that if you want to experiment with different yarns, use different hook sizes, and end up with a varienty of tree sizes, you are more than welcome to do that! In fact, if you want to make more than one of these little trees, having a variety would look really cute!
Even with all that freedom to make these in whatever size, I know some of you will wonder how big it's "supposed" to be. I get it! In case you are wondering, the pictured ornaments have a finished size of 3.5″ long and right at 2.5″ wide.
Materials Needed
To make one of the crochet tree ornaments, you will need the following:
6 yards of worsted yarn in tree color. (Paintbox cotton aran in color "slate green" is shown)
1 yard of worsted yarn in stump color (Paintbox recycled cotton in color "string" is shown.)
Size G/4.00mm hook.
Ribbon or extra piece of string/yarn for hanging
scissors
Skill Level
While bobbles can seem intimidating, this project is a great introduction to using them for texture and decoration in a crochet project. This ornament uses bobbles as the sole "decoration" on the tree, by working them in evenly spaced, staggered rows. The bobbles are made by creating a handful of double crochet stitches, and then pulling them all together(see the explanation of the bobble abbreviation below).
Because all of the stitches involved in this pattern are pretty basic, and because there is a full video walkthrough available for you to watch(see below), I think even beginners can create this design. Drawing some stitches together to create each bobble is the most advanced technique included in this design, and watching the video should make it quite easy for you.
Beyond crocheting the bobbles, the only thing that I think might take a few tries for anyone who is on the beginner side, or new to bobbles, is spacing the stitches in rows in-between the bobbles. Since the stitches get worked in to several different places-in the tops of bobbles, in to chain-spaces, and in to the tops of other "normal" stitches, I would suggest paying the most attention to those rows(rows 2,4,and 6)
The short answer: As long as you have enough crochet practice to be able to make fairly consistent/even stitches, you should be able to work up this ornament easily and have it turn out great!
Abbreviations Used
BO – make a bobble (dc5, then remove hook from the loop. Carefully insert hook behind the first dc, pick up the dropped loop, and pull it through. Cinch tight.)
CH – chain (yarn over, pull loop through)
DC – double crochet (yarn over, insert hook, yarn over, draw a loop through *yarn over, draw yarn through two loops* x2)
HDC – half double crochet(yarn over, insert hook, yarn over, draw up a loop, yarn over, and draw through three loops)
SC – single crochet(insert hook, yarn over, draw up a loop, yarn over, and draw through two loops
ST – stitch
Pattern notes:
This pattern is written using US terms.
Turning chains do not count as stitches
Pattern repeats are shown in with asterisks
Pattern Directions for the Crochet Christmas Tree Ornament
Crocheting the Main Tree
In tree color, ch4
Row 1: In the 4th ch from the hook(the very first ch), dc. In the same stitch, BO, ch1, and dc again. (4sts)
Ch1 and turn.
Row 2: sc in first st, in the ch-space, in the top of the bobble, in the final st, and in the top of the turning ch. (5sts)
Ch2 and turn.
Row 3: *dc, BO, ch1* x2. Dc (7sts)
Ch1 and turn.
Row 4: sc in first st, in the ch-space, in the top of the bobble, in the next stitch, the next ch-space, and the top of the next bobble, and in the final stitch. (7sts)
Ch2 and turn.
Row 5: *dc, BO, ch1* x3 (10sts)
Ch1 and turn.
Row 6: sc in first st, in the ch-space, in the top of the bobble * sc in the next stitch, the next ch-space, and the top of the next bobble* x2. sc in the final stitch. (10sts)
Bind off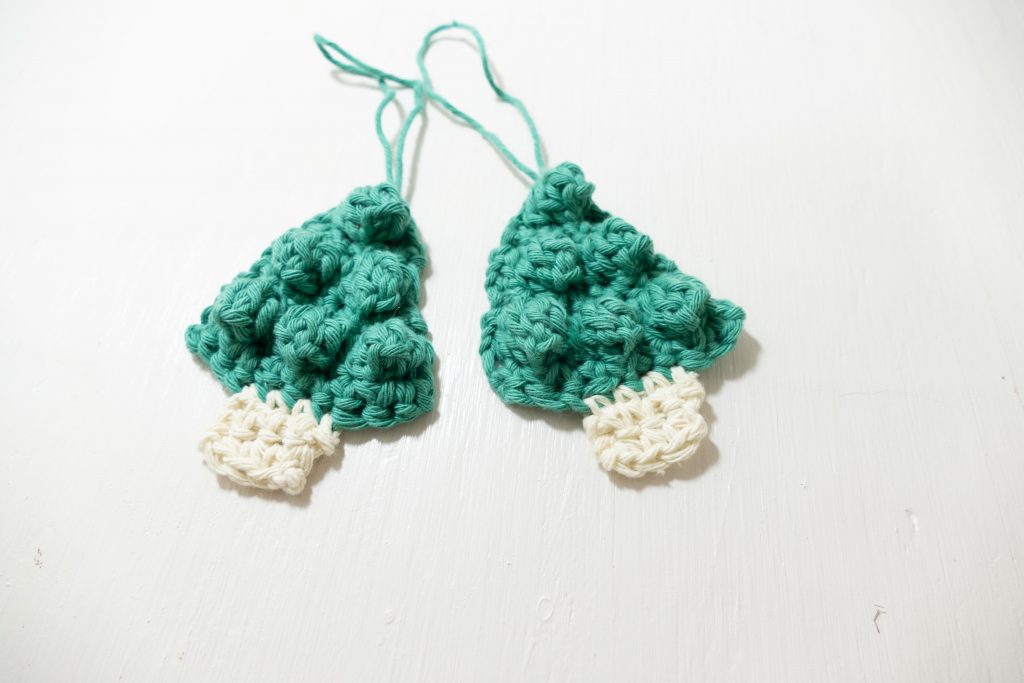 Adding the Stump
Row 1: Using your stump color, skip 3sts along the tree bottom, then sc into the 4sts in the middle. Turn
Row 2: sc4, turn
Row 3: sc4.
Bind off.
Weave in ends, block if desired, and add a hanging string/ribbon to the top of your tree. Enjoy!
Video Tutorial
If you would rather see this project made step by step, just watch the video below to make one of these crochet tree ornaments with me!
Final Thoughts
If you like this project, be sure to get on the list for updates from Amelia Makes. Each week I send out new projects, crochet tips and tutorials, behind-the-scenes info, and other resources. Plus, I love hearing back from you about what you want to learn!  Keep the Crafting Delightful!
Amelia
The Bobbled, Crochet Christmas Tree Ornament is a Perfect Last-Minute Gift for Just About Anyone on Your List.
You might also like:
Don't forget to pin for later!