Use today's free pattern to crochet your own key strap and end up with a convenient holder for keeping track of things while on the go.
Picture this-you're rounding up the kids for an outing, and you have a lot going through your mind. There are multiple bags to grab, and by the time you're going through the door your hands are most definitely FULL. Either right in that moment or at your car, you realize that digging for the keys once again SHOULD be something that you've found a way around by now. This moment of frustration is exactly what today's crochet key strap/key holder pattern is going to help you with. 
And yes, even though you could certainly buy a strap for your keys that's similar to this, it's fun to create this kind of solution, especially when it's such a fast project. And yes, part of the value here is that you get to crochet something that you can use every single day. Plus, it makes a great gift idea!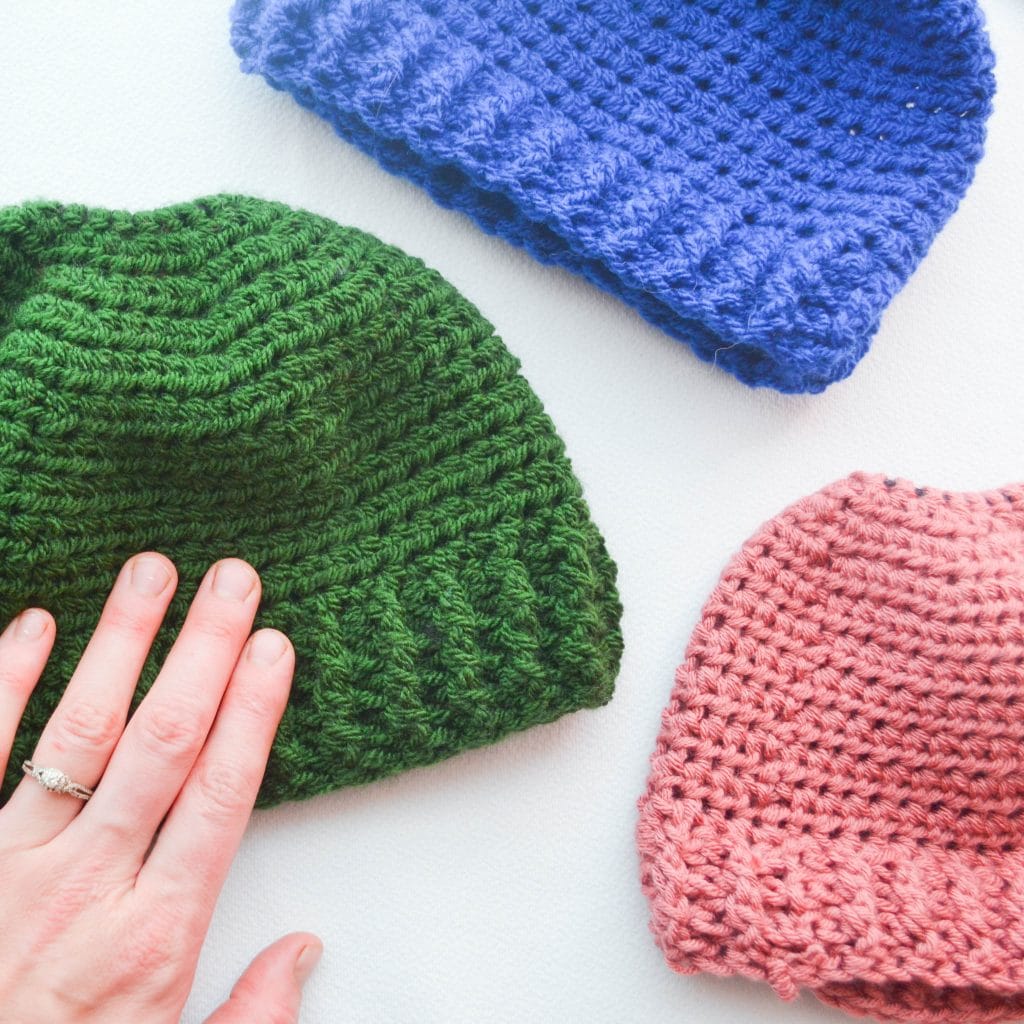 Want a few popular patterns as free PDFs?
Below, you can find all the details for this project as well as the written pattern. Plus, I've included a full video tutorial that you can follow along with.
About the Crochet Key Strap
I've created this pattern to not only be easy to create, but to also be an easy key holder for just about anyone to USE. The loop hanger that you end up with after following this pattern will really help to keep all of your keys out of the way(whether hung up, on your wrist, or looped to your bag). But, actually making a crochet key strap is a piece of cake. 
In fact, some of the following details that are laid out below might be a bit "extra" for this pattern. The design is so easy and simple that you probably don't even need all of the info below to make this crochet project work. But, I'm still providing it all for you just in case any of this is helpful, or in case you're still pretty new to crocheting.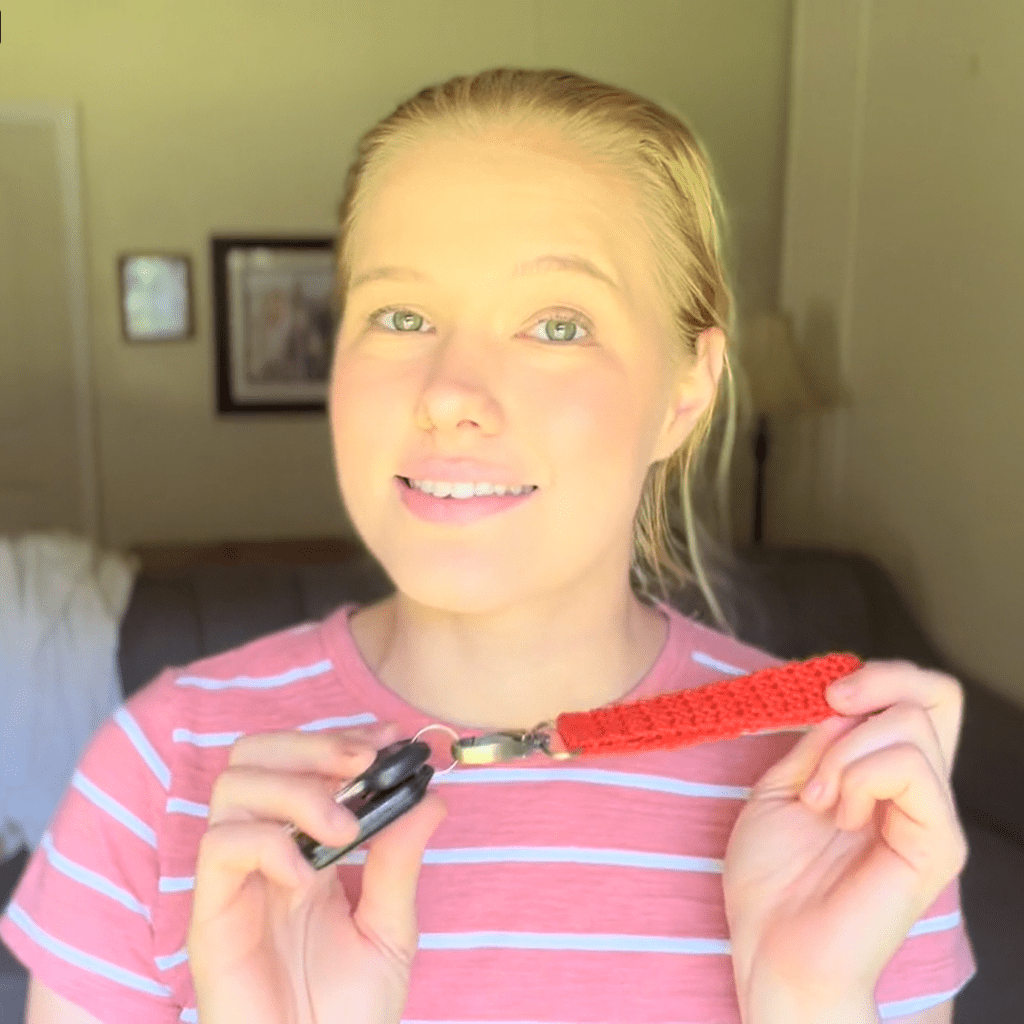 Gauge
The gauge of this key strap as written(with the original hook size and yarn that I used) is 6 stitches and 5 rows in a 1×1″ piece. I went with such a small swatch becausee 6 stitches is the total width of the project, and also because this isn't an overly technical project.
Now, if you've never really heard of gauge before or aren't sure what I'm talking about, this post would be a great place to start. Gauge is basically a measure of how many crochet stitches fit into a space. Sometimes, getting a specific gauge for a crochet project is very important, in order to get a finished piece that is the size you want! 
But sometimes, gauge isn't really critical to a project's success, and this crochet key strap would fall into that category. Why? Well, the main point of this project is to crochet a nice, sturdy strap long enough to easily slip on and off of your wrist. Even if you don't want to bother with gauge yet or aren't sure if the yarn you're using is the same weight as mine, you should still be able to do that. The important thing here is that you crochet stitches that are nice and tight.
Sizing
The finished length of this strap is about 12″ long before it is finished, and it's about an inch wide. However, as stated above the main goal here is to create a strap that is nice and sturdy. Also feel free to adjust the width as you need to for it to work with whatever swivel hook you have purchased.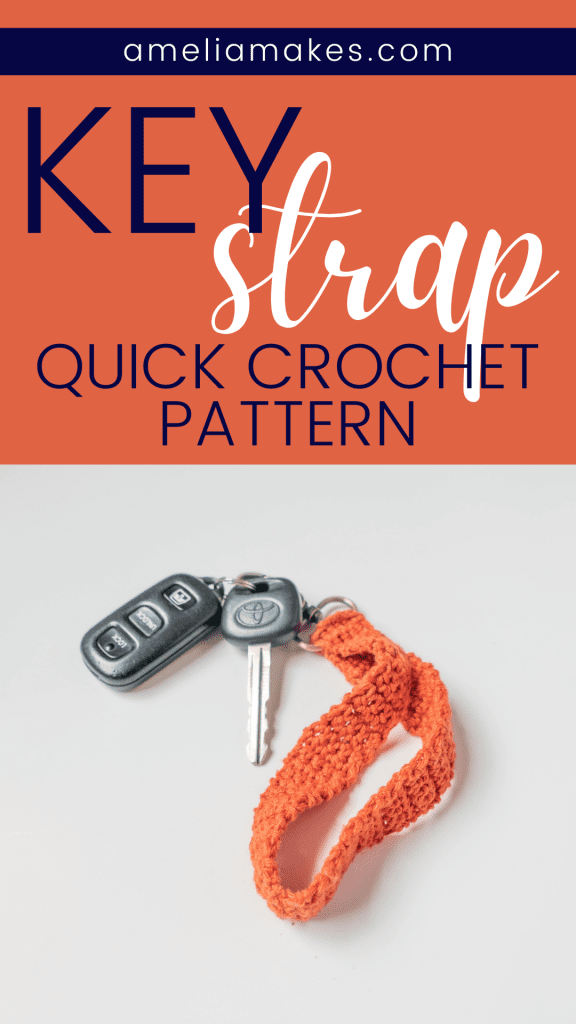 SKill Level
This project is perfect for beginners, but useful for everyone!
Additional Ideas
Depending on who will be using this key strap or the specific size of the swivel hook that's available to you, you may want to play with the dimensions when crocheting your key strap.
If you need to adjust the length or width of this key strap when you crochet your own, be my guest! It's extremely easy to do with this pattern. All you really need to do is change the number of stitches that are in every row(to change the width) or tweak the number of rows(to change the total length).
Once you get the hang of this design, you may even be inspired to create your own version with another sturdy stitch.
Crochet Key Strap Pattern Directions
Pattern Notes
Approximately 15 yards of DK weight yarn
Size E/ 3.5mm hook
One swivel hook
Tapestry needle(best for weaving in ends)
Abbreviations Used
CH – chain (yarn over, pull loop through)
SC – single crochet(insert hook, yarn over, draw up a loop, yarn over, and draw through two loops)
SS-slip stitch(insert hook, yarn over, draw up a loop through the work and through the loop on your hook)
ST/STS – stitch/stitches
Directions
Ch6
Row 1: skip a ch and sc5. Turn. (5sts)
Rows 2: sc in every st. Turn. (5sts)
Rows 3-60: Repeat row 2
Attaching the swivel hook
Put the swivel hook on to the strap you have created, and then ss the two short ends together tightly. Then, move the swivel hook to the seam you have just created, and seam the work with slip stitches again so that the swivel hook stays securely at one end of the strap(You may need to slip stitch a couple of times down one edge of the strap to get your working yarn in the best position for this).
Bind off very securely, weave in your ends, and enjoy your finished key holder!
Crochet Key Strap Video Tutorial
Here, you can watch me make my own key strap from start to finish. Enjoy! 
Final Thoughts (and More FREE Patterns)
It's been great having you at Amelia Makes today! If you like this project, be sure to get on the list for updates and so you can be the first to see new projects just like this one. . Each week I send, crochet tips and tutorials, behind-the-scenes info, and other resources for my readers. Plus, as a bonus for signing up you'll immediately get my mini bundle of surprise patterns straight to your inbox!
Grab it here:
Keep the Crafting Delightful!
Amelia