This Velvet Kimono Pattern combines super-plush texture with a lacy openwork design
It's Day 3 of the Spree! Today's gorgeous design is being released as part of the first ever Crochet Spree here on Amelia Makes. While the projects will start getting quicker and quicker to make soon, this crochet kimono is the last of the "bigger" projects.
The Velvet Diamonds Kimono has truly been a labor of love. In four different sizes and with two sleeve options(long and short). There are a lot of ways you can go with this design. Plus, it uses Bernat Velvet yarn in a lace pattern, so it's like wrapping yourself in baby-soft luxury without a lot of weight.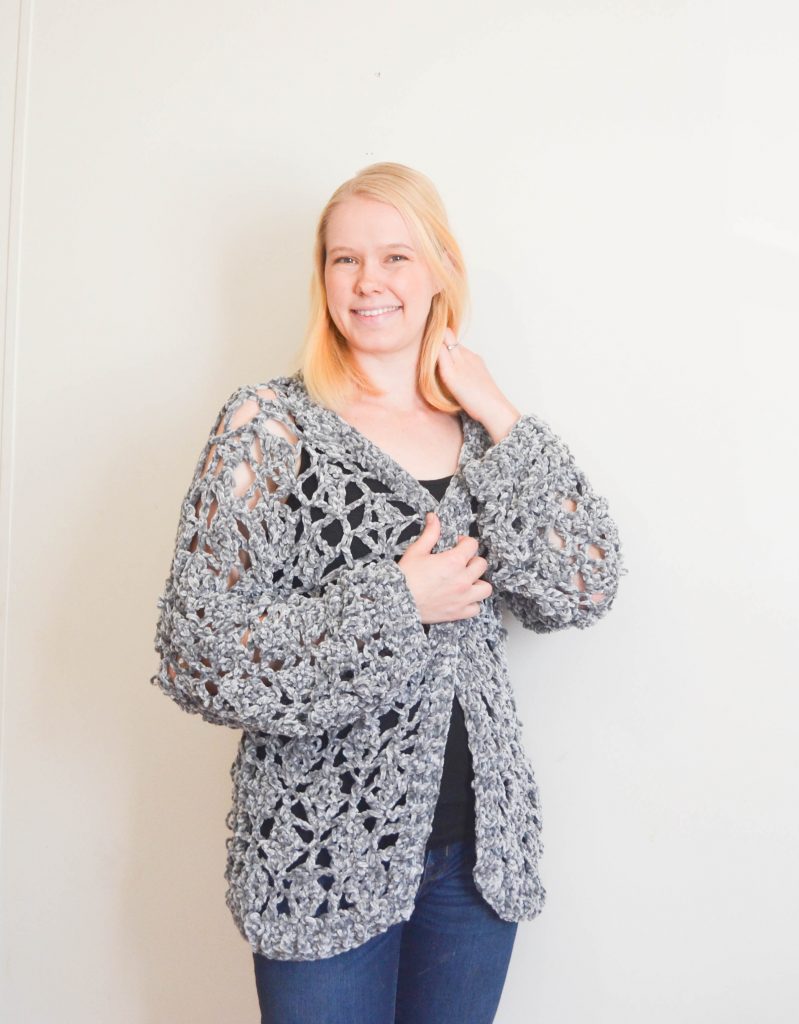 (Note: This post contains affiliate links, meaning that if you make a purchase it may benefit me at no extra cost to you. You can read all of my affiliate disclosures and other disclaimers on the disclaimers page. )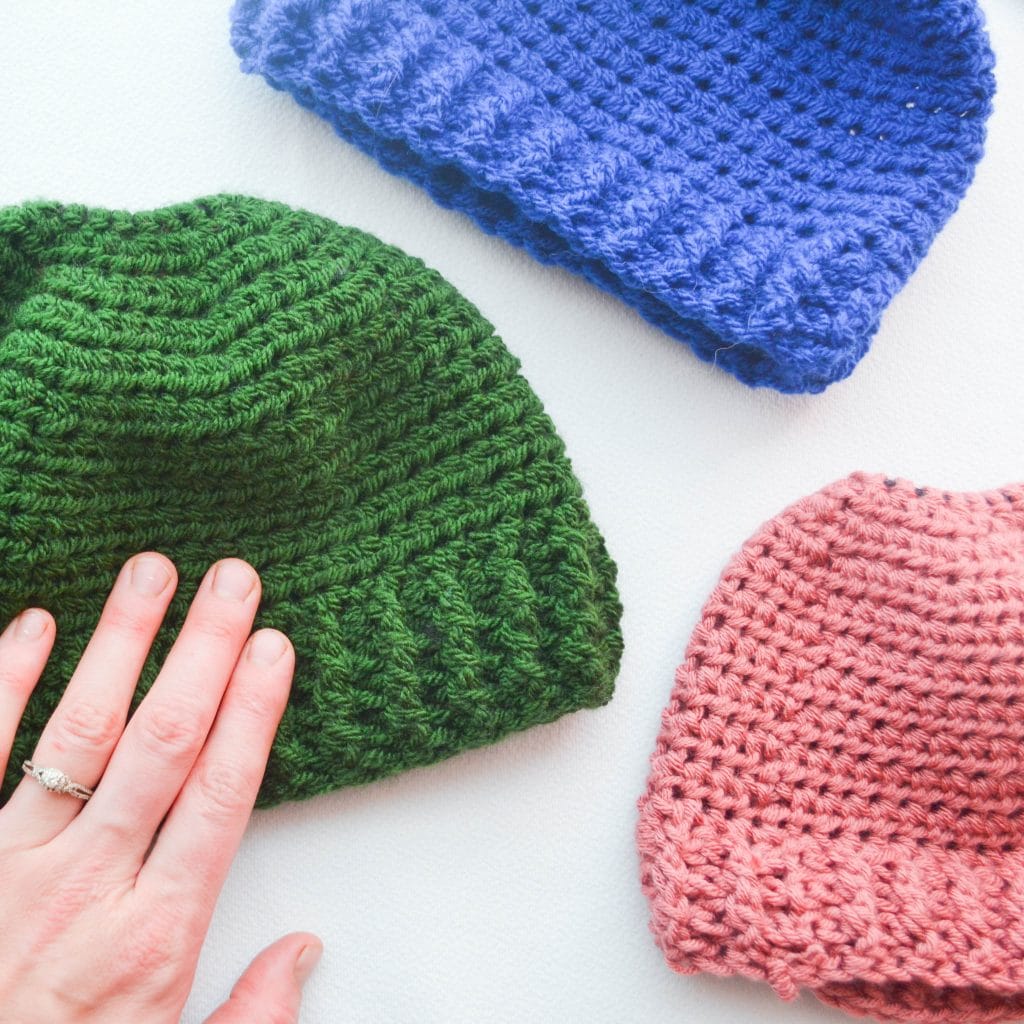 Want a few popular patterns as free PDFs?
About This Project
The Velvet Diamonds Kimono is one of the new designs to be published as part of the 2020 Crochet Spree. If you happen to be discovering it while the Spree is still going from November 27th to December 24th, 2020, be sure to enter the giveaway below! You can also see more details about the spree on this page.
Sizing
Currently, this kimono is available in four sizes. Here are some details so you can see which option is best for you:
Size extra small, which fits hips of 36" and has a shorter arm and body length
Size small/medium, which fits hips of 38-40"(this is the size I'm wearing). Just in case you are wondering, the small and medium sizes are grouped together simply due to the fact that this kimono is fairly loose. The differences in measurements between small and medium sizes wasn't enough to justify two totally separate sets of instructions.
Size Large, which fits 42" hips
Size Extra Large, which fits 46-48" hips. This size is a bit longer as well.
While the small/medium size is available for free, you can access the full version of this pattern by upgrading to my Crochet Maker's Vault.
Materials Needed
To make the Diamonds Crochet Kimono, you'll need just a few things:
2-4 skeins of Bernat Velvet Yarn. The kimono pictured has been done in the "Smoky Green" color. Link:
K/10.5mm Hook
Scissors
While this pattern could be made with other bulky yarns, it has really been designed to show off the beauty of velvet yarn. With that being said, the amount of yarn you need can vary widely (anywhere from 375-830 yards!) based on the size you want to make and the sleeve option you choose.
Obviously, shorter kimono-style sleeves will use significantly less yarn than the long sleeves, which are almost like those on a slouchy cardigan. The longer sleeves are also made with a cuff that is wider than the short sleeves, to provide more structure.
SKill Level
Working with Velvet
First of all, the fact that this design is made with velvet yarn brings its own considerations. Velvet yarn is incredibly soft, but it can also be quite slippery to work with. It may take a little extra practice to get consistent stitches if you have never crocheted with a yarn like this before. With all that said, the end result is worth it!
Another thing to consider is the care of velvet yarn. It's very clearly labeled that this beautiful stuff does need to be hand washed. No throwing it in with your jeans and kids' clothes! In fact, here's a picture of what happened to a swatch of velvet crochet that I put through just one cycle myself, just to see what would happen: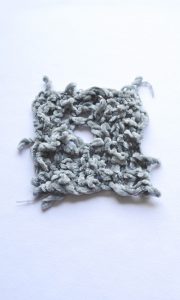 While I sure hope that the handwashing requirement won't keep you from trying this project, I do want to bring it up to save you from the loss of your hard work. I've seen bad reviews written for this yarn based solely on how it comes apart in the wash. This is one instance where it really does pay off to read the label…and follow it.
Stitches Used
The "diamond" repeat in this kimono uses a few different stitches. The main "diamonds" are done in triple crochet(add link) with chain stitches in-between them. The tops of the diamonds get formed by 3 triple crochet stitches worked together.
Double crochet stitches are also used in the repeat, and single crochet is used for shaping the kimono a little bit, and for adding edging and seaming up these lacy panels. And finally, the ribbing for the cuffs and edging on this project are made with Front-Post and Back-Post Stitches.

Considering the type of yarn we are dealing with, the lacy design, and the moderate amount of shaping that is involved, I would call this a solid intermediate project.
Pattern Download Options
The full version of this pattern(sizes XS-XL) is available in the Crochet Maker's Vault. This where I keep all of my patterns, including premium versions like the multi-sized download for this design.
Keep the Crafting Delightful!
Amelia
The Diamonds Crochet Kimono is a lacy crochet kimono design that uses Bernat Velvet Yarn.
You might also like: