These Crochet Leaves include a variety of shapes and sizes, perfect for a variety of projects and applications!
Whether you are fully customizing a project, or simply adding your own flair to a pattern, it's nice to find little "extra touches" that can help to make a crochet design your own. Today, it's my pleasure to bring you a few different leaf designs that you can add to just about anything.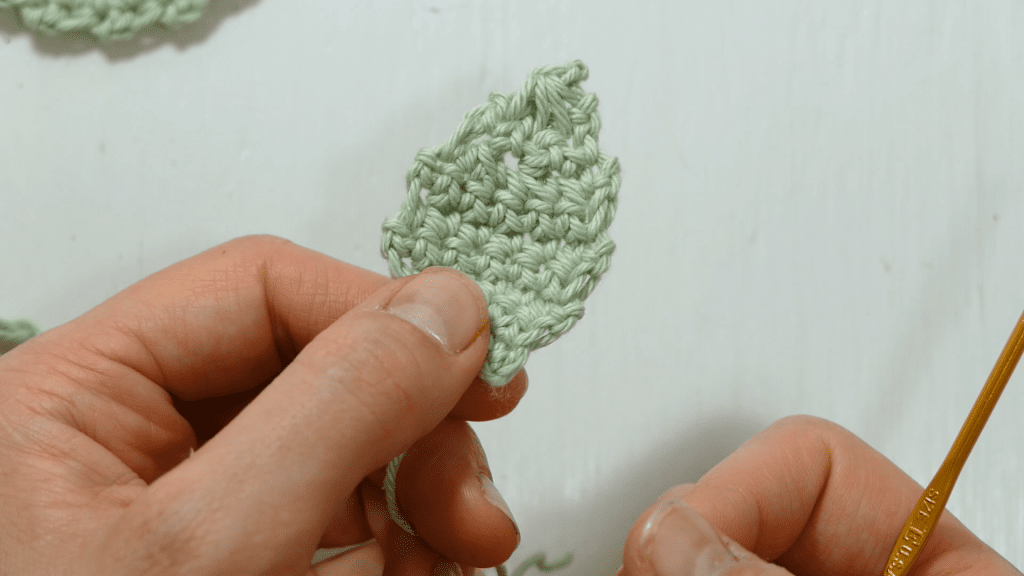 On this page, there are different shapes of crochet leaves(with at least one completely free) that can be made to add to floral, springtime, or summer/fall designs in any configuration you want. In fact, these leaves could also be used for flower petals to create your own custom crochet flowers if you want!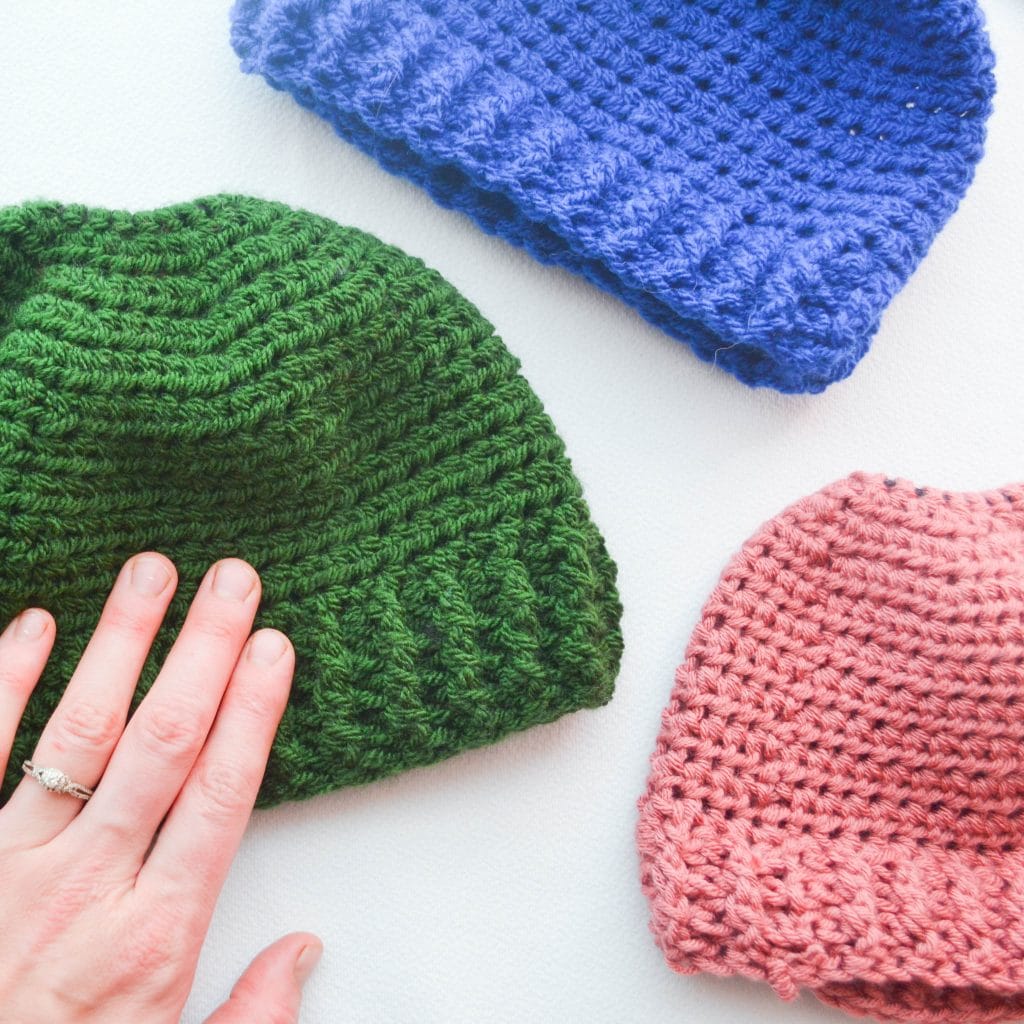 Want a few popular patterns as free PDFs?
Keep reading below for details on these crochet leaves and what you need to create your own.
On This Page(click on any link to jump down the page):
About These Crochet Leaves
These leaves are originally part of the 2022 Floral Wreath CAL. As such, the first pattern below is completely free(including the video tutorial below). The other two patterns with their videos may only be available inside of the Crochet Makers Vault(my monthly membership).
Gauge
The official gauge for these leaves is 10 rows and 9 stitches for 2x2in using dk yarn and an e/3.5mm hook. However, I would like to stress that it is NOT critical to exactly match that gauge in order to have success making this flower(or any of the flowers in this series, to be honest).
You can easily create ANY of these leaves using other weights and/or types of yarn. However, I would personally recommend keeping your hook size small enough(compared to your yarn) that the stitches stay fairly tight, so that your leaves don't ultimately turn out floppy and loose.
Sizing
In the gauge provided, these leaves turn out anywhere from 1.5"-3" long.
Materials Needed
To crochet some leaves of your own, you will need:
Approximately 1.5-3 yards of dk yarn for each leaf(I used this yarn line from Paintbox)
size e/3.5mm hook
Scissors
A tapestry needle(this is optional, but using a tapestry needle is my favorite way to weave in ends.)
Crochet Leaf Patterns and Directions
Crochet Leaf 1(free forever)
note : this leaf requires about 3 yards of dk yarn when using an E/3.5mm hook.
Abbreviations used:
Ch-chain
Sc-single crochet
Sc2in1-single crochet two in one stitch(single crochet increase)
st/sts-stitch/stitches
Sc2tog- single crochet two together(single crochet decrease)
Directions
(Uses 3 yards )
Ch4
Row 1: skip a ch and sc, sc2in1, sc. Ch1 and turn. (4sts)
Row 2: sc, sc2in1 2x, sc. Ch1 and turn. (6sts)
Rows 3-6: sc in every st. Ch1 and turn. (6sts)
Row 7: sc, sc2tog 2x, sc. Ch1 and turn. (4sts)
Row 8: sc, sc2tog, sc. Ch1 and turn. (3sts)
Row 9: sc3tog. Close with a ch1. Bind off.
Video Tutorial:
Crochet Leaf 2
This pattern has been moved to the Crochet Makers' Vault.
Abbreviations Used:
Tr-triple crochet
Dc-double crochet
Hdc-half double crochet
Sc-single crochet
Ss-slip stitch
ch-chain
Yardage: Uses up to 1.5 yards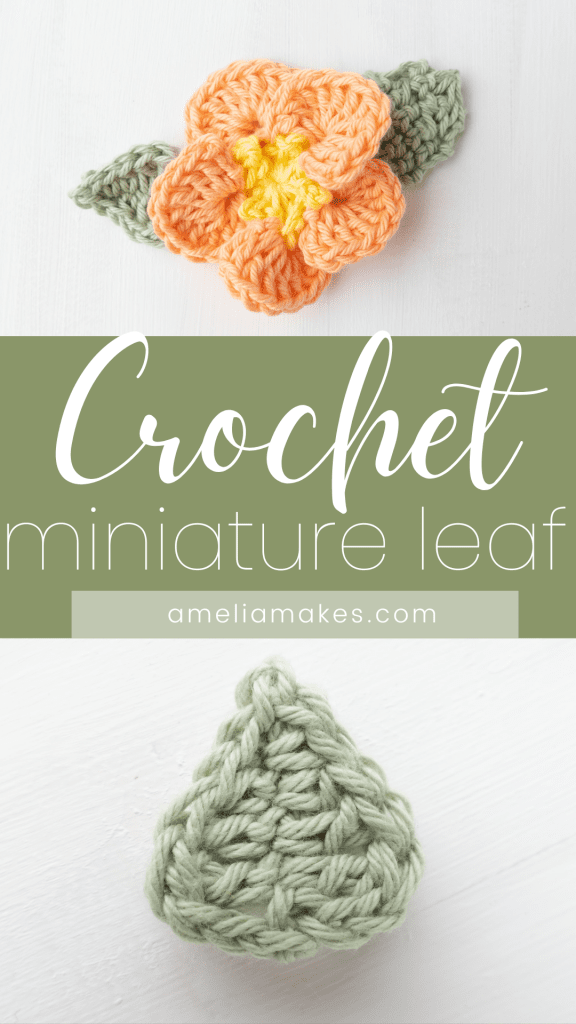 Crochet Leaf 3
This pattern has been moved to the Crochet Makers' Vault.
Abbreviations Used:
Hdc-half double crochet
Sc-single crochet
Ss-slip stitch
ch-chain
Yardage: Uses 2 yards
Getting Featured
I always love seeing how fellow crocheters use patterns from Amelia Makes to make their own beautiful projects. And, for this CAL I am particularly excited to be featuring some of you!
So, if you'd like your work to be shown as an example of one or more of these CAL designs, simply fill out this form.
You'll be prompted to include a picture of your own flower/leaf, or a picture of your own wreath when it's all done. If you're featured, I'll send you a gift just to say "thanks!"
Final Thoughts
It's been great having you at Amelia Makes today! If you like these crochet leaves, be sure to get on the list for updates and so you can be the first to see new projects just like this one. . Each week I send crochet tips and tutorials, behind-the-scenes info, and other resources for my readers. Plus, as a bonus for signing up you'll immediately get my mini bundle of surprise patterns straight to your inbox!
Grab it here:
Keep the Crafting Delightful!
Amelia
Add crochet leaves to any project with these three unique crochet leaf shapes!
You might also like: