Here you'll find all kinds of crochet projects for you, your home, and your loved ones!
Fingerless gloves are one of the easiest and cutest accessories you can crochet. Here, I'll show you how to make them and three patterns to
Read More »
The Holly Crochet Headband is a truly warm festive earwarmer pattern-perfect for wearing around the holidays or giving as a gift There's a lot of
Read More »
It's here at last! The design I get to share with you today is something that I've been working on for months and have been
Read More »
The final "Holly" design is this adorable bobbled bonnet, perfect for Baby's first Christmas! After bringing you the Holly Headband/Earwarmer and the matching Holly Boot
Read More »
This free crochet pattern for a poncho is great for babies and small kids to wear in their car seats, but the tutorial can be
Read More »
Turning Flip Flops into crochet boots or booties is a simple way to end up with shoes that you can actually wear outside. Here I
Read More »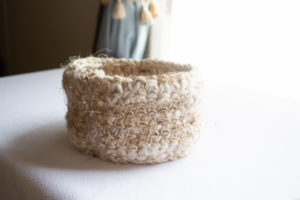 Crochet Baskets are easy to create even if you don't have a specific pattern. This post goes over everything you need to know to create
Read More »
I don't know about you, but nice towels are a small luxury of life. They can take a simple part of a daily routine and
Read More »
Chair Socks are a great way to use up a little yarn. With this simple crochet pattern you can quickly protect your floor from scratches.
Read More »