This Crochet Snake Project combines a fun and colorful idea with an easy, two-dimensional design to create a toy that's full of possibilities
A few weeks ago, I was sitting and crocheting another project when one of my boys whispered something in my ear.
He asked simply if I could make him a crochet snake. Now, I have no idea where he got the idea. What I was working on at the time wasn't anything at all resembling a snake. But for whatever reason, snakes were on his mind somehow.
Glad that he asked, I went ahead and started making a small and very impromptu "snake" out of the same yarn I was already working with. But, since he had put the idea in my mind, I realized that a slightly better version might be something that other young boys might enjoy, too.
So after working on a new crochet snake pattern, I'm excited to share the finished project with you today. This improved snake features a couple of stripes, a forked tongue, and a little bit of shaping to give him a pointed tail and wider head. Overall, it's just a little more cool looking( the most important thing) while still being very easy to make. Plus, it's a free download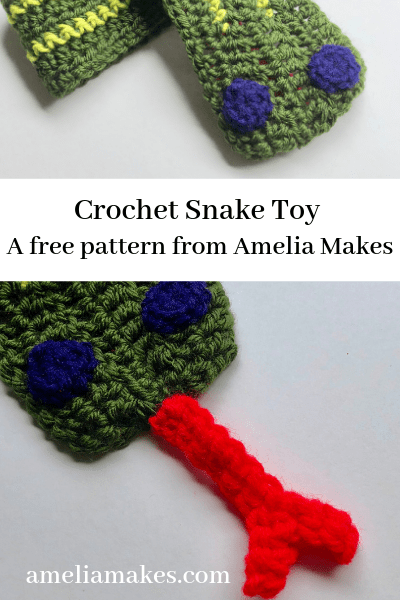 Grab your own free download of this fun toy:
Materials Needed
So for this project, you need less than 300 yards of medium-weight yarn. Most of that is for the main body color(where I used dark green). Very little yarn is needed for the stripes, eyes, and that bright tongue. For plenty of different choices in this weight of yarn, you can check out this yarn page from Love Crochet.
You will also need an H-size hook.
Lastly, you can grab the free pattern for this project through the link in the bottom of this post. The downloadable pdf has all the details and instructions you need to create this fun snake toy row-by-row and put the pieces together.
About the Pattern
Mr. Snake is worked mostly in half-double crochet, although some other basic stitches are used as well. Short rows create the stripes, while a few other easy techniques are used for the eyes and tongue. Rather than make a round snake, I created this one to be totally flat and therefore very easy to execute. No filling needed!
When finished, the snake body measures almost exactly three feet long. In addition to being a great size for swinging and wrapping around things, I think it could also double as a unique and entertaining scarf.
Ways to Customize
I can see you lovely creative people making this crochet snake in all kinds of bright and fun colors. Even better, if someone you know has a pet snake or is interested in snakes, this project could be made to look like a specific species.
In addition, once you try out this pattern, you may find that it's a fun design for tweaking to make different sizes. A much smaller snake could become a bookmark or bracelet, while a much larger, fatter snake would make a pretty amazing blanket or area rug. Play with the idea a little and you might come up with even more uses for this!
Final Encouragement
Making fun and delighting gifts for loved ones is one of the most joyful things that can come from a creative hobby. This little crochet snake will become a treasured plaything for one of your kids or maybe someone else in your life. Plus, it's a great project for any beginner to practice their skills, without being a large undertaking. And, if you've been crocheting for a little longer, this will probably be a snap!
Simply fill out the form below to download the pattern for yourself. I also send out weekly tips, encouragement, and announcements about new projects and other news. While you can opt-out anytime, I think you'll enjoy having more crochet come your way!
Enjoy this project, and keep the crafting delightful!
Amelia
A great introduction to crochet toys, this simple but fun crochet snake would be a great handmade gift for any reptile-loving kid in your life.