Ready to make something incredibly functional? Today's Sweat Band pattern provides an easy way to create something useful.
Hey there! Are you looking for an alternative project for some of the cotton yarn that you might have laying around? Cotton is so often associated with practical projects, and while today's pattern is very practical and useful, it's probably something that you haven't yet thought of creating. So, enjoy today's project as a free pattern for your cotton yarn stash!
The crochet sweatband pattern is brought to you by hot, humid days here in the south. I'm not personally much of a workout enthusiast, BUT I do love to garden and that alone calls for a sweatband on these days where you practically melt. Hopefully whether you decide to try this pattern for yourself or an active friend, it proves to be just as useful.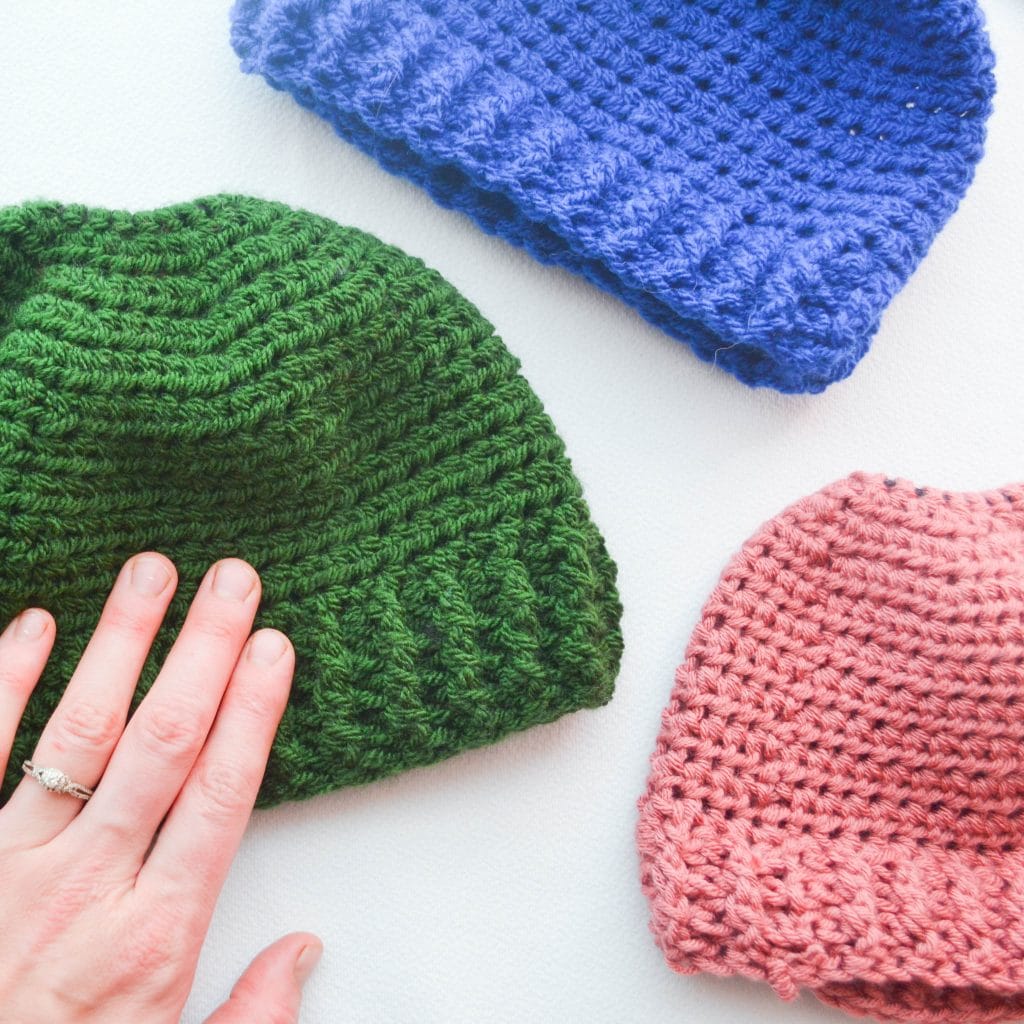 Want a few popular patterns as free PDFs?
You can keep reading below for all the details about this pattern, the crochet directions, and even a full video tutorial!
About This Project
Cotton is often associated with making washcloths and hand towels. Or, more recently it's been used more and more for face scrubbies and soap savers. If you have finer, higher quality cotton, then it becomes a little more common to tae the time towards creating a pretty top or other wearable with your yarn. The nice thing about today's crochet sweatband is that you can use more "common", dishcloth-type yarn to create something that is absorbent for a practical purpose AND also meant for wearing. Any time I can reasonably crochet a solution for a problem, I consider it a win.
Gauge
So let's get into some of the finer details about this pattern. The gauge for this project is 8 stitches and 10 rows of SSBLO per 2×2" square. SSBLO means slip stitching in the back loop only. This is one way to create a beautiful crochet ribbing, especially if you'd like your work to keep its shape and be less liable to stretching. 
You don't need to worry about gauge too much for this pattern, but if it's something you've never quite understood or want to learn more about, you can get a really good overview on crochet gauge here.
Sizing
With the directions and gauge as written, this sweatband design should give you a finished project that fits most adults. Depending on how much cotton yarn you have, you may choose to play with the exact sizing of this pattern(see "variation ideas" below).
Materials Needed
To make one sweatband, you will need the following:
15-20 yards of medium-weight cotton (Paintbox Cotton Aran Yarn in color "Slate Green" is shown.)
Size G/4mm hook
Scissors
A tapestry needle(optional, for weaving in ends)
SKill Level
This free cotton crochet pattern is specifically made to be beginner friendly. In fact, it's the perfect way to learn about crochet ribbing by making a project with a ribbing technique. Of course, any crocheter who needs a quick gift or would like a short project can also benefit.
Variation Ideas
For this project, the main variation that you can consider is simply adjusting the length of your sweatband for a better fit. To do this simply add or subtract some rows to get the size that looks and feels best. Just remember that it needs to fit over the wearer's hand!
You can also add or subtract stitches when you crochet your own sweatband, in order to get a different width(keep in mind that this will affect how much total yarn you end up using!)
Crochet Sweatband Pattern Directions
Pattern Notes
Abbreviations Used 
CH – chain (yarn over, pull loop through)
SS-slip stitch(insert hook, yarn over, draw up a loop through the work and through the loop on your hook)
SSBLO-slip stitch in the back loop only.
ST/STS – stitch/stitches
Directions
Ch11
Row 1: skip a ch and ss10 (10 stitches) Ch1 and turn.
Rows 2-40: skip the turning chain and SSBLO for the entire row. (10 stitches) Ch1 and turn.
Do not bind off.
Seaming:
Without turning the work over again, fold the other small end of your sweatband up so that it is in front of the end with your last worked row.
Take the hook out of your work, insert it through the front corner of the other end, and pull through the loop that was on your hook.
Working down the edge, slip stitch the back loop only of your back edge with whichever part of the stitches work best on the front edge. Bind off when finished. 
This will give you a seamless look when you turn the band right side out! 
Video Tutorial for the Crochet Sweatband
Final Thoughts (and more FREE Patterns)
It's been great having you at Amelia Makes today! If you like this project, be sure to get on the list for updates and so you can be the first to see new projects just like this one. . Each week I send, crochet tips and tutorials, behind-the-scenes info, and other resources for my readers. Plus, as a bonus for signing up you'll immediately get my mini bundle of surprise patterns straight to your inbox!
Grab it here:
Keep the Crafting Delightful!
Amelia
Use this crochet sweatband pattern as a unique, free pattern for your cotton yarn!