The Trevi Washcloth is a simple and easy design suitable for beginner crocheters who also want just a little bit of decoration or detail.
One of the most practical and easygoing projects that you can make is a crochet washcloth. They are useful, portable to work on, and usually quick to make. Because of their smaller size, crochet washcloths are also a great way to try new stitches. Today, I'm happy to bring you a crochet washcloth design that can easily be made to match any color scheme.
The Trevi Washcloth is a new pattern created to match the popular Trevi Towel design. It features the same simple design and simple lace edging as a finish. Together, they are a great option for gift sets, home use, and as default choices that you can have in your bag as an easy on-the-go option.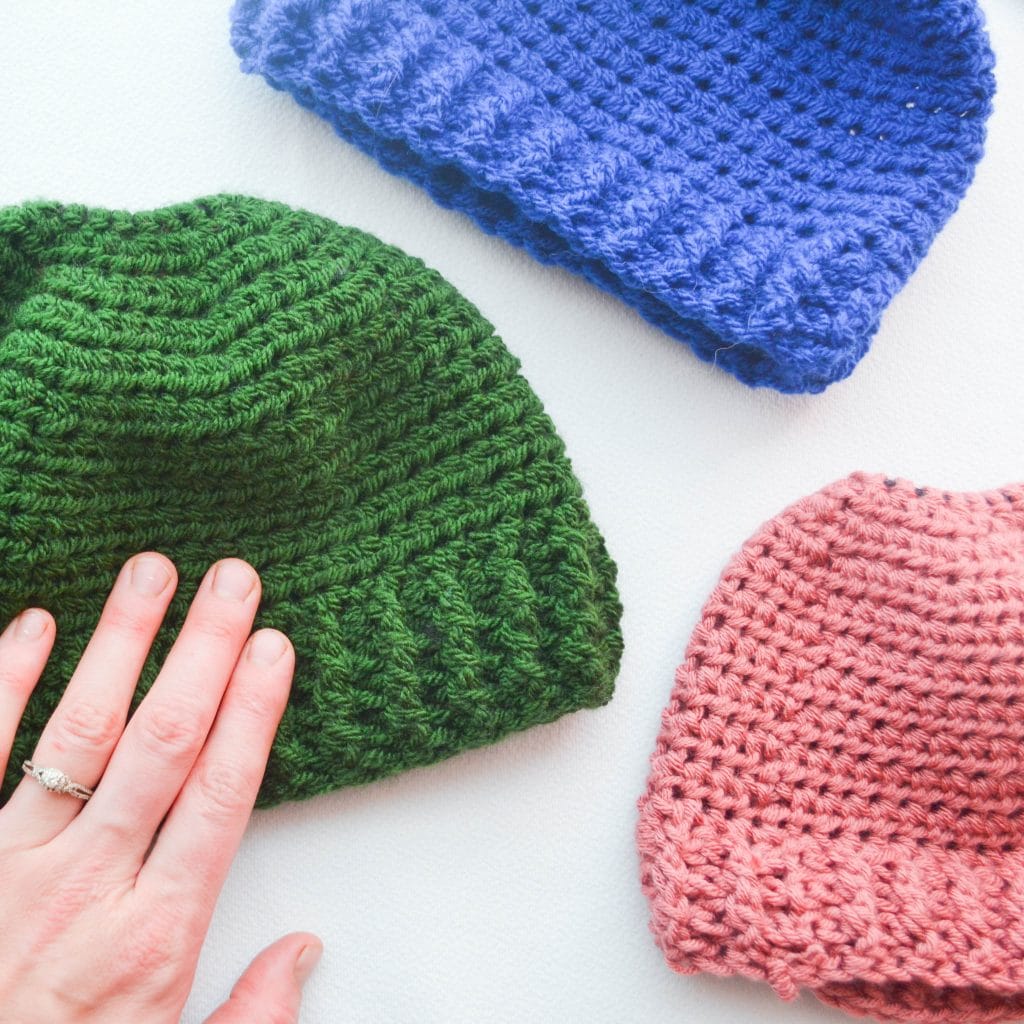 Want a few popular patterns as free PDFs?
About this Crochet Washcloth
Skill Level
This pattern is suitable for beginners, since most of it is a simple single crochet. The border is done in the round, which may be a new challenge for someone new to crochet. However, it can also help to even out the edges of the washcloth, which makes the pattern a bit more forgiving.
Choice of Yarn
Any worsted or aran weight cotton would work wonderfully for this design. I used the Dishie Cotton from We Crochet(which you can find here) in the colors Mint, Conch, Honeydew, and Friendship Bracelet(one of the multicolored versions). I particularly like working with this cotton because of it's smoothness-there is absolutely no problem with splitting. The fun color choices in their wide selection is an added bonus.
Below is the Complete Pattern for the Trevi Washcloth Design. Remember that you can always access my free patterns as downloads in the resource library by becoming a subscriber.
Trevi Washcloth Full Pattern
Materials
Approximately 70 yards of worsted yarn
G Hook
Abbreviations
Ch-chain (add links for all stitches)
Sc-single crochet
Dc-double crochet
Directions
Ch 33
Row 1: skip one ch and sc in every other stitch(You should end up with 32 stitches in every row) Ch1 and turn.
Rows 2-36: sc in every stitch. Ch1 and turn.
Border:
Round 1: To create the simple border lace on this washcloth and also make it a bit larger, start by chaining 3. *ch1, skip one stitch and dc* repeat across the row, putting a dc into the last stitch.
Ch3 and put another dc into the same place to create the first corner. Continue going around the other three sides of the washcloth this way. My washcloths ended up with 15-17 spaces around each side.
Round 2: ch1 and sc into every stitch along the sides. Sc4 stitches into each corner space. At the end of the row, simply ss and you're done!
Enjoy this pattern, and don't forget to pin it for later check out the matching Trevi Towel as well.
Keep the crafting delightful,
Amelia
Enjoy this beginner crochet washcloth pattern and don't forget to grab your free patterns before you go!