Today's Free Crochet Pattern is a Baby Blanket Design that Creates Beautiful Texture with Minimal Effort.
Baby blankets have got to be one of the most delightful projects you can possibly work on. Not only are they intended for precious babies and therefore inherently special, they are also smaller than adult-sized blankets. This means that when we crochet a baby blanket, we get the pleasure of packing lots of creativity and love into the project, and still being able to finish it in a shorter amount of time. Win-win!
When I was expecting my last baby, I knew that I wanted to have a special blanket ready just for her as soon as possible. Wanting to try something new and simple, I tried this design and was not disappointed. Now, I welcome you to use the idea for yourself: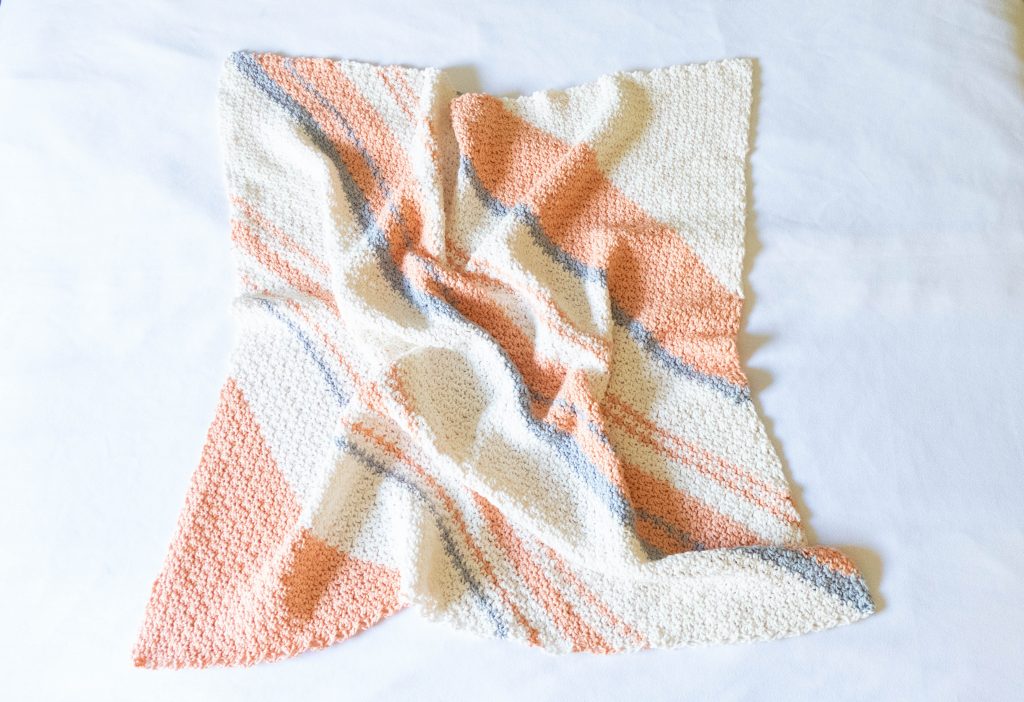 This pattern is part of a bundle that you can download totally for free! It also includes 9 of my other popular designs:
You can also keep reading for more specs and notes on this project.
About This Project
This Baby blanket is made with a corner to corner (c2c) griddle stitch. I blogged about this stitch before HERE and it is honestly one of my favorite stitches of all time. I love how it looks and I love the texture it makes. You can read more about Griddle Stitch, including the c2c version, on the tutorial page with Griddle Stitch.
Something to note is that while I've made two of these blankets so far(one solid and one striped) all of my specific specs (such as gauge, finished size, and yarn needed) are
Gauge
The gauge of this project is 10 stitches and 8 rows of griddle stitch per 4×4″ square
Note: If gauge has never been your "thing" or it still seems like a mystery, check out this post on how to make sense of gauge.
Sizing
While baby blankets aren't limited to one specific size, there are some standards that can be maintained to keep a Baby blanket the sizes you would expect. Baby blankets generally range from 30 x 40 inches (75 x 100 cm) to 36 x 48 inches (90 x 120 cm).
My cream diagonal blanket is 36″x36″ using just the c2c design. I also added a last-minute border, with added about an inch to the finished size all around. Note: if you leave the design as-is, the raw edge is slightly lacy.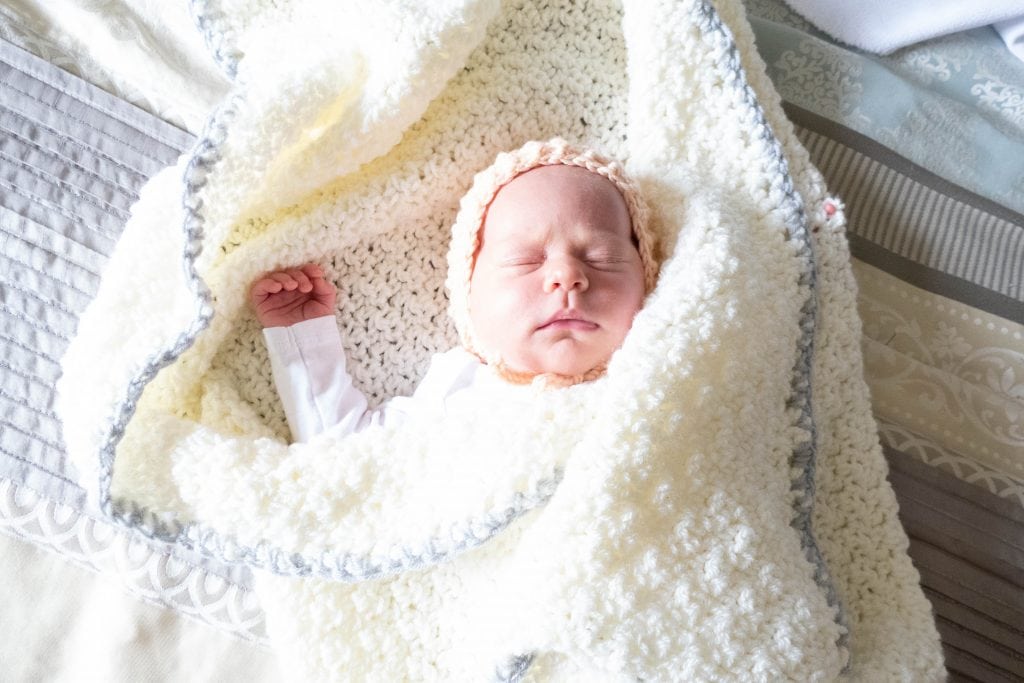 The two baby blankets pictured(the ones I personally made) have completely different specifics such as gauge, finished size, and the amount of yarn needed total. This is a very flexible design that can, in fact, be used with whatever yarns you want and made in any size, but know that moving forward the details I am listing are based on the solid cream blanket that I made for my own baby. The striped blanket pictured shows off the potential diagonal stripes of this design beautifully, and the technique is the same, just not the yarn, the gauge, and so on.
Materials Needed
To create this design for yourself, you will need the following:
700 Yards of Aran weight yarn (I also used 30 additional yards for my single crochet grey border).
K/10.5mm hook
Scissors
Tapestry Needle (optional)
Both of the Diagonal Baby Blankets I've made so far have used Paintbox Yarns. My solid cream version uses Paintbox Simply Aran, and the striped version uses their cotton aran. Both created very nice results and both are some of my favorite go-to yarns. And yes, even thought they are from the same brand and are both listed as "aran" the two yarn lines are different in weight. The cotton yarn is really more of a worsted weight and I would find it impractical to try getting the same gauge with it as I do with the Simply Aran yarn.
Now just in case you are wondering, you absolutely CAN use different weights of yarn for to create this blanket. Just understand that you will need different amounts of yarn depending on the weight that you choose and the exact size of blanket that you decide to make. Obviously, if you decide to create stripes, you will need multiple colors of yarn in differing amounts. You could also easily find that a different hook size is preferable.
A Tapestry needle is not absolutely necessary for working this pattern, but I find it extremely helpful for weaving in ends. I prefer a needle for this job because it allows me to weave the ends back inside of the yarn, rather than simply in-between stitches. You can see this article for more on that, as well as for other tips and a video tutorial. Ultimately, you can use whatever is comfortable for you and fulfills your needs.
Skill Level
This project is easily a beginner-level pattern, with the possible exception that it is done in C2C (corner to corner). Even thought this project is done in Griddle Stitch in corner to corner and not the typical block stitch that has come to almost be synonymous with c2c, I know that the technique can feel intimidating if you've never tried it before.
If you would like some reassurance or just want to make sure that you get off on the right track with this blanket, be sure to watch the c2c video on my original Griddle Stitch post. In that article I cover the c2c version in it's own section, but you can also start by learning the "normal" Griddle stitch in case you've never tried it before or perhaps need a refresher.
Variation Ideas
Because crocheting this baby blanket uses such a simple repeat, it's a perfect design to add your own customizations to.
Creating diagonal stripes with different colors of yarn is a really satisfying and easy option. It would also turn this pattern into an ideal stash buster. A few other easy ideas would be to sprinkle some crochet bobbles here and there in your blanket, or to add a lacy border.
(By the way, if putting your own spin on crochet patterns is something you want to do, you might want to check out Crochet Design School).
Free Pattern Download
Baby blankets are a perfect project for any crochet enthusiast who wants to create a special gift for a little one in their life. Hopefully, this design has given you one idea for an easy and lovely option that you can make even as a relative beginner. As always if there's something about this article that doesn't seem clear right away, please free to leave me a comment below! I'm happy to answer any questions anyone has about the process or share tips and tricks from making any of my designs.
And if you like this project, be sure to get on the list for updates from Amelia Makes. Each week I send out new projects, crochet tips and tutorials, behind-the-scenes info, and other resources for my readers. Plus, as a bonus for signing up you'll immediately get the free downloads for these projects in your inbox, including this free crochet baby blanket design.
Grab it here:
Keep the Crafting Delightful!
Amelia
The Diagonal Baby Blanket is an Easy Corner-to-Corner Crochet Design that has Striking Results.