The Fallglow Beanie is a cozy, cabled crochet hat design that is just made for pom poms and outings in the chilly air.
A few days ago, the Fallglow Cowl was finally published after weeks of work, and today it's matching crochet beanie is here for you to enjoy! It's been such a pleasure to bring you these cabled designs that are particularly inspired by this time of year.
If you haven't yet seen the post on the Fallglow Cowl, you can look at my introduction post to it, and see the whole design on the Joy of Motion crochet blog.
Would you like the free download for this pattern?
(Note: This post contains affiliate links, meaning that if you make a purchase it may benefit me at no extra cost to you. You can read all of my affiliate disclosures and other disclaimers on the disclaimers page. )
But today, I'm excited to bring you the Fallglow Beanie. Made to be cozy but cheerful, this hat is perfect for getting outside again and enjoying the softer temperatures of fall and beyond. Afternoon walks with more sunshine coming through colorful leaves often creates an almost pinkish glow, and everything feels more cozy and pleasant.
In fact, that sort of nostalgic feeling is what the Fallglow Beanie (and the matching cowl as well) was created to celebrate this comfortable season as well as the beauty of it's changing light and landscape. I hope you enjoy it!
About this Crochet Design
Like the Fallglow cowl, the Fallglow Beanie is worked in rows. After the main body is done, it is seamed up at the back and ribbing is added. Finally, the top of the hat gets closed up and you can add a pom-pom if desired(that's pretty much a given for me!)

For my hat, I chose to make a shearling pom pom, which turned out complimenting the rest of the hat really well. This is the tutorial I used for making the pom out of shearling.
But going back to the main design:
cables
Although the Fallglow Cowl looks Complicated, there are actually very few stitches used. In fact, most of the design is done in half double crochet. The cable design is worked in a pretty large stitch-the double treble-which are always done as front post stitches so that they "float" on the top of the work and give that noticeable raised design. Switching the order of how the stitches are done is what makes the cables move across the background.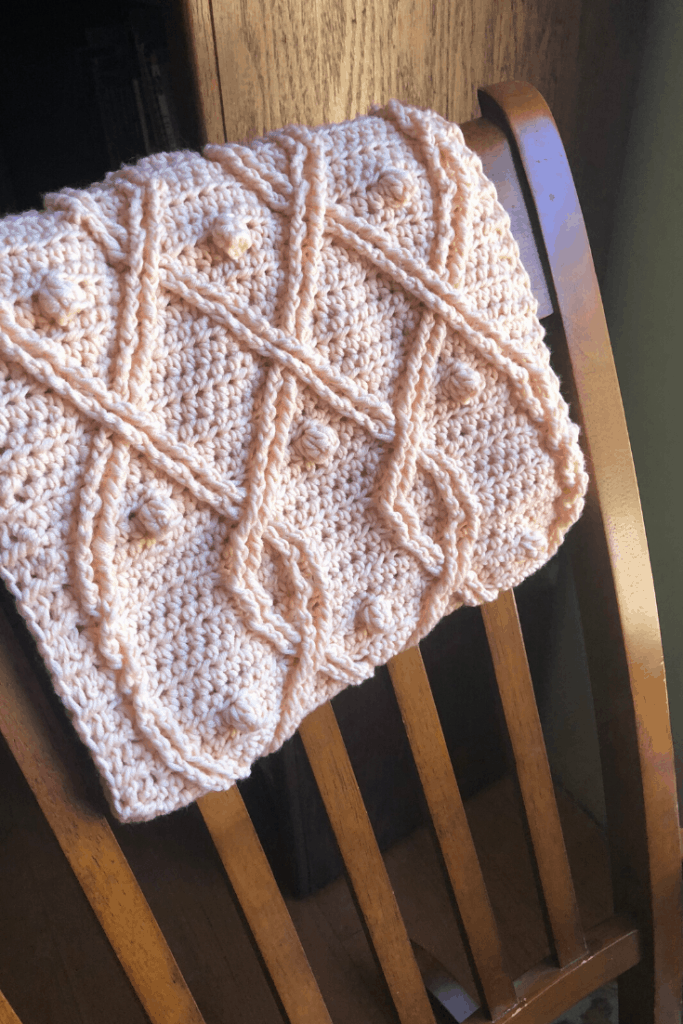 If you're new to crochet cables, you can check out this post by The Unraveled Mitten. There's a small design there that you can practice to get used to crocheting cables.
Or, you could also follow along with my video below to crochet a swatch of cables. I take you right through every row of the Fallglow Pattern in a swatch, so you will use all of the same stitches as the cowl and hat.

Bobbles
There are also some crochet bobbles in the Fallglow crochet designs, which are done in kind of a unique way. To make a long story short, each bobble is worked across two stitches so that it will stay centered in a section of the pattern where there are an even number of stitches. With that aside, they are worked in much the same way as a normal bobble or cluster.

The video I made on this will show both of these techniques in greater detail and hopefully make it really clear how the design comes together.
Video Tutorial/Demonstration
Below is my row-by-row demonstration/tutorial for the Fallglow design. You'll see the cables take shape and also be able to see how I make those bobbles centered in the design like I was explaining above.
Even if you're not sure that you want to make one of the Fallglow designs right away, working up the swatch can be a great way to learn cables and also work on reading a chart or written directions along with a video.

The swatch instructions and chart are available in my resource library. You can get the password and access to that by filling out the form below:

Here's the video!

The Yarn
It turned out that this "Bold" extra-fine merino wool yarn from Sugar Bush Yarns has been the perfect choice for the Fallglow designs.

The Bold yarn has a smooth and consistent twist that really allows three-dimenstional stitches to stand out. The cables and bobbles in the Fallglow cowl are really set off by this yarn's texture. But, despite the great twist, this yarn is also particularly light and lofty. In fact, between such a soft and spongy yarn and all of the cables in this design, the "squish" factor in the final product is kind of unbelievable!

But, the final reason that I personally fell in love with this yarn for the Fallglow Cowl was the color.
I wanted a nice soft pink of some kind, both because of the peachy light I like so much in the fall leaves, and because pink is just such a nice color, period. This "Pacific Peach" colorway in the Sugar Bush Bold yarn has turned out to be just the right mix of pink and neutral. As it happens, this color also reminds me of certain varieties of pink pumpkin!

To see this yarn for yourself, you can check it out HERE.
Grab the pattern
If you'd like to grab this pattern for yourself and would also like to hear about new projects, you can do that below. I love to send out weekly tips, encouragement, and new pattern announcements to my readers as a way to stay connected and say thank you!
Final Thoughts
Whether it's still fall, moved on to the colder winter season, or whether you're crocheting out of season to get ready, the Fallglow Beanie is a great way to create an interesting cable design in your newest crochet hat.
Before you go, don't forget to pin this for later, share, or subscribe so you can find the Fallglow designs again.
And keep the crafting delightful!
Amelia
Crochet a pretty, cabled hat with bobbles with this pattern for the Fallglow Beanie!