The Feather Ornament is a very three-dimensional bauble that is wonderful for Christmas decorating or as a gift.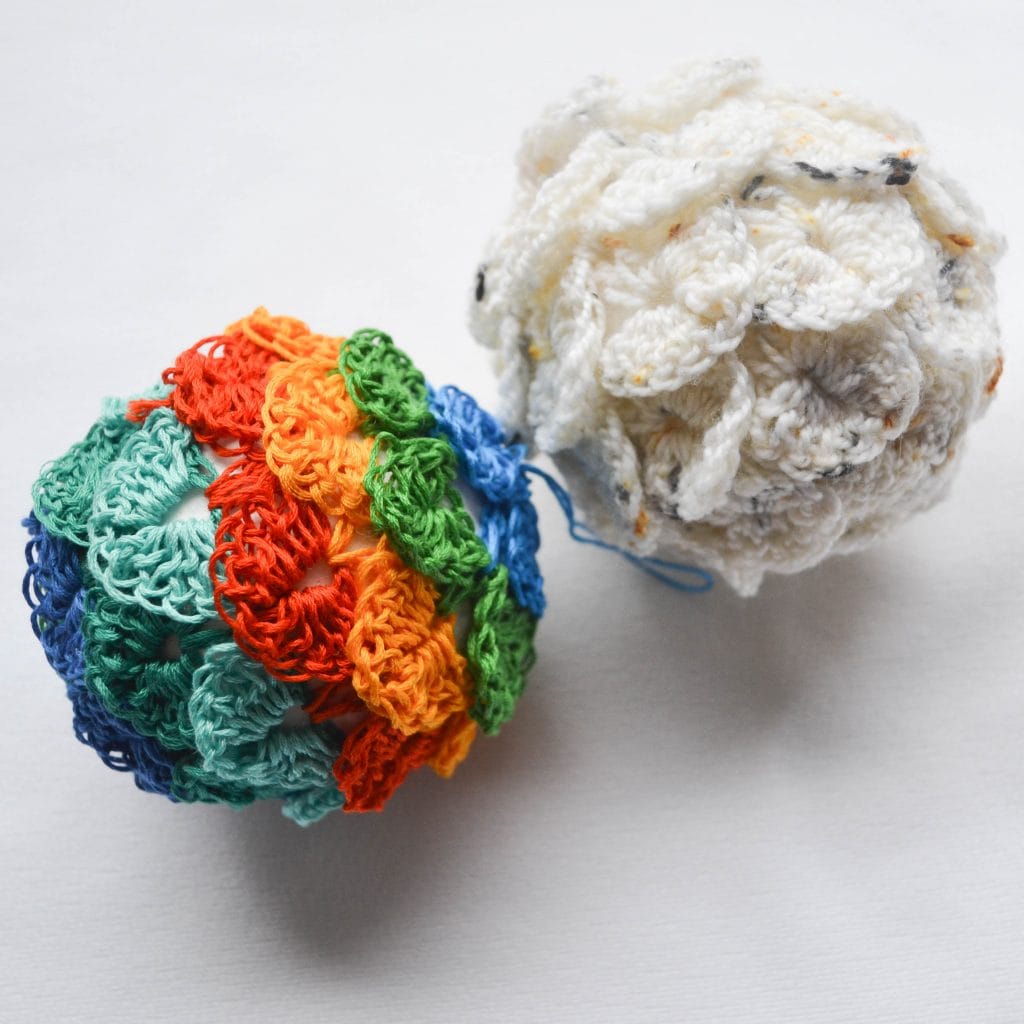 Would you like this pattern sent to you as a free download?
About This Project
This feathery ornament is great for anyone who wants to make a unique ornament, either for themselves or for others. If you've never done a stitch like the crocodile stitch before, this may also be an enjoyable challenge. Working the Crocodile Stitch in rounds (and around the foam craft ball that fills out the shape), does add one more element to crocheting this project. So with that in mind, I've also created a full video tutorial that you can find in the Maker's Crochet Vault.
My video demonstrates the exact directions that you can find in the free download for this project. It's a great way to get the hang of the crocodile stitch and working it in the round(with increases and decreases) all at once. 
This ornament design also happens to be one pattern in my 2020 Crochet Spree. If you happen to be discovering it while the Spree is still going from November 27th to December 24th, 2020, be sure to enter the giveaway below! You can also see more details about the spree on this page.
Sizing
The craft ball/foam ball that I used as the inside of this ornament is 3" in diameter. Covering this foam core with crochet that is very three-dimensional makes the final ornament a little bit larger.
Materials Needed
To create this ornament for yourself, you'll need the following:
E/3.5mm hook
3" foam craft ball(or a close size)
60 yards of fingering weight yarn
For my first version of the feather ball ornament, I used the WeCrochet Hawthorne yarn in spark speckle. This created very natural-looking "feathers". 
The second one that I crocheted is made in lots of different colors of embroidery thread. This created a really fun result (and is also the version you'll see if you watch the video tutorial). However, it's worth noting that the embroidery floss is a bit thinner than fingering weight, so the "feathers" don't have quite the same look. 
SKill Level
While the crocodile stitch mainly uses double crochet stitches, it can seem rather intimidating. The thing to know about this stitch is that each row of "scales"/"feathers" that you see in this stitch is actually made using two rows of crochet(or in this case, rounds since we are working in a circle for this project). One row creates a foundation, and the second row in the repeat puts all of the visible stitches on the top of the first row. 
Free Pattern Download
If you like the look of this project, be sure to get on the list for updates from Amelia Makes. Each week I send out new projects, crochet tips and tutorials, behind-the-scenes info, and other resources for my readers. Plus, as a bonus for signing up you'll immediately get the free download for the Feather Ball Ornament in your inbox.
Grab it here:
Keep the Crafting Delightful!
Amelia
Using the Crocodile Stitch, this ornament design creates a very "feathery" affect.
You might also like: