This whimsical crochet cottage is a sweet project to work up as part of your Christmas Decorating, or as a gift.
Today's project is different from most of the ones here on Amelia Makes. It's mainly cute and a little whimsical, and mainly meant to be something fun. However, this "gingerbread house" is made extra fun by the fact that it is, in fact, a basket. One side of the roof does open in the finished project, meaning that you can put all kinds of treasures and surprises inside.
(Note: This post contains affiliate links, meaning that if you make a purchase it may benefit me at no extra cost to you. You can read all of my affiliate disclosures and other disclaimers on the disclaimers page. )
About This Project
This finished basket/gingerbread house measures 6-8″ across when finished. While the basket uses several different pieces stitches together, none of them are especially difficult. The little details like wreaths, "icing" or snow on the roof, and a door handle make it look nice and cozy.
The Gingerbread House Basket happens to be a part of the 2020 Crochet Spree. If you happen to be discovering it while the Spree is still going from November 27th to December 24th, 2020, be sure to enter the giveaway below! You can also see more details about the spree on this page.
Materials Needed
To make the Gingerbread House Basket, you will need the following
Aran weight yarn in a few different colors(less than 150 yards total). The pattern pdf gives you a breakdown of how much yarn is needed for each color/part of the basket.
G/4.25mm hook
Tapestry needle or large sewing needle
Thread
Scissors
SKill Level
The Gingerbread House Basket is what I would consider an "ambitious beginner" crochet project. The stitches used are all very simple. Single crochet is, by far, what is used the most.
If you have never seamed projects together before or done any hand sewing, that may be a part of this project that takes a bit of time. I recommend actually using sewing thread(rather than yarn) to sew your pieces together. This will allow you to end up with a basket where the stitches are not obvious on the inside or the outside. The only exception is stitching the doorknob onto the door with some yarn.
I also used a tighter-than normal gauge for this project. Using a smaller hook size compared to the yarn will help your gingerbread house stand up. It's still soft enough to be folded for storage with your other Christmas things, but not so soft that it will flop over.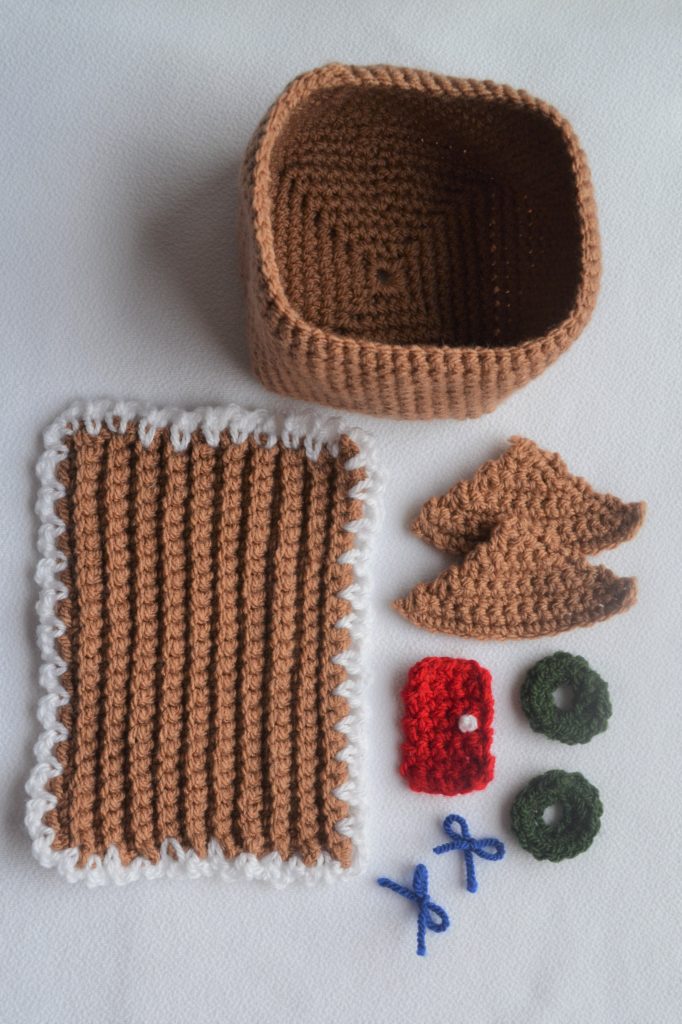 Free Pattern Download
I hope you enjoy making your own Gingerbread House Basket, and perhaps even adding your own fun details. If you like this project, be sure to get on the list for updates from Amelia Makes. Each week I send out new projects, crochet tips and tutorials, behind-the-scenes info, and other resources for my readers. Plus, as a bonus for signing up you'll immediately get the free download for the Gingerbread House Basket in your inbox.
Keep the Crafting Delightful!
Amelia
This free pattern for a crochet gingerbread house gives you a whimsical and fun project for the Holidays
You might also like: