The Granny Gifts Cardigan is a quick crochet sweater design that is worked in one piece, using a simple granny stitch worked in rows.
Making a full crochet sweater can be intimidating. Sizing, finishing something larger, and following a more complicated pattern are all factors that make this kind of a project seem like something only experienced crocheters tackle.
In today's post, I am so, so excited to share a new design with you for a cardigan that will hopefully make the whole idea of crocheting a sweater more approachable. The simplicity of this design can make it a good first sweater project or simply provide a quick and easy option no matter how experienced you are! To try it for yourself, you can get the free download in one size, or find the full version(sizes XS to XL) as part of a Makers Crochet Community Membership.
Keep reading to see more from this fun project, see more examples, and grab the pattern for yourself!
(Note: This post contains affiliate links, meaning that if you make a purchase it may benefit me at no extra cost to you. You can read all of my affiliate disclosures and other disclaimers on the disclaimers page. )
About This Project
As the name indicates, the Granny Gifts cardigan is a crochet sweater that is worked entirely in granny stitch. The only exception is the ribbing, which adds some great shaping to the finished piece.
Other than the ribbing, the only shaping needed while making this design are a few increasing and decreasing rows in the sleeves. The rest of the sweater is worked back and forth in rows. Since the granny stitch is a pretty obvious design, it help keep your stitch count consistent as you work. Plus, working your stitches right into the open chain-spaces from previous rows helps this project go by fast!
The Granny Gifts Cardigan also happens to be the very first design to be published as part of the 2020 Crochet Spree. If you happen to be discovering it while the Spree is still going from November 27th to December 24th, 2020, be sure to enter the giveaway below! You can also see more details about the spree on this page.
Sizing
Here is a quick breakdown of the sizing used in the Granny Gifts Cardigan:
Size extra small-bust 32″
Size small- bust 34″
Size medium- bust 36″
Size large- bust 38-40″
Size extra large- bust 42-45″
Materials Needed
To make this project, you need the following:
Heavy worsted/aran yarn in 1-3 colors- amounts will vary by size
A size H/5.00mm hook, or whatever size you need to match gauge
5 buttons that are about 1½ in diameter(you can even make them yourself!
A tapestry needle(not required, but very useful for weaving in your ends
Scissors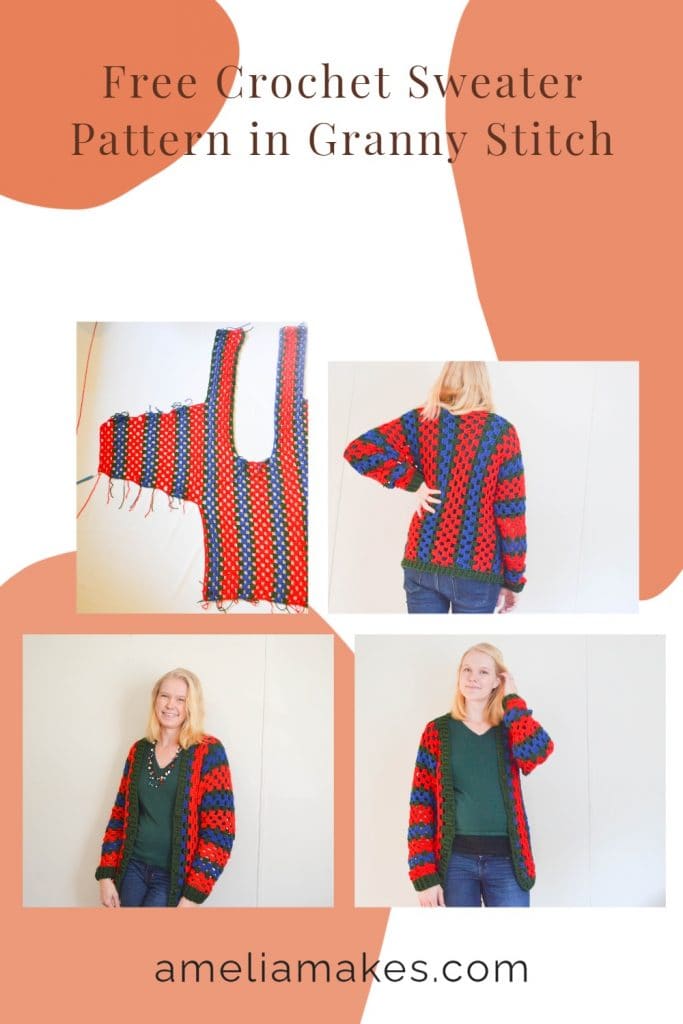 The amounts of total yarn you'll need to make the Granny Gifts cardi will vary depending on the size you choose to make. Plus, it will also depend on whether you use one color(for a completely solid version), two colors (such as a solid version with contrasting ribbing), or three colors(using the stripes pattern that you see in mine). The stripes repeat is included in the pattern as a main option, and it turns out looking so good with all different palettes!
Check out this gorgeous version in blue from Beverly:
Across all of the sizes, a good approximate breakdown of your total yardage needed(which you'll find listed) is 40% of color a(used the most in stripes), 40% of color b(used second in stripes as well as for the ribbing and cuffs, and 20% of color c(used in the most narrow stripes). While exact yardage is certainly going to vary a bit from person to person, that should be a good estimate for anyone who wants to do a striped version. Of course, you can make it extra simple by making a solid cardigan!
For my own Granny Gifts Cardigan, I used Paintbox Simply Aran in colors Rose Red(213), Racing Green(227), and Royal Blue (240). This line is my #1 go-to for affordable yarn in plenty of beautiful color options, and I highly recommend it.
You may also find stitch markers helpful for this project, just to mark where certain rows need to start or stop, to show where you want your buttonholes to go, and even to "pin" the sides of your sweater together to keep it lined up well for seaming.
SKill Level
Since the Granny Gifts Cardigan uses the same basic pattern as a granny square, it really is pretty simple to pick up. Knowing how to chain and double crochet is mostly all that you need. Overall, I would say that this sweater is suitable for anyone who would at least call themselves an adventurous beginner.
Here's another example of how this cardigan can have so many different looks depending on the yarns and colors used. Jennifer B. made a gorgeous neutral version: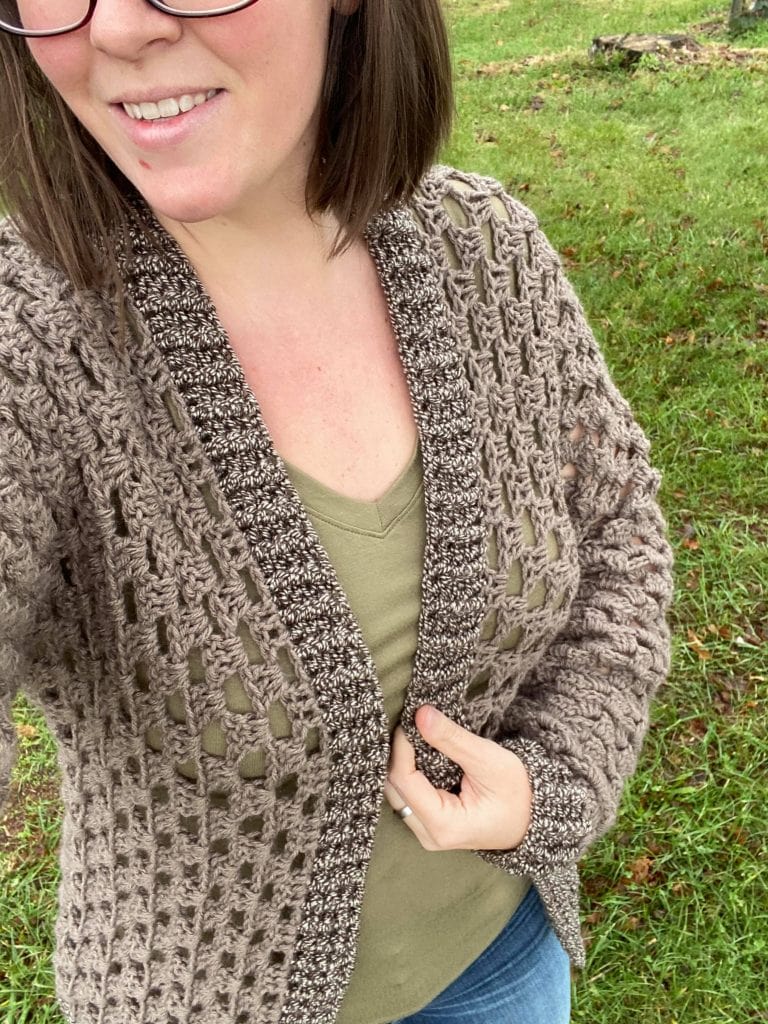 Pattern Download Options
This pattern is available in five sizes: extra small, small, medium, large, and extra large. You can get size medium(which is what I'm wearing) as a free download with the button below. This includes full instructions in a handy and colorful pdf.
All five sizes of this sweater, as well as all of my exclusive crochet patterns, can be found in the Crochet Maker's Community. The Vault makes it super easy to browse all of my available patterns, including some patterns, sizes, and variations that are not available here. To check it out and get your own "vault pass" you can find more information on it here.
But, if you like this project, be sure to get on the list for updates from Amelia Makes. Each week I send out new projects, crochet tips and tutorials, behind-the-scenes info, and other resources for my readers.
Keep the Crafting Delightful!
Amelia
The Granny Gifts cardigan is a one-piece crochet sweater pattern in five sizes. It uses a granny stitch variation with minimal shaping. The result: an easygoing, cozy layer that is quick to work up and fantastic for gifting or for wearing yourself!
You might also like: