The Herringbone Bonnet is a classic and versatile crochet pattern for babies ages 0-12 months and beyond.
Today's crochet bonnet pattern comes in two different sizes and two different shapes. It is by far my favorite item to make for any little one!
Named from the herringbone-like pattern of the stitch combination that I came up with after playing around a bit, this bonnet design can be used to make adorable toppers for any precious little ones from the time they're teeny-tiny.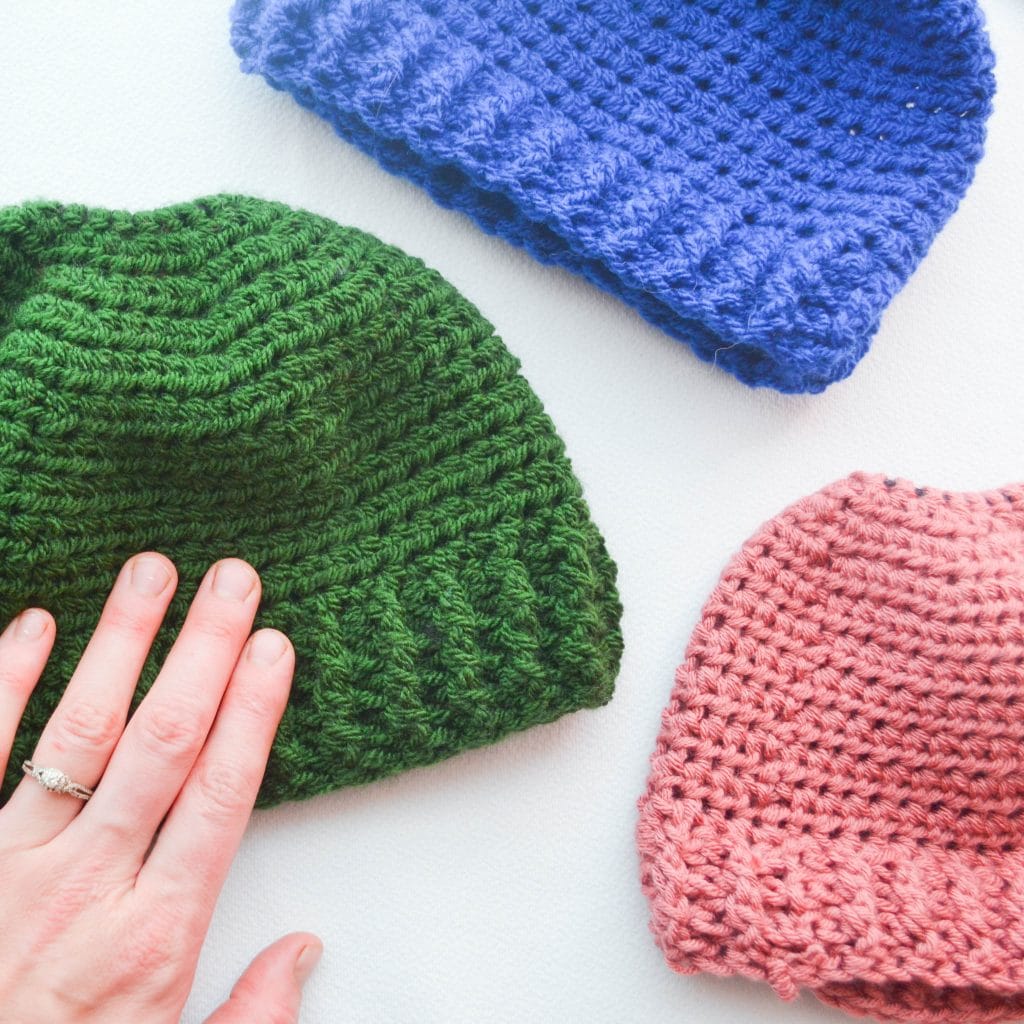 Want a few popular patterns as free PDFs?
Having a small and large size in both the square and rounded pattern shapes means that you can utilize this pattern for a baby all the way through their first birthday and beyond. At the time I'm writing this, the little guy that inspired this design is now a toddler, and he's still rocking the larger size! 
About This Project
The Herringbone Bonnet is actually the pattern that I've personally made the most here on Amelia Makes. It's a design I came up with shortly after my son was born, and since then have made dozens of times, both for him and for others.
Here's one of my favorite pics of him in this pattern-just because I can: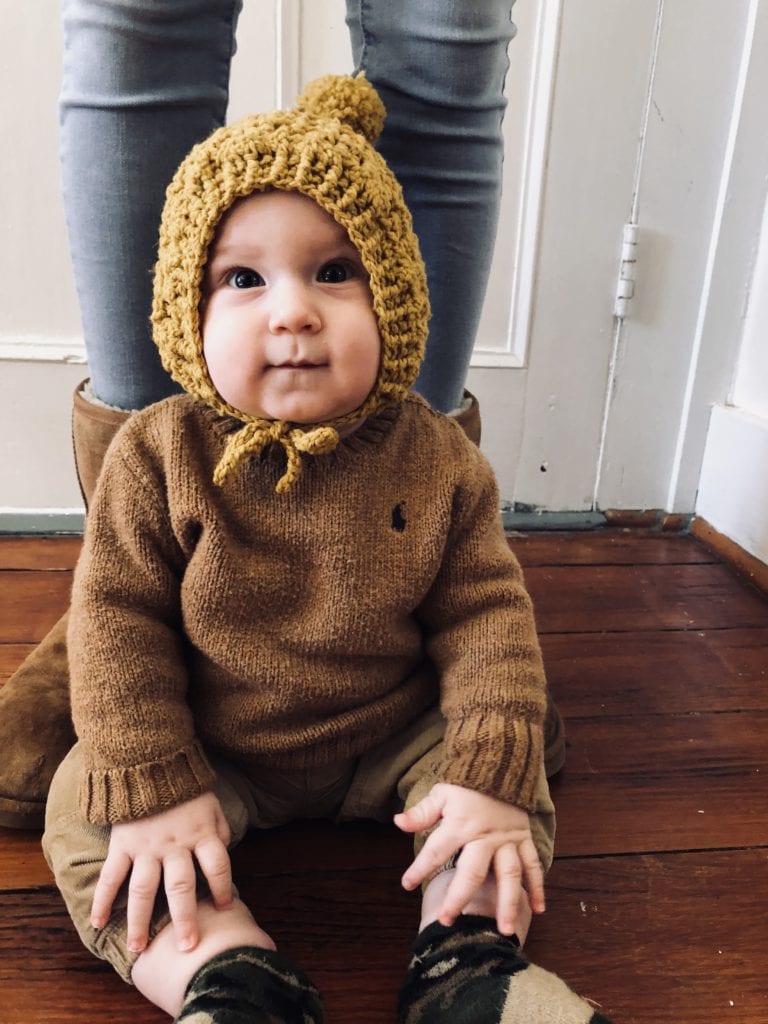 This pattern can be made in two designs- the rounded version(which is included in the free download in the small size) and the squared/slightly pointed version with a pom pom. Both versions have the "herringbone" stitch pattern, ribbing that really fits and shapes the bonnet around a sweet baby/toddler face, and ties that are worked right into the bonnet body.
The Herringbone Bonnet is also part of the first ever 2020 Crochet Spree. If you happen to be discovering it while the Spree is still going from November 27th to December 24th, 2020, be sure to enter the giveaway below! You can also see more details about the spree on this page.
Sizing
Size small of the Herringbone Bonnet fits head sizes from 12" all the way up to about 16". This translates to babies that are newborn up until about 6 months of age. On the other hand, the larger size fits head sizes that are 16" all the way up to 20". It fits babies/toddlers at a year of age very easily, and many times much longer than that!
The bonnet stretches enough that the sizing really is that flexible and forgivable. The only change is that on smaller babies, the bonnet will cover a bit more of the face.
Materials Needed
To make one of these bonnets, you'll need the following:
Hook Sizes I9/5.5 mm and F5/3.75 mm
Approximately 150-200yars of aran weight yarn. Larger size bonnets and square bonnets with pom poms made from the same yarn will use the most yardage.
Tapestry needle (very useful for weaving in ends)
Pom pom maker (you can see my easy tutorial for pom poms here)
Scissors
SKill Level
The Herringbone Bonnet is easy to follow, but it does include some techniques that involve changes to some basic stitches. In the downloads (both the free version and the full version), I've included several photos to make the instructions as clear as possible
Pattern Download Options
The full version of this bonnet, which includes instructions for both shapes and both sizes, can be found as part of the Maker's Crochet Vault. This is also where I upload all of my patterns, including others that aren't available in their full versions here on the blog.
You can also get the free version of this bonnet(the rounded bonnet in size small) as a bonus for opting in below. Each week I send out crochet tips and tutorials, behind-the-scenes info, and other resources for my readers. As a subsciber you'll also be the first to hear about new patterns!
Grab it here:
Keep the Crafting Delightful!
Amelia
The Herringbone Crochet Bonnet Pattern is the only pattern you'll need for sweet and classic looking baby and toddler hats in two adorable shapes.
You might also like: