Learning how to crochet a granny square will give you such an appreciation for the simplicity and beauty of this classic design.
The granny square may not have the most exciting name, but it's an absolutely brilliant concept. This incredibly classic crochet idea uses chain stitches and another basic stitch(often double crochet) to create a checkerboard pattern of alternating solid and open spaces. The pattern is worked from the center outwards, getting larger and larger each time.
Often associated with vintage and retro aphgans, granny squares of various sizes can be used to make anything from clothing, to bags, to breathable blankets for anyone.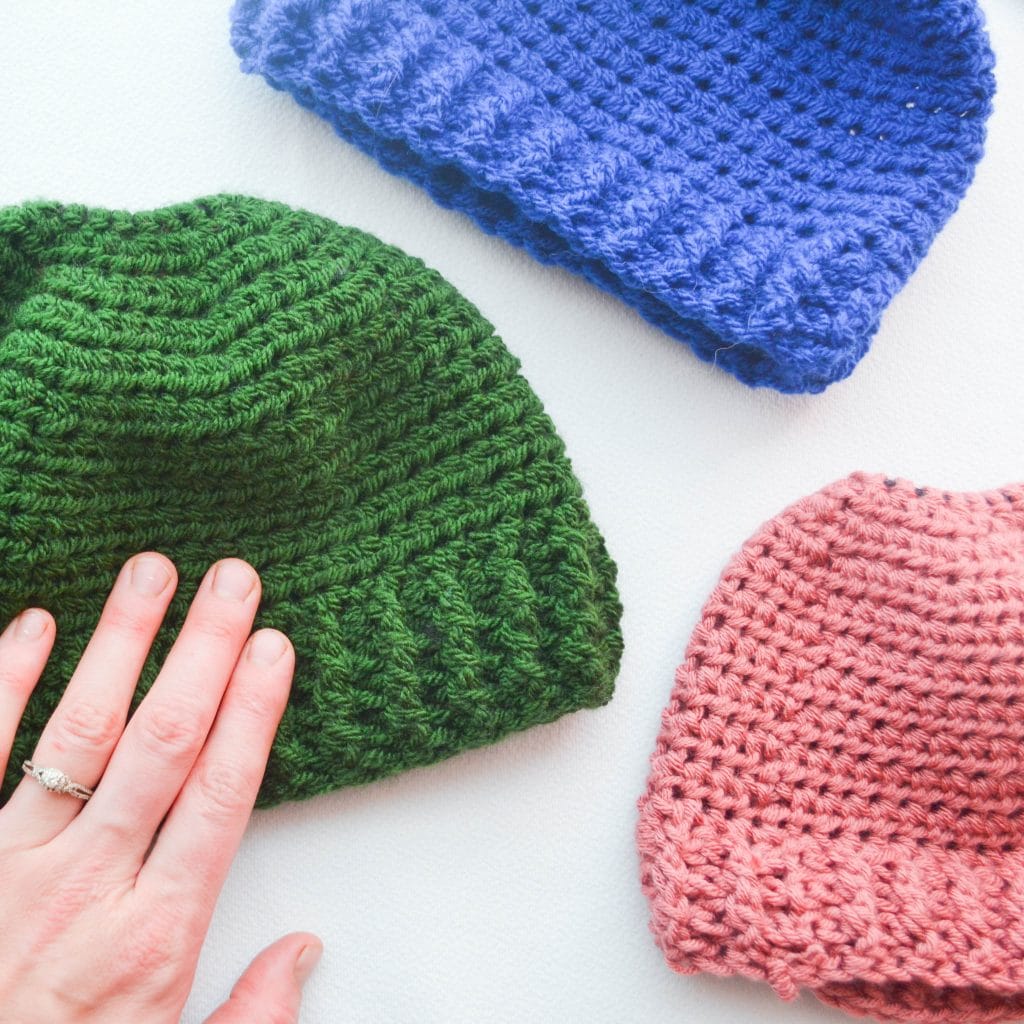 Want a few popular patterns as free PDFs?
So with our time today, I'm going to show you as simply as possible how to crochet a granny square. Once you learn this most classic design, there are literally endless ideas out there for other gorgeous crochet squares that build off of these skills. And if you would like to go straight to the video tutorial version of these steps, you can find that at the bottom of the post.
There is a lot of repetition in crocheting a granny square. So, to make things a little easier I will be using a set of asterisks (**) to show you what things are getting repeated. This is also something that is used to show repeats in many crochet and knitting patterns, so by following along with this now you are already learning to read other patterns.
A couple of things to note
Another thing that I want to clarify is the terminology I use to explain how the square increases in size. You see, whenever crochet is done from the center outward instead of back and forth (rows), we call each the layers rounds. With each round, we go around our work once and add a layer of stitches.
This can sound a bit contradictory though, when we are talking about a square. It just seems strange to refer to making "rounds" on something with corners.
So, to break things up a little bit and hopefully cut down on the confusion, I will be using a few words interchangeably. Since round is technically the correct term, you'll see that in here fairly often. But, I also refer to the "layers" and "rows" of crochet. Just know that in this case, they are all referring to the same thing.
Stitches you need to know
As I mentioned above, granny squares are often made using double crochet stitches. This is also what I'm using in this tutorial. Altogether, to make this granny square you will need to know or learn the slip knot and chain stitch, the double crochet stitch, and the slip stitch.
Are you a still new to crocheting? Check out my full beginners class by clicking HERE. It'll take you through learning your first stiches and skills in the exact order you need them!
Materials needed
To get started making a granny square, all you need available is a crochet hook, some yarn, and then eventually some scissors to snip your yarn with.
Although your hook selection will depend on your yarn, or vice versa, it is best to make sure that you stay in the "medium" sizes. An extremely small or extremely large hook is rather difficult to learn with. I go over this in more detail in reference to yarn below. Generally speaking, I think that if your choice of yarn pairs well with something between a G hook(4.5mm) and a K hook(6.5 mm), then you should be fine.
Notes on your yarn
When it comes to learning a new crochet technique or stitch, I think yarn choice is important. The right yarn can make learning crochet easier, while a less ideal choice will easily make the whole process harder than it has to be(and less enjoyable).
I highly recommend that beginners choose smooth yarns that are a medium weight. By smooth yarns, I mean yarns without a lot of fuzziness, or a strong "halo" as it's sometimes called. Other textures like sashay yarn or yarn with bobbles and beads are also better left until later. By medium weight yarn, I simply mean something that's not thread-thin or super chunky. Generally, yarn that is considered "worsted" or "aran" and has a number weight of about a 4(usually found on the labels of commercially produced yarn) is going to be a great choice for beginners. You can browse different yarns in this thickness here.
Solid color yarns are also a better choice, in my opinion, because it makes things simpler visually for you as you work. Although color changes are usually not as distracting as a really fuzzy texture when learning how to crochet a granny square, it can still cause optical illusions of sorts.
With all things considered, really limiting possible distractions that can come from the yarn for awhile is the best choice. Once you get confident with a few stitches and techniques or get the hang of a new concept, yarn with more of those extra interesting elements can easily be introduced.
Ok, so with all of those recommendations and prerequisites out of the way, here are your actual instructions for starting your very own granny square:
How to crochet a granny square: step by step
Getting Started (Two ways)
There are two ways that I know of to start a granny square. Both are equally good, but they do look different. Feel free to try both at different times and see what you like best. Sometimes, they are just preferred for different types of project.
Option one: start with a chain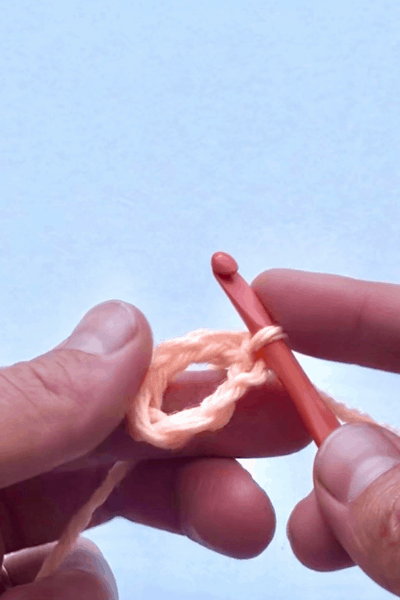 The first way to start a granny square is with a ring of chain stitches. This involves chaining between 4-10 stitches(I recommend you start with trying 8) and slip stitching the two ends together to make a circle. In the completed granny square, this ring of chain stitches becomes the circular hole in the very center.
The exact number of stitches you chain varies from pattern to pattern, and different people have different preferences. Since you will actually be working stitches into the center of this circle in row one, anything less than four stitches is going to be nearly impossible to work with. Likewise, more than ten stiches would probably make a center that is too large for the first row of stitches to go around it as I show you how to crochet it in just a little bit. Obviously, the more stitches you chain here, the larger your center will be.
If you are starting out as an absolute beginner and don't yet know how to crochet a chain stitch, you can learn those by following my chain stitch tutorial.
Option two: use a magic circle
The second option for starting a granny square is to use the magic circle technique. Although slightly more challenging, the magic circle will result in a tight and solid center for your granny square. Just know, if you choose to use this method, you will actually do the stitches of row/round one into your magic circle before it is done. Since those things sort of overlap, I would recommend you use first use my link above to practice the magic circle on it's own. Then, once you are comfortable with that you can return and use the magic circle in conjunction with learning how to crochet a granny square.
In either case, once you have your beginning of choice in place, you can start with row one of the granny square.
First Row
As I said before, granny squares alternate between open spaces of three chain stitches and "solid" sections of three stitches. Although technically you could start with either one, I have always started by making a solid section, so that is how I'll show you:
start by chaining two(out of either your ring of chains or your magic circle)
Now work two double crochet stitches into your center circle. This finishes your first solid section(since the starting chain of two counts as a stitch)
*Now chain three stitches(this is going to become your first corner)
Work three more double crochet stitches into your center*(another side done)
Repeat those last two steps(eveything inside that set of asterisks) two more times. When you are finished, you should have four solid sides done and three corners.
At last, chain three more stitches to create your last corner. Slip stitch into the top of your first two stitches in this row to complete the row.
Congratulations! You have successfully made a small, one-layer granny square. Even though the corners are still rather rounded, it should still look basically like a square. I have always thought this point was cool because just a moment ago we only had a circle.
You can see the whole first row illustrated with a few pictures below:
Now, if you watch my video, you'll see that I demonstrate a granny square with one change. This is because I typically only chain two stitches in-between my solid sections, instead of the three stitches that is a little more standard.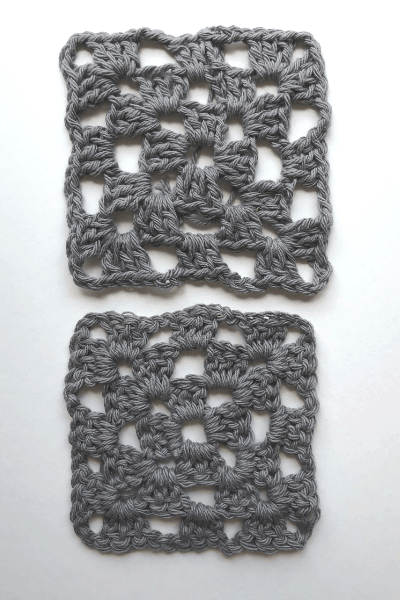 Here you can see examples of both ways. The top square is a little tighter because it is done with chains of two stitches. The bottom square is done with chains of three, the way I've written the directions here.
To understand the pattern of how a granny square works and how it continues, it is best to do a few more rows. In these subsequent rows, the corners will become a little more defined and everything will become more clear.
Second Row
Since we started the first layer of our granny square with a solid section, our second layer will start with an open one.
To start this, chain 6 stitches. These stitches will become the first open space as well as the very last stitch in your last solid section.
Now put three double crochet stitches into the first open space/corner of your first row.
Now chain three stitches and put three more double crochet stitches into the same corner/open space. Yes, this is where things are a little different. You are putting two sets of dc stitches into the corner because that is how the square grows with each layer. The new chain of three stitches in-between them becomes your new corner. Pretty cool, right?
*Okay, so now that you have that done, chain three for that side of your square and do that corner sequence again (3dc, 3ch, 3dc) into the second corner space. *
Repeat that last step twice more to complete all four of your sides and all four of your corners. As I said before, your very last set of dc stitches only needs two, because the first part of your starting chain for this round acts as the third dc. To finish this second layer, slip stitch into the third chain after doing the other two dc stitches.
Third Row
If you have kept going this far, you are probably starting to get the hang of this whole granny square pattern. It repeats in threes and grows at the corners in every round.
For the third row and beyond, you will have places again where you only put in 3 dc stitches. Whenever you are on a side of the square and not yet at a corner, you will simply dc three stitches and continue on your way. Likewise, every space above a solid section in the previous row gets a simple chain of three stitches. Each layer larger will give you more and more of each to do. But obviously, each layer is going to have the same amount of corners, so you will do that special sequence to increase at the corners four times, in every layer after that first one.
Video Tutorial
To better illustrate all of these directions, I've created a video for you that shows me making a two-layer square(and part of the third layer) in real time. You can watch it below and follow along with me, but remember that I normally use chains of two instead of three. I show you the difference with squares done both ways, and you can try either option to see what you like.
Final Encouragement (Plus a gift)
So now that you've tried making a granny square, what do you think? I hope you'll continue and make some kind of project with this humble but beautiful technique. It's truly a part of crochet that can help us feel connected with the artists and makers who have practiced this art before us.
If you enjoyed this tutorial and would like to hear about new content as it becomes available, be sure to go ahead and sign up for newsletter here at Amelia Makes. As a bonus, I'll send 3 surprise pdf patterns totally for free!
Keep the crafting delightful!
Amelia
After learning how to crochet a granny square, you'll be able to use them in all sorts of projects with literally endless potential!