Crochet ribbing is perfect for creating texture in a project, or adding a fitted shape without actually having to do any shaping. Here, we'll go over the two methods for achieving this look.
Crochet ribbing is good for two things: form and function. When it comes to adding beauty or "form" to a project, you can use ribbing to create different textures, patterns, and even make colorwork "pop" with adding in the raised element of ribbing. However, when it comes to function, not much can beat ribbing for allowing your projects to curve and fit in more desirable ways without doing any increases or decreases. In fact, in my own mind I like to think of crochet ribbing as "shaping without shaping".
There are two basic ways to create ribbing, and they are both particularly useful in different situations. So, if you've got a project in mind, be sure to consider which one would look best for how you plan to apply it. Or, if you've simply already started something that requires a certain ribbing stitch, feel free to skip the other parts and just focus on what you need!
Hey There! If you're learning to crochet and want a clear path to follow, this free checklist will show you the first 20 things to work on:
Keep reading below to learn about the two different ways you can crochet ribbing. Or, simply scroll to the bottom for a full video explanation!
Required Skill Level for Crochet Ribbing
Learning how to crochet ribbing involves a certain technique(whichever one of the two below that you decide to try) rather than using any one stitch. Basic stitches that work with either version of crochet ribbing are half double crochet(hdc), and double crochet(dc). In technique 1 right below, you can also use smaller stitches like slip stitch(ss) and single crochet(sc).
While taller stitches can also technically be used for ribbing, I would personally consider them only where I want to have a more ribbed texture. I probably wouldn't use them alone for shaping, because the taller stitches just don't pull together as well over the same number of rows as when the same method is used for shorter/smaller stitches. However, you can feel free to experiment and try for yourself!
The main point here is that whatever method or stitch you want to use to crochet ribbing, the available stitches are very basic. We're not talking about stitch combinations here at all, so knowing just one basic stitch is enough to try out crochet ribbing for yourself. You can absolutely learn this as a beginner, and it might just be one of the skills that takes you from absolute beginner to "advanced beginner" or even "intermediate".
Let's see what's so great about both ribbing methods.
Technique #1: Crochet Ribbing by Working in the Back Loops Only
Okay, so the first way to crochet ribbing is by doing something that we call "back loop only". With most crochet stitches there are two very clear loops that show up at the top of each stitch. In fact, altogether the top of a crochet row often looks like a whole new row of chain stitches.
Working the back loop only, then, just means crocheting your next row of stitches using only the back loop(the loop that is farthest away from you) as you work into your previous row. Doing this in every row(or every other row if you want larger ribs) creates a distinct pattern that lays flat and also provides extra stretch. This ribbing pattern will work up in the direction of your rows.
Examples
from left to right, the swatch below includes rows of double crochet, half double crochet, single crochet, and slip stitches all done in the back loop only. The far right is plain half double crochet for several rows.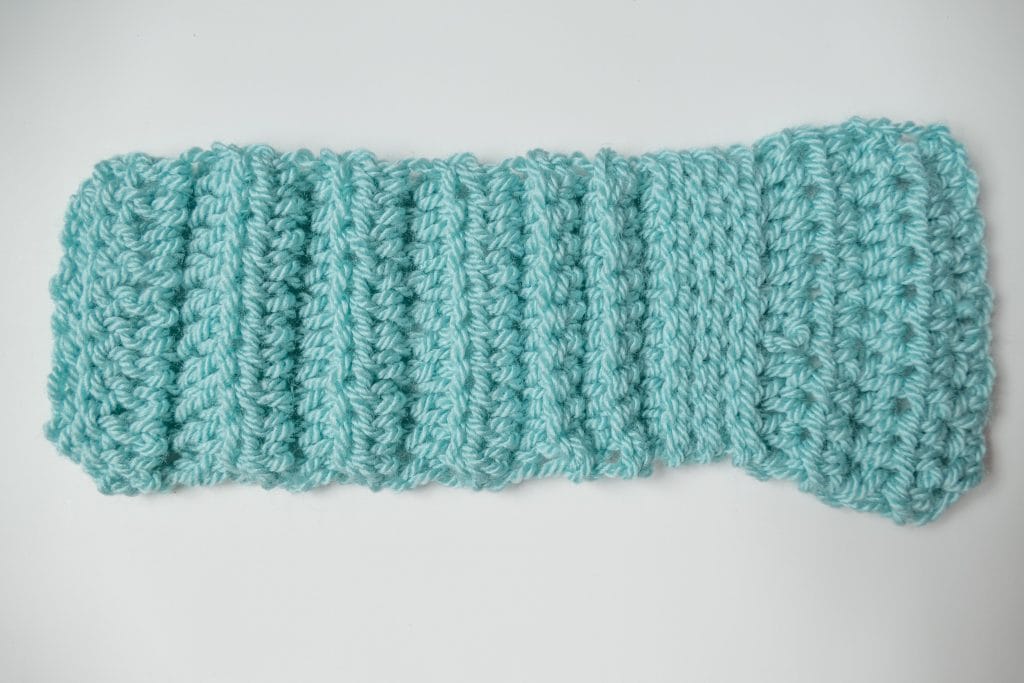 Basic Directions
Turn your work from the previous row
Locate the front and back loops in the top of your first stitch from the previous row
Work the stitch in your current row into only the back loop.
Work a turning chain and turn, and continue to do more rows in the same way.
Best Uses
Working in the back loop only to create crochet ribbing is a great way to get a subtle striped texture in your work, especially when using taller stitches like half double crochet and double crochet. Using this method with slip stitches and single crochet, on the other hand, is not only great for texture but can also be a fantastic way to shape and fit your pattern. In fact, using the BLO method with slip stitches is my personal favorite way to create ribbing for shaping purposes.
Slip stitching in the back loop only creates a very tight ribbing, that looks very close to knitted work. In my experience, this ribbing has held up the best to repeated stretching. It makes a wonderful option for crochet cuffs and edging for garments, which is why I chose to use it for the Thanfulness Cardigan. Overall, this might by my favorite way to do crochet ribbing.
However, there is a whole second category of how to crochet ribbing with another technique, so let's look at that one as well.
Technique #2: Crochet Ribbing by Working Front and Back Post Stitches
While crocheting in the back(or front) loop only is a little more subtle, this next ribbing technique is a lot more eye-catching. Using back and front post stitches(which I'll explain in just a moment) creates ribbing that runs perpendicular to your rows and does not lay as flat as the first method we looked at.
Using front post and back post stitches simply means that instead of working into the top of a stitch, you would use your hook to reach around the lower post of the stitch to create the new stitch in your current row. Reaching around one way creates a very raised stitch(front post stitch), while reaching around in the opposite direction pulls the stitch backwards and makes it look recessed(back post stitch). Doing a combination of front and back post stitches creates a very noticeable ribbing.
To work a front post stitch, you would start at the front of your work, insert the hook behind the post of a stitch and bring it back to the front, and draw the yarn for the next stitch around the back of the post.
To work a back post stitch, the opposite is true: start at the back of the work, bring the hook to the front of the post and back around to the back, and draw the yarn that way for the new stitch. I know it can seem confusing, but front and back post stitches all come down to whether or not you are pulling the stitch forward or backward. If doing a front post stitch, start at the front of the work, and vice versa.
The interesting thing about using this method to crochet ribbing is that it's totally reversible. Wherever you crochet a front post stitch on the front of your work, you'll end up with a back post stitch on the reverse. Likewise, crocheting back post stitches will show up as front post stitches on the back of your work. Keep this in mind when working multiple rows with this method, because you
Examples
Half double crochet, double crochet, and triple crochet are all good stitches that can be worked as back post or front post stitches to create ribbing. In the picture above, it's very easy to see the half double crochet front and back post stitches used.
Below, you can compare that to the top section, where a couple of rows are done in the exact same pattern using double crochet. If you were to use an even taller stitch such as triple crochet, the ribbing simply gets a bit looser.
Basic Directions
Turn your work from your previous row. Like working in the back loop only, using front and back post stitches requires that you have at least one row of stitches already done.
Determine how wide you'd like your ribbing to be. What will the pattern of front post(raised stitches) and back post(recessed stitches) be in your pattern.
Start your row with one normal stitch
Crochet front post and back post stitches across the row, according to the pattern you decided on.
Finish the row with one normal stitch.
Work your turning chain and turn.
On alternate rows, your pattern will be reversed. Front post stitches will go where back post stitches were worked in the previous row, and vice versa.
Best Uses
Since this second method creates very raised crochet ribbing, it's a great option to use for when you want to create strong visual impact. You can also use front and back post crochet ribbing whenever the ribbing direction(when the ribbing forms perpendicular to the rows you are crocheting) makes more sense for your project or just makes things easier for you.
On another note, crocheting with front post stitches is also how you can learn to create crochet cables, like you see in this beanie and in this cowl.
Video: How to Crochet Ribbing 2 Different Ways
Watch the video below for a visual tutorial of both of the ribbing methods we've talked about so far.
Conclusion
Hopefully, this overview has given you a lot of clarity about how to crochet ribbing and what options you have to choose from. With this knowledge, you can practice and see what option works best for your project!
I hope that you'll check back often to learn more crochet techniques. If you're still a beginner crocheter, be sure to grab my FREE checklist that will help you fill in any gaps and become confident in those foundational skills!
Grab it here:
Keep the Crafting Delightful!
Amelia