The Jasmine Stitch Beanie is a Completely Free Pattern that Creates a Thick and Warm Winter Topper.
With some chilly weather just around the corner, it's time to start thinking about what you want to have ready. Typically this time means lots of planning for gifts and craft fairs, as well as projects for yourself. Thankfully, today's Jasmine Stitch Crochet Beanie is a perfect project for all three! With one main eye catching stitch and toasty-warm results, I imagine this will become a pattern that you go back to over and over again. Plus, this pattern is completely free!
(Note: This post contains affiliate links, meaning that if you make a purchase it may benefit me at no extra cost to you. You can read all of my affiliate disclosures and other disclaimers on the disclaimers page. )
Currently this design is available as a colorful download right here on Amelia Makes(see below). Or, you can also see the design featured in full at Joy of Motion Crochet. In the rest of this post you'll find more information about what you will need, as well as helpful links.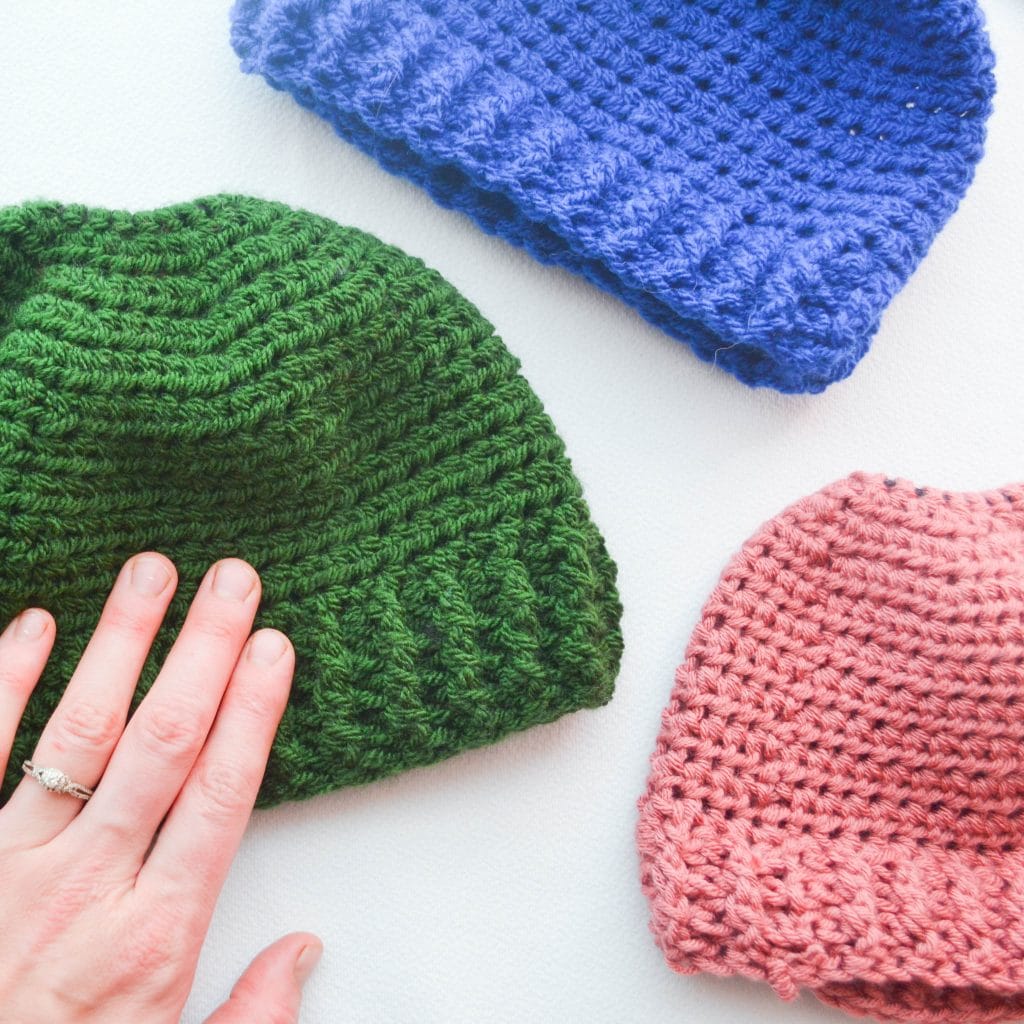 Want a few popular patterns as free PDFs?
About the Jasmine Stitch Crochet Beanie
Materials Needed
The main yarn needed for this beanie is aran, or heavy worsted weight(see one of my favorite online sources here). I did use a second color of yarn for the ribbing of this beanie, but you can use whatever color combination(s) you want.
You will also need a H/5.00mm hook. This is probably the hook size that I use the most because it works so well with medium-weight yarns. This set of hooks is what I currently use the most, and contains the H hook as well as other common sizes.
Finally, if you want to add a pom-pom to the top of your beanie, you'll want to have one picked out or have materials on hand to make one. Because this beanie turns out pretty thick, a larger, fluffier pom pom. I used Lion Brand's Go for Faux yarn to make mine, and it was an absolute dream to work with! You can get it here and see a tutorial specifically for crocheting a fur pom pom with this yarn here.
Finally, if you would like to make your own pom pom out of normal yarn(where the pom pom is wrapped and tied, rather than crocheted) here is my own pom pom tutorial.
Skill Level
While this beanie is not a difficult crochet design. However, it does mostly use the Jasmine Stitch, which is a bit different from most basic stitches. Overall, I would say this hat is for an ambitious beginner crocheters and beyond.
The Jasmine Stitch uses a combination of puff stitches, which are made with lots of longer loops of yarn. While it can take a few tries to get the hang of this stitch, there are actually some things about it that may seem easier than other techniques. At any rate, I hope you will give this a try even if you haven't yet tried the Jasmine stitch or even heard about it. There are some instructions for this stitch in the beanie pattern download, but you can also check out my Jasmine Stitch tutorial and video.
Abbreviations
Besides learning the Jasmine stitch combination, here are some other stitches and abbreviations that you'll find in this pattern:
ss-slip stitch
ch-chain
yo-yarn over
rep-repeat
sc- single crochet
dc-double crochet
FPdc/BPdc- Front post and Back post double crochet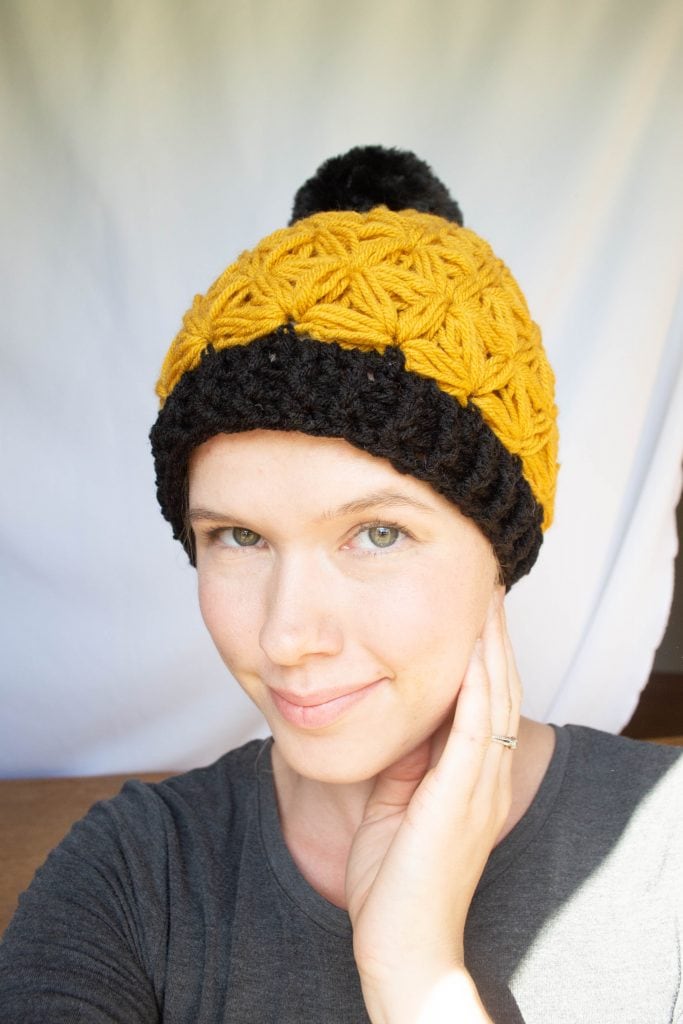 Free Pattern for the Jasmine Stitch Crochet Beanie
As mentioned before, this original pattern can be viewed on the Joy in Motion Crochet blog, where it is currently being featured HERE. This is another wonderful crochet site for run by my friend, Janne. If you like free patterns(and I suspect you do) you should definitely check it out.
As an email subscriber, you will receive regular updates on new patterns, new tutorials and tips, and other things going on here at Amelia Makes. Plus, this pattern will get emailed to you right away! Plus, as a bonus for signing up you'll immediately get my mini bundle of surprise patterns straight to your inbox! Become a Vault Member: The Crochet Maker's Vault is my exclusive membership for crocheters which allows you to access ALL of my patterns in one place.
Thanks so much for checking out this free pattern! If you have any questions or feedback, you can always reach out by adding a comment or contacting me here.
Keep the crocheting delightful,
Amelia
The Jasmine Stitch Beanie is a fun and Eye-Catching Design that will Keep you Nice and Cozy!