This thick and cozy crochet headband uses the Jasmine Stitch with some eye-catching results!
When it gets really, really chilly, there's a trite saying that goes "It's too cold for pretty". Well, this project is here to prove that wrong! In fact, the Jasmine stitch crochet ear warmer is unique because the very nature of this stitch is what makes it both beautiful and exceptionally warm. Today, I'm excited to bring you this pattern in the hopes that it will give you a quick and very cozy result that you can proudly give away, or stay snuggled in yourself.
About The Jasmine Stitch Headband
The Jasmine Stitch Crochet Headband is suitable for any adult who wants something striking and very warm at the same time. As an added bonus, the puffs in this stitch pattern also make it especially soft-just like the Jasmine Stitch Crochet Beanie.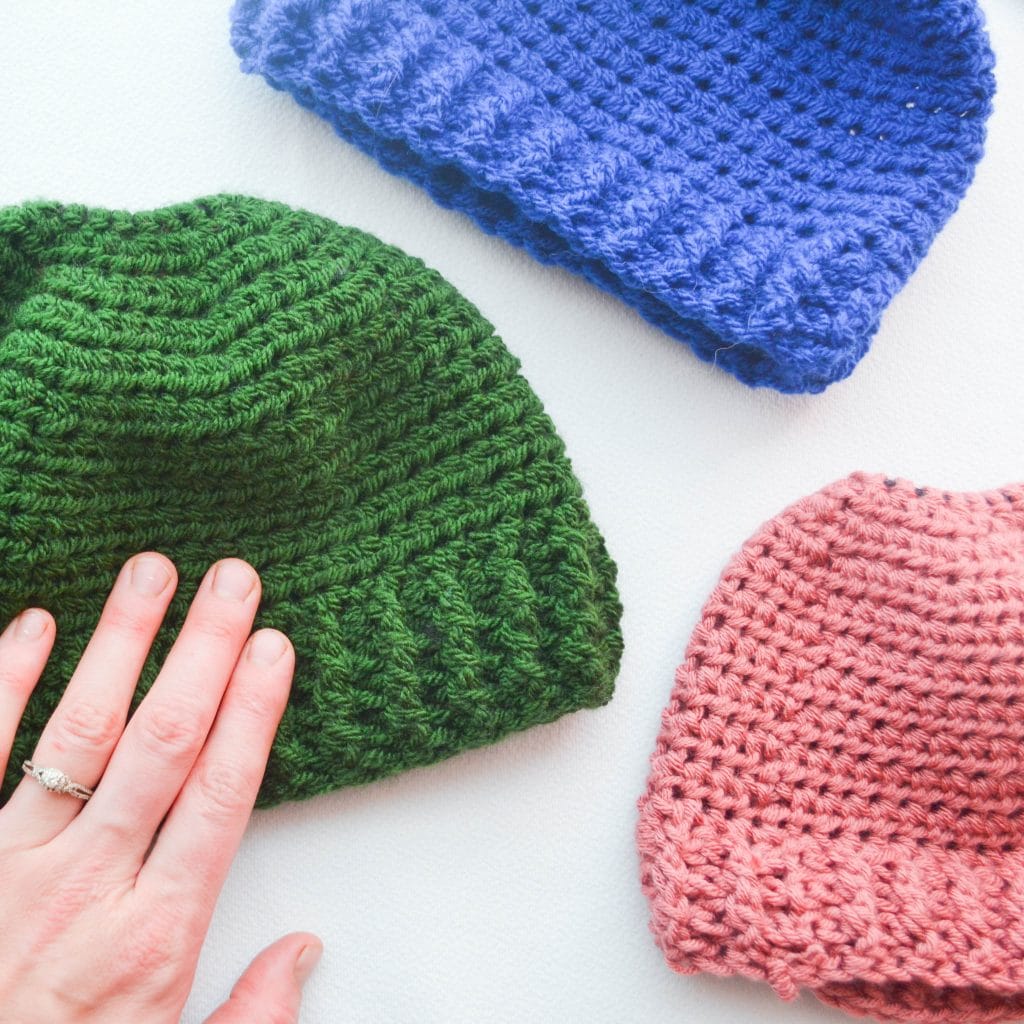 Want a few popular patterns as free PDFs?
Sizing
While hat sizing can be a bit of a challenge, this earwarmer fits most. Since it is, in fact, an earwarmer and not a full hat, the width does not need to be exact to sit right where you want it to. It is simply made wide enough to warmly cover the ears.
The Jasmine Stitch is also by nature very stretchy. While the pattern download for this project includes a note about where you can increase/adjust your size, it should fit most ladies' heads as written.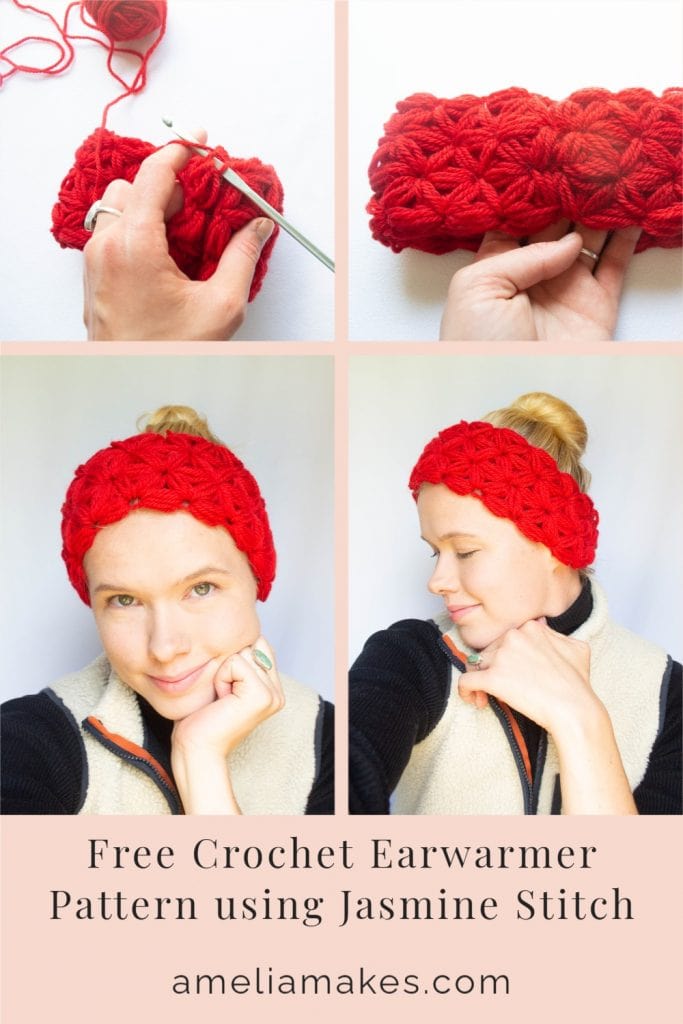 Materials Needed
To make this headband for yourself, you'll need:
H/5mm hook
Up to 60 yards of heavy worsted or aran weight yarn (my red earwarmer is made with wool so it's extra cozy!)
Scissors
Tapestry needle(very useful for weaving in ends).
SKill Level
The Jasmine Stitch is the only stitch used in this pattern. While that keeps things simple, it may mean that you'll need to spend some time getting comfortable with this stitch if you've never crocheted with it before.
Basically, the Jasmine Stitch is a series of puff stitches worked in a specific order. One particular combination of these puff stitches is what gets repeated over and over and creates the "flower" pattern in the final product. If needed, you can see a full puff stitch tutorial here, and then try the Jasmine Stitch for yourself with this related tutorial(there are videos for both of these).
Final Thoughts
If you'd like to see more crochet pieces like this, be sure to sign up for emails. Each week I send out new projects, crochet tips and tutorials, behind-the-scenes info, and other resources for my readers. Plus, as a bonus for signing up you'll immediately get the current free pattern bundle with downloadable pdfs.
To make sure you can get ALL my patterns(including the Thankfulness Cardigan) be sure to check out the Makers' Crochet Vault .
This is where members can download unlimited pdfs, browse organized tutorials for certain projects, and reach out to me for any priority support you need.
you can get more information and enroll here.
Grab it here:
Keep the Crafting Delightful!
Amelia
The Jasmine Stitch Crochet Headband Combines very simple construction with an eye-catching pattern, for some warm and unique results.
You might also like:
PS-don't forget to pin this for later!