The Contrast Coasters are an easy set of crochet coasters in one stitch pattern with simple color variations, plus a version with puff edging.
Crocheting coasters is an easy and effective way to try new stitches. Today, I'm excited to bring you a project that combines a simple textured stitch combination with an eye-catching color pairing.
This one idea has been used in several variations to make the whole set of coasters that you see here. Even though these are similar, I have made a separate patterns for each of the three versions.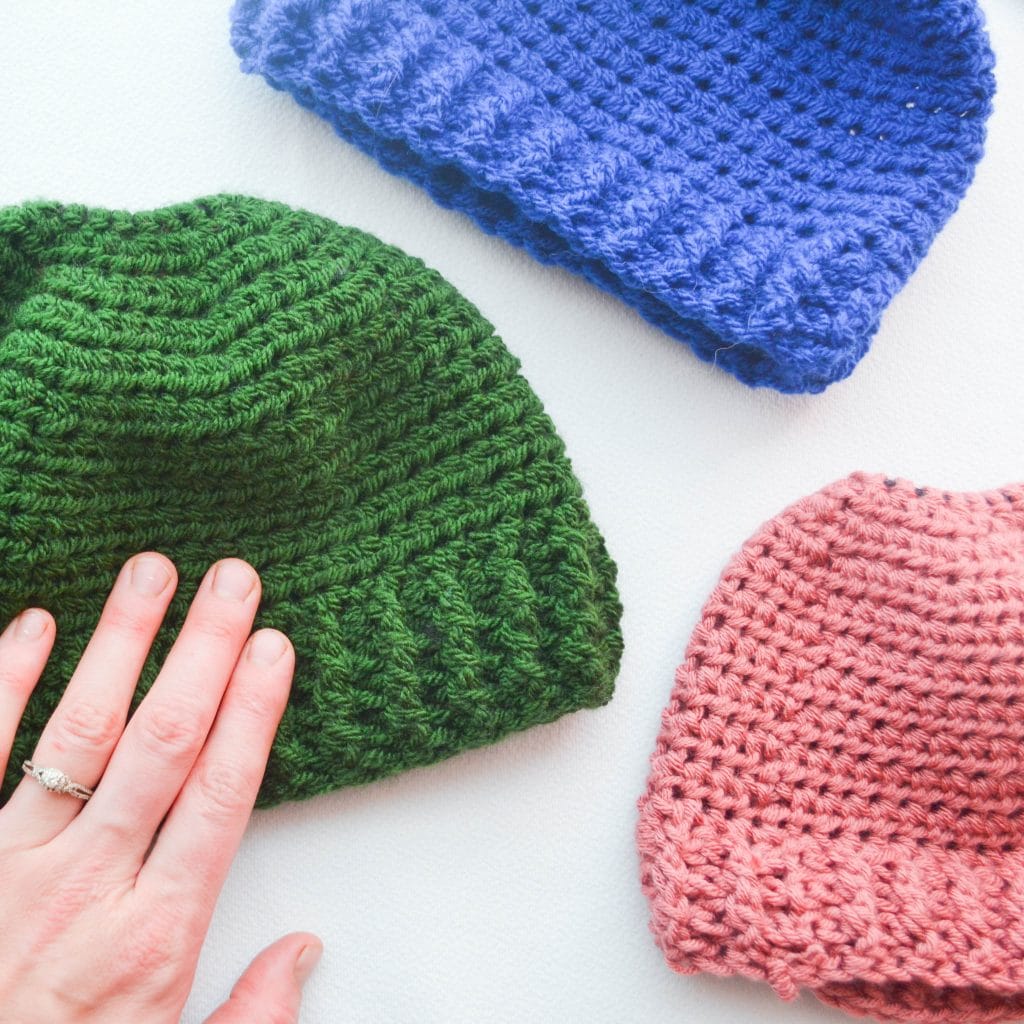 Want a few popular patterns as free PDFs?
Using the Griddle Stitch
The contrast coasters use the griddle stitch, which is possibly my new go-to stitch for giving something a "different" texture without having to pay a ton of attention to it as I'm working. This is an ideal combination for crocheting on the go and for squeezing in crochet time even in a really busy season (aka what I'm all about).
A super easy stitch repeat
The griddle stitch is a very simple repeat of crocheting a single crochet stitch, and then a double crochet stitch. On each row the single crochet stitches should go right above the double crochet stitches, and vice versa. This is literally ALL there is to it. Since crocheting the griddle stitch uses such a short repeat(only two stitches) it is easily adaptable for any size of project that you want to do.
And while these contrast coasters don't require any shaping, the short repeat means that the griddle stitch would also be easy to work out in other projects that do use shaping. It's just a good all-around texture stitch to keep in mind whenever you want to switch things up a bit or incorporate some subtle texture.
Video Tutorial
For a full tutorial on the griddle stitch with detailed directions and a visual chart, stay tuned for the full tutorial with a video that will be coming very soon.
The Crochet Coaster Patterns
Once I tried the griddle stitch with stripes of color, I knew I wanted to make several variations for this pattern and project. With color changes, the griddle stitch creates a slight zigzag pattern. This creates some extra visual interest and shows off the difference that the griddle stitch makes.
If you like this project, be sure to get on the list for updates from Amelia Makes. Each week I send out new projects, crochet tips and tutorials, behind-the-scenes info, and other resources for my readers. Become a Vault Member: The Crochet Maker's Vault is my exclusive membership for crocheters which allows you to access ALL of my patterns in one place.
I hope you enjoy this pattern and this stitch combination! Please comment if you have any thoughts, and be sure to pin this for later on your favorite crochet or DIY board.
Keep the Crafting Delightful everyone,
Amelia
This set of crochet coasters use the easy-to-master griddle stitch, and create an easy project for gifting, or for your own lovely home!