These Mother's Day crochet gifts can be made quickly, but they're still made by you, and therefore the best type of present for mom.
Mother's Day is right around the corner and it's time to get serious about picking out a meaningful present if you still need something. Thankfully, there are plenty of quick project ideas for crocheters that can create something meaningful for mom(and something useful as well).
Here, I've gathered seven of the best crochet projects for Mother's Day. They are both practical and lovely (and all quick enough to make without stressing yourself out).
If you always like having a LOT of ideas to work with, make sure to grab my list of 101 Crochet Project Ideas to have on hand for plenty of inspiration.
Now, let's get to these projects so you can start making them. Enjoy!
1. A Washcloth Set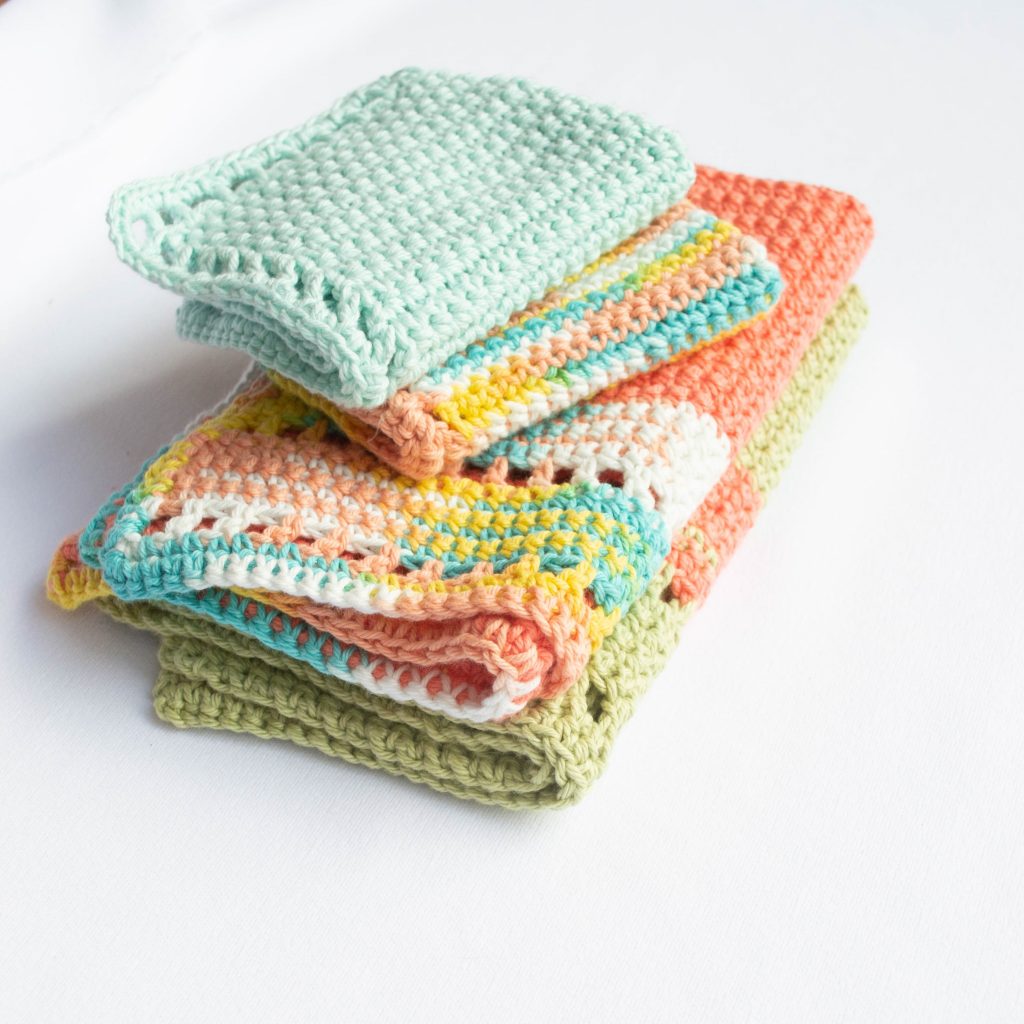 First off, I'm going to include my own Trevi Washcloth design from here on Amelia Makes. This is a really straightforward and easy pattern that I think Moms everywhere would appreciate. In fact, a couple of these tied with a ribbon would make a thoughtful gift for all kinds of occasions.
The pattern for the Trevi Washcloth(pictured above with a few of the matching Trevi Towels) is mainly done in single crochet stitch and has a bit of detail around the edge. If you'd like to download it, you can go ahead and do that right here:
You can get this pattern for free right away without even going to the post:
Later in the post, we'll see one more washcloth pattern that has a whole different look and is as pretty as it is practical.
2. This Floral-look Scallop Necklace
For some DIY statement jewelry for mom, you can crochet one of these lovely "Scallop" Necklaces from Craft Bits. I especially like the way that the bead placement on this necklace makes the scallops look like individual flowers. This project would be a great way to work with wire for the first time and create a necklace that holds it's finished shape and really grabs your attention.
3. Some Easy Statement Earrings
For another feminine option that is especially quick to make, try these Easy Crochet Earrings by B4 and Afters. In searching for good projects to include here, I already decided that these earrings are a project that I'll be crocheting(for myself and a mom in my life). Plus, they look like they could actually pair really well with the Scalloped Necklace!
4. Some Sweet Coasters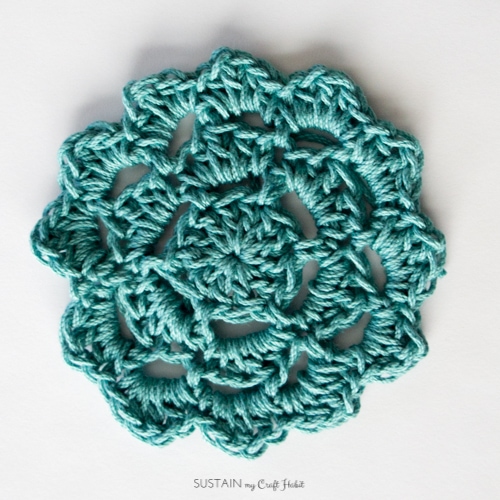 These faintly lacy crochet coasters from Sustain My Craft Habit are nice because they are extra quick to make but still have enough substance to actually work as coasters. I think the double layer of shell border really makes this design stand out. They're a perfect feminine gift to make as a Mother's Day gift set.
5. Crochet Carnations
As soon as these crochet Carnations came up from Hooked on Patterns, I knew I had to include them. Growing up, my church always passed out Carnations to all of the moms on Mother's Day. Even without that memory, flowers seem like such a fitting gift to crochet and these are as easy as you could ask for. I especially like the ones with a different colored edge.
6. This Multicolored Washcloth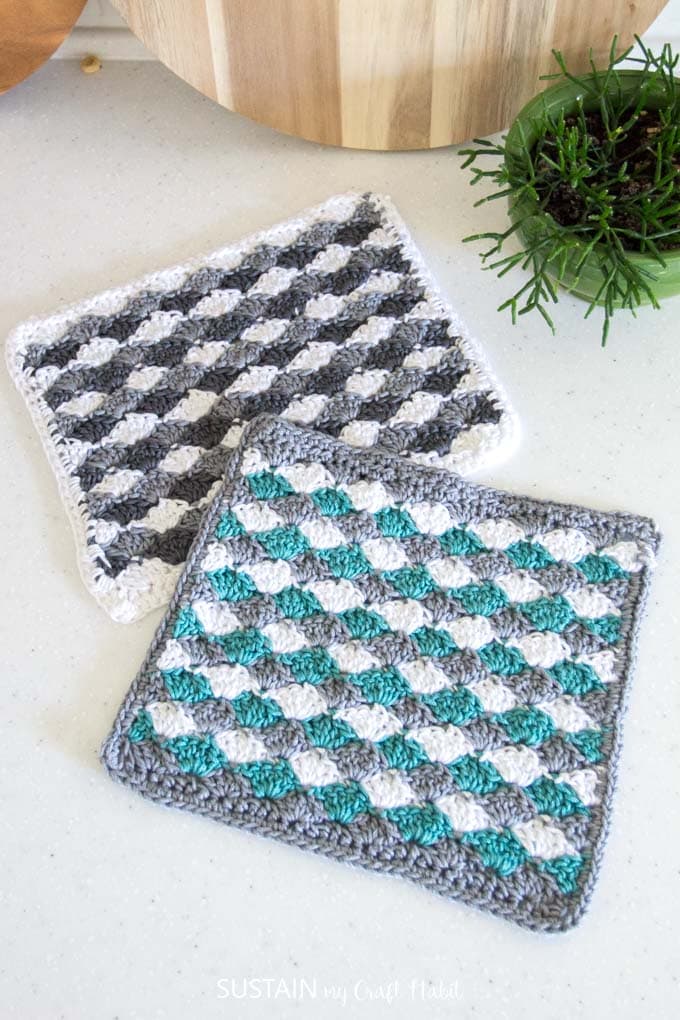 Getting towards the end of our list, here is another pretty washcloth pattern from Sustain My Craft Habit. While these look fancy, the simple shells pattern is actually really easy and quick with just a little practice. The use of different colors adds some visual interest that almost reminds you of the sea.
If you learn how to do the shell stitch with this project, prepare to want to use it plenty of times in the future.
7. A Super-Cute Cupcake!
The final Mother's Day Crochet Gift is this cheerfully cute cupcake from Hooked on Patterns. It's actually a pincushion, but I think it could be made a sweet and whimsical gift even for moms who don't sew. Instead of using pins with colorful heads, you could sew on round or even longer "sprinkle" beads to make a truly yummy looking present indeed!
Now that you've seen my top picks for Mother's Day, I hope you have at least an idea for your own special gift. If you end up making one of these projects or something inspired by this post, I would love to see it.
Before you go, don't forget to Pin this for later and also sign up to grab your own copy of my download: 101 Crochet Ideas.
I sincerely hope you all enjoy this year's Mother's Day, and have a great time celebrating the special women in your life.
Keep the crafting delightful!
Amelia
There's still time to make one of these adorable crochet projects for the special mom in your life!