Pom Poms are an adorable addition to many different knit and crochet projects, and here we'll discuss different options when purchasing pom poms or how to make your own.

You know what just about the cutest thing in the world is?
Well, honestly, that would probably have to be a baby. Let me get a little more specific:

What's just about the cutest thing you can add to crochet and knit projects and make them extra adorable(ESPECIALLY on babies)?!

It's a pom-pom.

Pom poms on a cozy or fun yarn project are pretty much always cute. Yes, they can also be quirky or sweet or even traditional, depending on how they're styled and the overall look of a project. But regardless, they have an element of cuteness.

Pom poms tend to be a favorite for adding to knitted and crochet projects, but there are some extra considerations that come up with using them. In this article, we are going to go over the different things to think about when deciding on a pom pom for your particular project.

(Note: This post contains affiliate links, meaning that if you make a purchase it may benefit me at no extra cost to you. You can read all of my affiliate disclosures and other disclaimers on the disclaimers page. )
Then, we'll look at how to use those things to either (a) purchase a suitable pom, or (b) hand-create a fantastic one yourself. I'll show you how I make a pom-pom(the very low-tech way). I'll even share something that I've learned about making pom-poms that stand the test of time.

Let's dive in!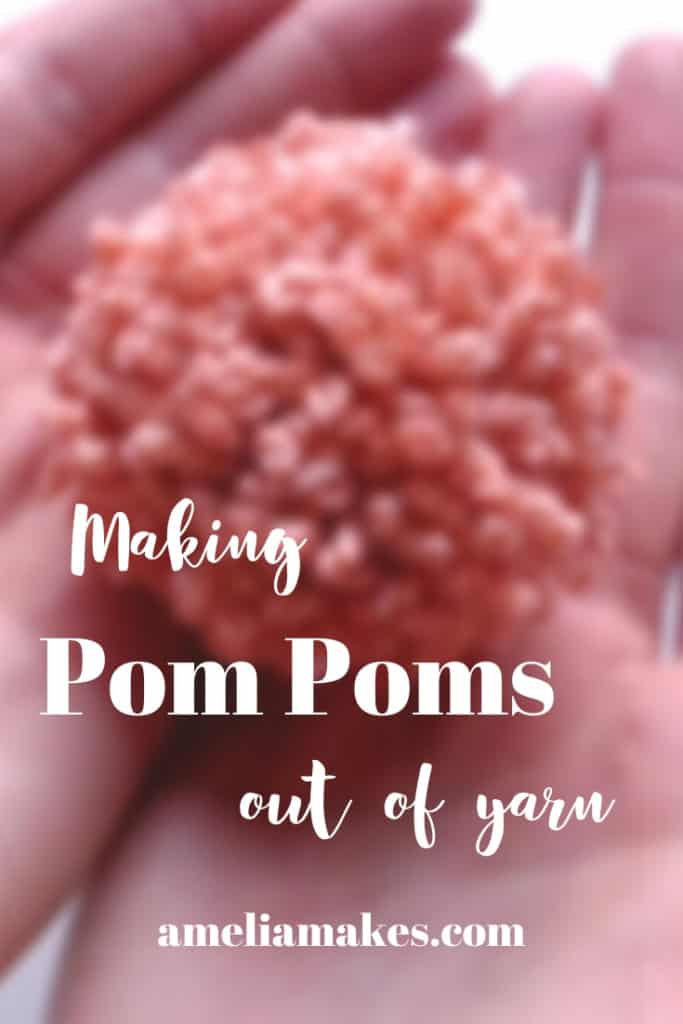 Considerations for Pom Poms
Since a pom pom adds its own design element to any project, giving it a little bit of thought will go a long way towards the most pleasing results. Here are a few things to think about:
Color/texture
The first thing you could consider when thinking about your pom pom(s) is how you actually want them to look in their color and texture. Most pom poms are made from either yarn or fur(real or fake). Even so, there is a lot of variation there.
Your choice of what would work best for your project could be how tight or neat you want the pom to look. Some fur and even yarn tends to have more variation in length and fluffiness to it, while others are a tighter or more "perfect" ball.

Then of course, there is color. Whether you your pom pom want to match the rest of your project or not, it is extremely helpful to see the possible choices next to your project(or the yarn for it, if it's not made yet) to make sure they go together in a way that makes you happy.
(If you happen to need some yarn for your pom poms or other projects, you can check out my favorite online source for yarn here. )
Even the way that the light hits the different yarns and furs makes a difference in the finished product. Aside from color, the relative shine or dullness of the different materials is another factor in how well they seem to pair together.

Washing pom-poms with a project(or not)
And finally, consider how your project may need to be washed. If you are making a beanie that you want to be able to machine wash, it would be wise to choose some kind of pom that can take that kind of washing as well. OR, as we will look at later, it would also be wise to just use a pom that can be taken off easily for washings, since they tend to be more delicate overall.

That was kind of a lot of information right away!
To sum it all up, I highly recommend that you look at your project/ other materials and your potential pom-poms together in the same light, if at all possible. Make sure you like the way they pair together, and remember to think about how everything is going to be washed when it needs to be.

Next, lets have one final look at the size of pom poms and overall proportions.
Size
When I think of pom pom sizes, it tends to lean BIG. That's probably because in my opinion, bigger is better. Aside from the colorful tiny pom pom trims that were recently trendy on summer clothes and accessories, pom poms seem to usually be medium or large compared to the main piece of crochet/knitwear.

As much as I personally like the larger, more statement-making pom poms, this is totally up to you. Once again, here it's really helpful to be able to see what size different pom poms are in person(at least the first couple of times) so that you learn yourself what you like and what size pom poms you may need to get the look you want. The proportion of the pom pom(s) size to the rest of the project really helps give it a certain "feel"(really cute, quirky, etc), so take your time.
Method of Attaching

Something else to think about with your pom poms is how they are going to be attached to your work. Often, this gets no special thought, because maybe it's just assumed that all pom poms are sewn on permanently.

And while that is certainly fine, a removable pom pom is actually an option, and may be a good idea for any pom poms made with less washer-friendly material(like wool or real fur).
Cost and Quality
Finally, one last thing to consider when picking out Pom poms is the quality. Far more easy to measure if you can actually see the pom in person, the quality of your pom poms will make a big impact. In fact, I think that sometimes the quality of a finishing element like pom poms can make something look luxurious and expensive even when the main components(yarn) are more basic. Generally speaking, investing a bit more will give you better quality poms.
Purchasing Pom Poms
So far, all of the considerations we've gone over can be used to make the best decisions for yourself when choosing to buy pom poms(whether online or in a physical store).
If you can, buying a few different types of pom poms will give you options if you are buying online and don't yet know exactly how the poms will look and feel in person. It also helps if you can't have your yarn or project handy to look at with the pom poms for whatever reason.

But, all of these different factors are also just as helpful if you are actually making your own pom poms too!
Making your Own Pom Poms
Making your own Pom Poms takes your customization options to a whole new level. Whatever yarn(or in some cases, fabric) you have available to you can be used to make the perfect pom pom(s) for whatever projects you're working on. Below, we'll discuss a few different types of pom poms in greater detail, and you can see my demonstration of making a simple yarn pom.
Fancy Pom Pom maker vs. Simple DIY version
If you are thinking of making your own pom poms, chances are you're first thought is making them out of yarn.

Because, while other possibilities (like fur and shearling) can be really stunning, yarn is probably the most common choice for DIY pom poms.

Although you can certainly buy a specialty pom pom maker like the one above, it's really easy to make your own simple tool for pom poms, and this is still what I prefer to use. Here's A full tutorial for making different size pom pom makers like mine.

Some tips for making poms with yarn:

Use a nice, even tension while wrapping your yarn
Be generous with wrapping your yarn plenty of times to get a nice, poofy pom.
If you are making more than one pom pom and you want them to be consistent, write down how many times you are wrapping your yarn around.
Tie your pom very tightly and even consider sewing it(see my video) for a long life without the pom coming apart.
Take your time trimming all of those ends!
Finally, if you want to make your own removable pom poms, try adding a small elastic hair tie when you tie the pom together. Then, you can sew a button on your project wherever you want the pom to be, and the elastic can be used to just pop the pom pom on and off as needed.
Video Tutorial
You can see me make a pom pom from start to finish in my tutorial video. I also demonstrate hand sewing the pom to make it last:
Making with Fabric-shearling, fur, etc.
For some projects, you may prefer to make a pom pom that's made out of fur or shearling rather than yarn. These create a whole different look and can be really stunning.
I chose to do this myself with a shearling pom pom when I made the Fallglow Beanie, and am really happy with the result.

Making these types of poms mainly involves stuffing circles of the correct fabric and sewing them shut. Whistle and Ivy actually has great tutorials for both Fur Pom Poms and Shearling pom poms, so you should check them out. for more information on these types.
The type pom pom you ultimately decide to make for a certain project ultitmately comes down to the look you want and the materials/skills you want to work with.
Final Thoughts
I hope this overview has given you everything you need to make clear decisions on pom poms for your projects, and even make your own if you want! Taking you visual preferences, your skills and time, and your budget into account all together will help you end up with a project that you are satisfied with, and that's ultimately what I want to help you do!

Now before you go, don't forget to pin this to one of your craft boards so that you can find it for later if you're on Pinterest.

Also, if you think you might like to get updates from Amelia makes(about new projects and tutorials and possibly special offers) then make sure you sign up below to get my emails. As a bonus, I'll send you my free guide to 101 crochet ideas!

Keep the crafting delightful!
Amelia
Whether you choose to buy pom poms or make your own, considering different factors will help you end up with a visually appealing finished project!