A baby's crib should be one of the safest and most comfortable places. When we get them down to sleep(no matter how long that might take sometimes!), we should feel totally at ease knowing that our precious little ones can rest well in their beds. This is why I came up with this crib bumper sewing tutorial. (To go straight to the tutorial, scroll to "materials" and start there.) This project can be sewn in an afternoon, making it fast enough to fit in even with baby life.
When my baby was smaller, I didn't see any need for crib bumpers. He didn't move too much while he was asleep. Besides, typically I would create a sort of "nest" around him with a rolled blanket, and that served more or less the same function as crib bumpers anyway.
But times have changed. My baby now rolls around several times in the night, and has started to stick his feet and hands through the slats. Since he is is a mini crib and getting to be a big baby, the margin around him when he's sleeping is getting small, fast. The worst of it is when he bumps his head on the side of the crib rolling over.
Thankfully, All of this rarely seems to bother him or even wake him at all. But still, the time for crib bumpers had come.
Below you'll find the results of my own project. This tutorial will show you how to easily sew squishy, comfortable crib bumpers to protect your own little one from bumps. The pattern is easy to customize, so you can adjust the widths and lengths if you want something a bit different. Your choice of colors and fabrics is nearly limitless since you're able to sew your own. And finally, these can be made in about the same time as a good afternoon nap, so you can have them ready quickly (Just be careful where you decide to set up your sewing machine, it could be a bit noisy!).
Here's what you'll need:
Materials
Fabric. I would recommend about two yards of fabric that is at least 45″ wide. You will want to choose something that will wash well and hold up over time, without being too stiff. Higher quality cottons and flannels are good choices. Beyond that, pick something that goes with your decor or colors and that you will have fun sewing with!
Coordinating thread- any standard sewing thread will do, but if you can find something that will go well with your fabric, the result will look nicer.
About 2 pounds of Stuffing-I am using standard polyfill in my crib bumpers. I had a HUGE amount in a 10lb box, so I'm not exactly sure how much I used. At any rate, any bumpers made for a standard sized crib will easily use more than I did for my mini crib anyway. If you can have 2 pounds available, that should be plenty.
Sewing Machine
Scissors and pins
A white crayon- This is just to mark your fabric. You are welcome to use a good old pencil or some other fancy fabric marking tool if you have it.
Coordinating ribbon- this will be used to make the ties to secure your crib bumpers to the crib. You can certainly sew ties out of your fabric so that everything matches perfectly(I will show you how I sewed ties below). However, ribbon ties will be quicker and can still match very closely if you want them to.
The amount of ribbon you need will depend on how you sew your bumpers. If you sew them like I did, you'll need 5 pieces of ribbon. But, if you sew each side separately, you will need 8. To be on the safe side, I would get a couple of yards of ribbon.
Once your materials are assembled, you can begin!
Cutting the fabric
Actually, I need to back up a little bit. You shouldn't start the actual work on this project until after you prewash your fabric. If you are using cotton or a cotton blend, then the first time it is washed it will probably shrink a little bit.
It really stinks for your project to shrink after it's completed, so it is definitely worth it to wash and dry your fabric before you start. Even if you aren't using cotton, that first wash cycle sort of breaks the fabric in and changes it to its final form. Please don't skip this washing step.
And, this is the one time in my life when I still iron things consistently. If you can manage to iron our any wrinkles your fabric may have, it will be much easier to sew with.
So with my little pre-washing lecture out of the way, here is how I cut out my crib bumpers:
First, decide on the dimensions you will need to cut. I made crib bumpers to fit a mini crib, but below you will find dimensions for both mini cribs and larger standard cribs. You may also choose to change the width for either version if you want wider crib bumpers.
Dimensions for a mini crib
Since my baby has a mini crib, I'm making bumpers to fit those dimensions, which are 2'x3′. I also decided that about 8″ would be high enough to keep my baby from bumping his head when he rolls over.
Taking my dimensions and adding 1/2″ seam allowance, the long pieces will be cut to9″x37″, and the short pieces will be cut to 9″x25″.
I also wanted to make my own fabric ties. These I cut 2″ wide by 16″ long. If I were to do another set, I would make the ties longer and start by cutting them at least 20″ long. If using ribbon, you may not need quite that much, but the fabric is just a little bulkier and therefore needs to be longer.
Dimensions for a full size crib
Standard size cribs, with small variations, measure 28″x52″ inside. So, if you want to follow this tutorial for a standard/full size crib and still make the bumpers as high as mine, you will need to cut your long side pieces 9″x53″ and your short pieces 9″x29″. You will still need to cut four of each size and make your ties in the same way.

You can also decide if you want your final crib bumpers to be sewn separately(you would have four separate bumpers) or if you'd like to sew them together into one piece. I chose to create one long crib bumper with seams and ties at each corner. The only thing that really changes is the number of ties you need: If doing one long bumper you will need to have ties in five places, but if you want to make each side separately you will need ties in 8 places(one set of ties for each end of each side).

Next, use a nice straight edge and a marking tool to draw out your pieces on your fabric. I am using a trusty yardstick and my white crayon (which acts the same as fancy tailors chalk. If any marks end up on the outside of my finished project they disappear instantly with a quick ironing).
Remember that you will need a front and back piece for each side of your crib. That means you will need to mark out and cut a total of four long pieces and four short pieces. If you are able to fold your fabric in half and cut two layers at once, it may make this step easier.
Also cut as many ties as you need. As I explained above, this depends on whether or not you want all sides of your bumpers to be sewn together. You should cut the ties at least
Finally, I decided to cut two additional pieces for a small matching pillow. These I cut 14″x10″.
Here are almost all my pieces cut out. I hadn't separated the short and long sides but rather had cut out four long strips that included one long side+one short side. This is just what my fabric dimensions allowed me to do, and it saved me a little time sewing.
Speaking of sewing, now we're ready for that! Although there are several different ways to get these pieces together, below is a step-by-step list of
Sewing Instructions
First, you will sew your ties if you are making them out of fabric. I did this by folding the tie pieces in half lengthwise, and stitching down the length of each one. You can then turn them right side out.
I find turning the ties right side out is much easier to do by attaching a safety pin through one layer of the fabric at one end, and pushing the safety pin through the tube(using a sort of "inchworm" motion). As you pull the safety pin out of the other end, the tie gets pulled right side out. I then tucked the raw edges of the narrow ends in and topstitched them closed. You should backstitch when closing in these ends.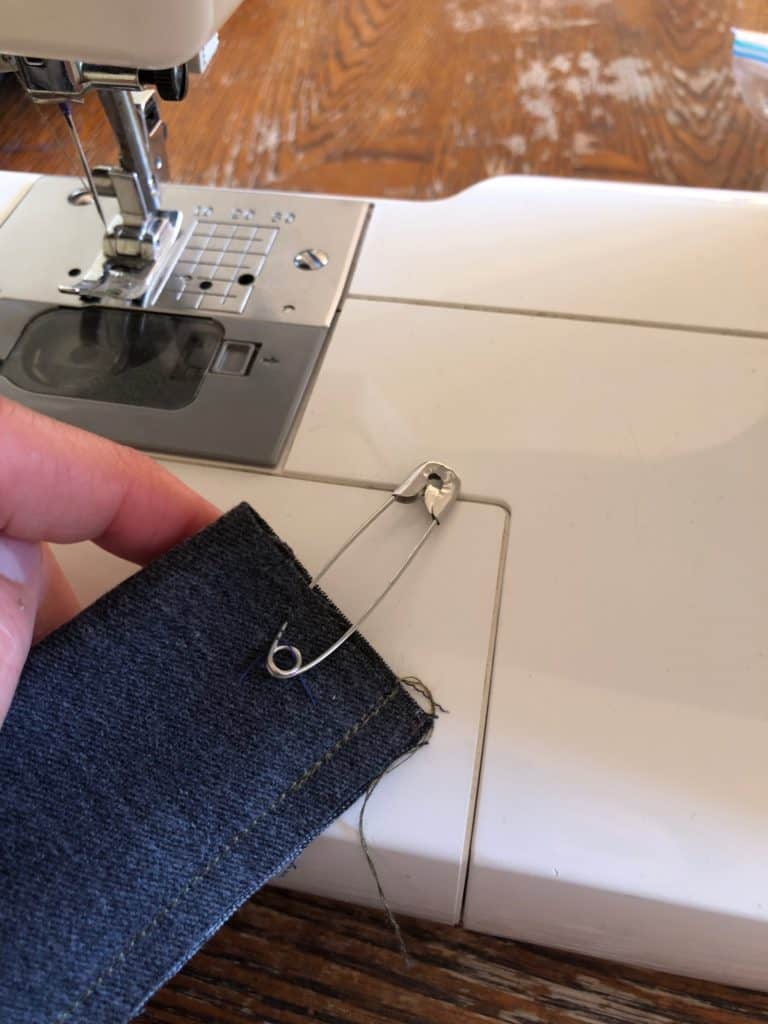 2. Second, sew your ties on to the proper places on your bumper pieces. The placement of different ties depends on whether or not you want to sew each side separately or as one piece. Either way, place the ties in the middle of the ends where they will be sewn, so that the bumpers will be tied to the crib in the middle. Once you have the ties in place, you can go ahead and stitch just over the ends of the ties to keep them in place(remember that you will actually lay the ties on top of the fabric for sewing).
3. Next, you can sew the main crib bumper pieces together. If making each bumper separately, you can go right to sewing down both long sides of the pieces with right sides of the fabric facing together. If making one large crib bumper, as I did, you will need to sew the pieces together end to end(remember to do it in the right order: long side, short side, long side, short side) before sewing down the two very long sides. On this step the ties you just sewed on should be hidden in between your fabric layers.
Making the actual crib bumpers is a lot like sewing the ties. You are basically making a tube of fabric( or several) and leaving the very outer ends open.
When done with this step(which is most of your sewing-good job!), reach through the bumper(s) and pull them right side out.
4. Now it's time to put the filling in. If you are making separate bumper pieces, you may want to sew an end closed on each bumper before stuffing them(see the final step for that). But, if you are making one long bumper like I did, you have a long way to get that filling in. I stuffed filling in from both sides to the middle, which made things a little easier.
Exactly how much you stuff the crib bumpers is up to you. It just needs to be enough so that the bumpers can keep their shape (and therefore do their job.) With that being said, I kept mine just a little soft, which seems to have worked out well.
5. Finally, once you are done with filling the bumpers, all that remains is to close in the ends. I did this step exactly the same and with the ties-simply fold the seam allowance in and topstitch shut, making sure to lay the end ties facing out of the bumpers properly.
Pins are going to really be important for this last step, since the fullness of the filling will push against you a little bit.
When you have closed in your ends, you are done! Below is my one long crib bumper: I think it looks a bit like a centipede.
Tying it all together

Now with you bumper all done, assembly is straightforward.Shape your bumpers around the inside perimeter of the crib with the ties facing outward, and tie the ties around the easiest crib slats. This is where I discovered that my ties were only just barely long enough.
I was really satisfied with how everything turned out. The pillow added a cute extra touch.
And below is little one with the new protective crib bumpers. I'm convinced that he's sleeping better now, and he really seems comfortable with the pillow and cozier snuggled up against a bumper. For a simple project, these sure do an important job!
Whether you're like me and want to have some crib bumpers because they are overdue, or you are planning ahead, you can make your own customized version for your little one. Even better, you can pick exactly the right fabric to match the rest of the nursery. Either way, this is a super satisfying project because when it's done, you'll have a sweeter sleeping space for your little love bug.
Now before you go, you might want to grab my master list of ideas for projects you can make for your home, for others, and for yourself. Even though this is primarily a crochet blog, there are many ideas on this list that can also be sewn according to your own preferences.
To see for yourself, you can get access to my resource library(including the master list of ideas) by filling out the form below:
[convertkit form=1036448]
Keep the crafting delightful,
Amelia