This very quick crochet ornament can be a star or a snowflake, and works up in no time.
Today's project is perfect for last-minute gifting. This ornament uses a mere dozen yards of yarn and can literally be done in about 5 minutes
Would you like this pattern sent to you as a free download?
About The Puffy Crochet Snowflake/Star Ornament
When done with the gauge indicated in this pattern, these stars turn out to be almost 4" across. At this size they would be nice as accents tied onto a gift ribbon, as well as used for decorating a tree.
The puffy star ornament is also a part of my 2020 Crochet Spree series. If you happen to be discovering it while the Spree is still going from November 27th to December 24th, 2020, be sure to enter the giveaway below! You can also see more details about the spree on this page.
Materials Needed
To make one of these stars/snowflakes for yourself, you'll need the following:
E4/3.50mm hook
11 yards of weight 3 yarn
Scissors
Tapestry Needle
And that's it! For my white snowflake, I used Cotlin yarn from Wecrochet. This yarn gave the project a nice natural look. By using a relatively small hook, I was able to get these stars to keep their shape well without the starching that is often done with traditional crochet ornaments.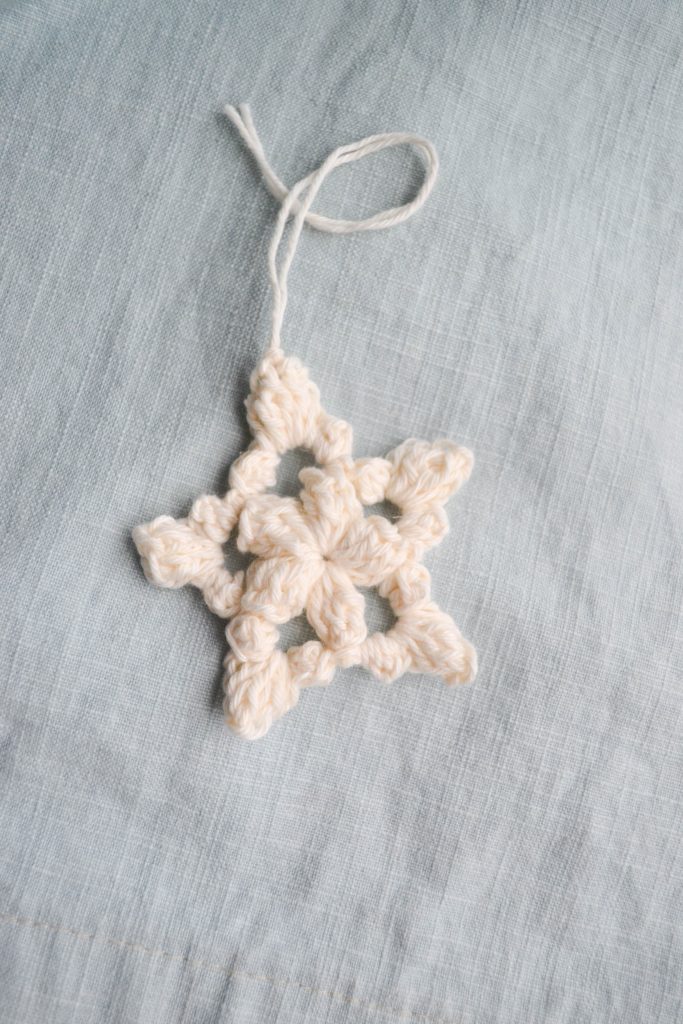 SKill Level
This pattern is very easy, using mostly chain stitches, single crochet, and double crochet. The only thing beyond these basic stitches that you will need to do is create clusters with certain stitches.
Free Pattern Download
If you're ready to get started, you can grab this download right now by signing up below. Each week I send out new projects, crochet tips and tutorials, behind-the-scenes info, and other resources for my readers, and love to offer patterns like the puffy snowflake ornament as a bonus.
Grab it here:
Keep the Crafting Delightful!
Amelia
The Puffy Star or Snowflake ornament makes a perfect last-minute gift or small decor piece for yourself.
You might also like: