This design uses just a few rounds of Jasmine Stitch to create a thick and visually striking potholder or trivet.
Today's design combines several nice things. First of all, it's quick. Second, it's very useful. Third, it's pretty! Even though the Puffy Star Trivet uses a technique that is just a bit more advanced, this combination of practicality and visually appealing results make it a great project for stretching your skills a little.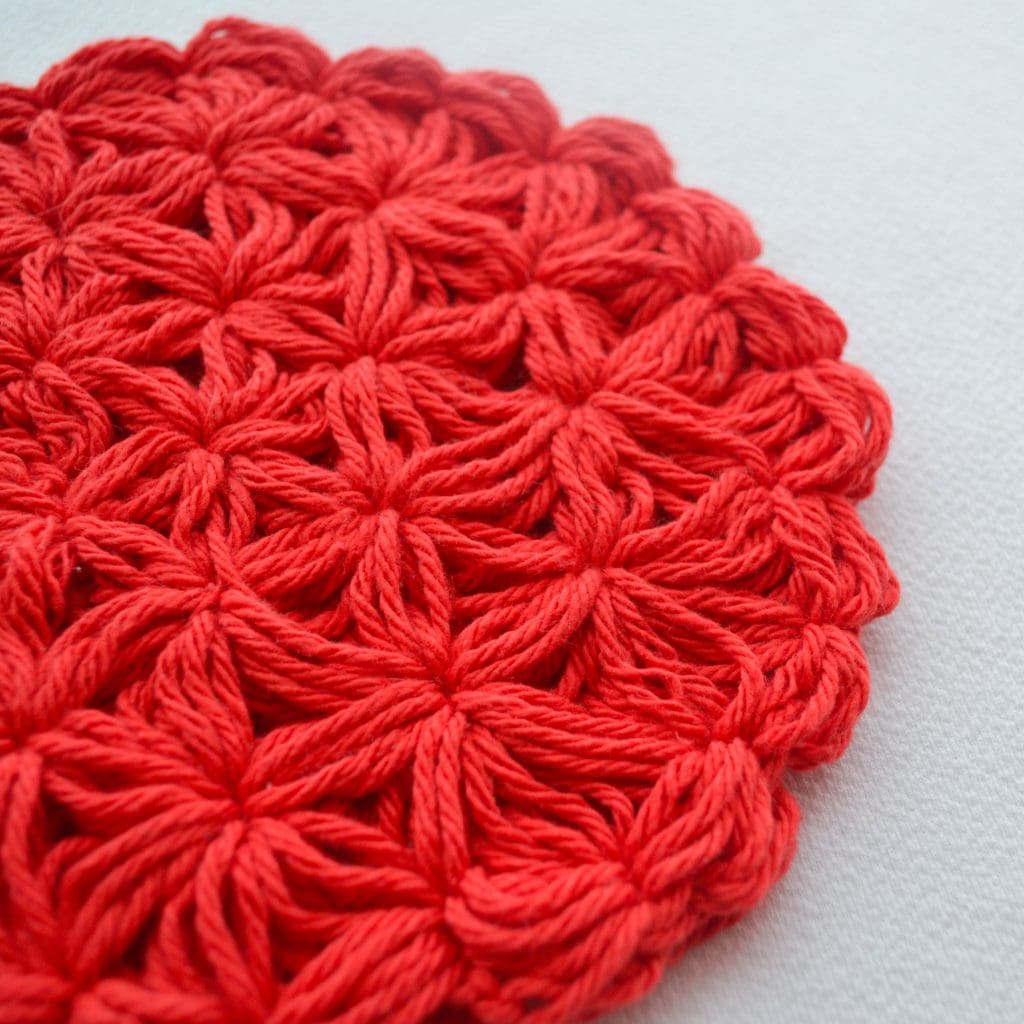 Would you like this pattern sent to you as a free download?
Keep reading to see what's involved and do it yourself.
About This Project
This trivet, as I mentioned, is really useful because it naturally turns out very thick. The easy thickness of the Jasmine Stitch is what makes designs like this beanie so warm, and it works as a nice barrier for a hot or cold container.
When finished, this trivet measures 7" across.
This crochet trivet is also part of 2020 Crochet Spree. If you happen to be discovering it while the Spree is still going from November 27th to December 24th, 2020, be sure to enter the giveaway below! You can also see more details about the spree on this page.
Materials Needed
To make this trivet, you'll need the following:
H/5.00mm hook
About 45 yards of heavy worsted or aran weight yarn (preferably cotton).
Scissors
Yep, it's a pretty simple list for this one. For my trivet, I used Lily's Sugar and Cream cotton in Red.
SKill Level
Working the Jasmine Stitch(tutorial here) in the round is a mix of simplicity and complexity. While the Jasmine stitch itself does involve several small-but-important steps, the repeats of how this stitch is used are extremely simple. 
If you are interested in making this project(or anything with the Jasmine Stitch) please be sure to check out my tutorial for the Jasmine Stitch worked in rows. Working this same stitch in the round does involve a slightly different repeat, but knowing how to crochet it in rows first will help immensely.
Variation Ideas
The wonderful thing is that once you do learn the Jasmine stitch in the round, it can be used for lot's of projects besides this trivet. Some other applications would be face scrubbies, coasters, round cushions or bags, or even a really cool rug. I'll certainly let you know if and when I do any of those myself
Free Pattern Download
If this looks like something you'd like to crochet yourself, be sure to get on the list for updates from Amelia Makes. Each week I send out new projects, crochet tips and tutorials, behind-the-scenes info, and other resources for my readers. Plus, as a bonus for signing up you'll immediately get the free download for the Puffy Star Trivet in your inbox.
Grab it here:
Keep the Crafting Delightful!
Amelia
The Puffy Star Trivet takes one very textured stitch and lets it shine with a simple design.
You might also like: