This Triangle Crochet Shawl is made using one repeated stitch and a very simple increase. The results are extra stretchy and soft!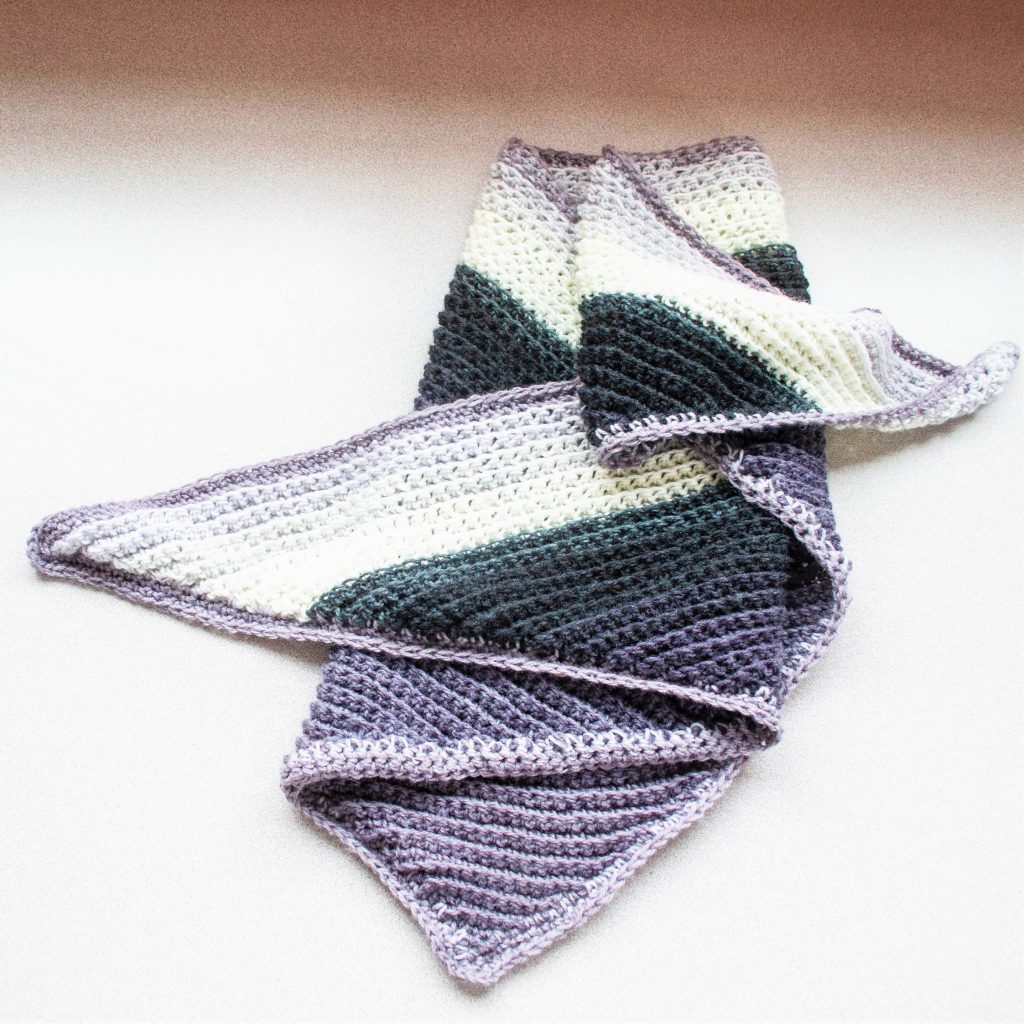 Would you like the free download of this pattern?
Triangle shawls are often seen as very traditional. We see them in period dramas and reenactments, and picture our great-grandmas wearing one as they tended their fire out on the frontier. The shape looks so cozy around the shoulders, and must have proven itself to be very practical as well.

And though I really like the quaint use of this type of shawl in the traditional way, it can also be very modern. A triangle scarf in the right size can look very boho when worn around the neck. Today, I'd like to bring you a shawl or scarf design that can "do both". It's incredibly simple-every row is the same with an easy-to-remember increase. Plus, it can be made as small or as laaaarge as you want. My version is also available as a free download .
(Note: This post contains affiliate links, meaning that if you make a purchase it may benefit me at no extra cost to you. You can read all of my affiliate disclosures and other disclaimers on the disclaimers page. )
Inspiration for this design
While this shawl is 100% crochet, it was actually inspired some by the ridged texture of a knitting stitch. In knitting, the garter stitch ends up being very stretchy and squishy, and as a bonus is also very easy to do. This is the idea and the texture that I wanted this scarf to have.

And as you'll see, it is very easy. The claim is that no pattern is needed for it because you only need to remember two things: the stitch that gets repeated over and over and how to increase the shawl stitches in every row. But, even though this is a very simple project there is still a download available for it.

Materials Needed
Not only does this shawl project have a very simple construction, it also has a very simple materials list:

Enough yarn to get your shawl the size that you want(this will vary widely depending on your preferred size as well as the weight of yarn you decide to use).
Scissors and a tapestry needle(the needle is optional, but it's my favorite way of weaving in ends.)
For my shawl, I used Lion Brand's Mandala yarn in the Harpy colorway . There are so many fantastic color combinations in this yarn. Using a variegated yarn such as this one also makes it extra fun to work on this project because it is just so motivating to see the colors change or see how long you have to go before another color transition.

But, as the label for the Mandala yarn recommends, I used a size h hook with the Mandala yarn. My new clover hook has been super comfortable to work with, and I do think these hooks are helping me to crochet for longer periods of time. You can find the h hook by itself here, or grab the whole set for less here.

Here's how to make this wonderfully versatile triangle shawl or scarf:
Triangle Crochet Shawl Pattern
In it's simplest form, this shawl only has a few steps. It gets set up with a few chains, and then in each row that you do new stitches are added at the beginning and end of the row. The ridged or "garter" type texture comes from only working into the back loop as you go across the rows with single crochet stitches.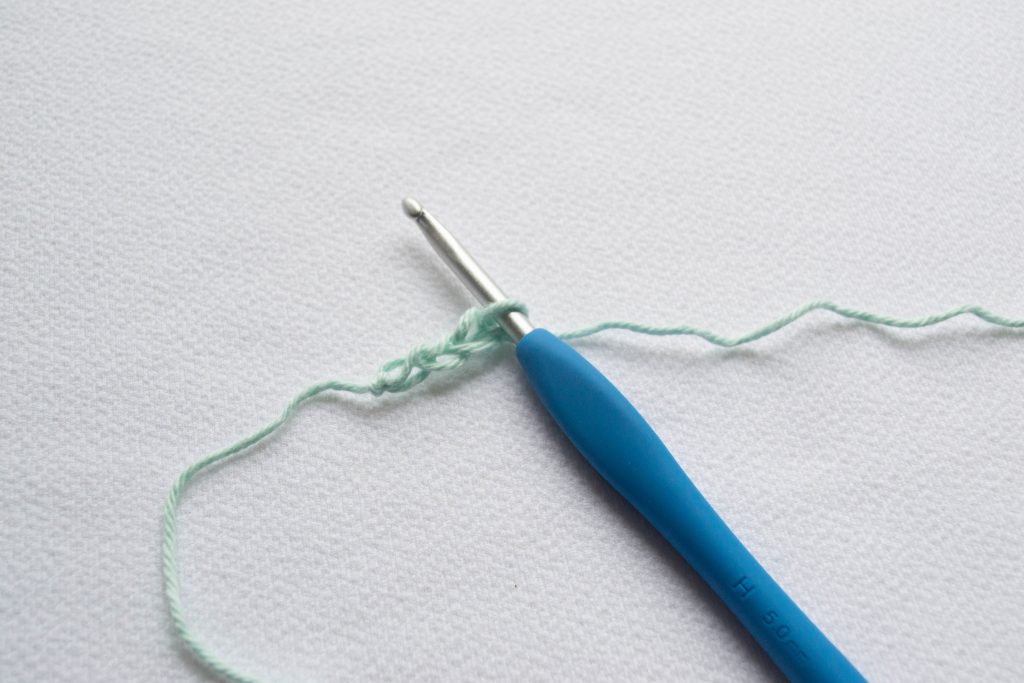 To get started with this shawl:

Ch3. Skip two chains and put two sc stitches in the first chain that you made. Ch 1 and turn.

Row 2: Sc2in1, sc in back loop only, sc2in1. Ch1 and turn
Row 3: Sc2in1, sc3 in back loop only, sc2in1.Ch1 and turn.
Rows4-end: Sc2in1, sc in the back loop only across the row until the last stitch. Sc2in1 in the last stitch. Ch1 and turn except at the end of the very last row.
Finally, I recommend going back and working a row of sc around the edges of your shawl to create a neat little border. This is totally optional, but I like the way it cleans up the edges.
See how easy it is? You really can decide how many rows to do based on how large you want your final triangle shawl to be. With one skein of the Lion Brand Mandala Yarn, this pattern yeilds a scarf that is (Dimensions). It works wonderfully worn around the neck or as a smaller shawl. Adding another cake of the mandala yarn would probably result in a generously sized shawl that you could completely wrap around your shoulders.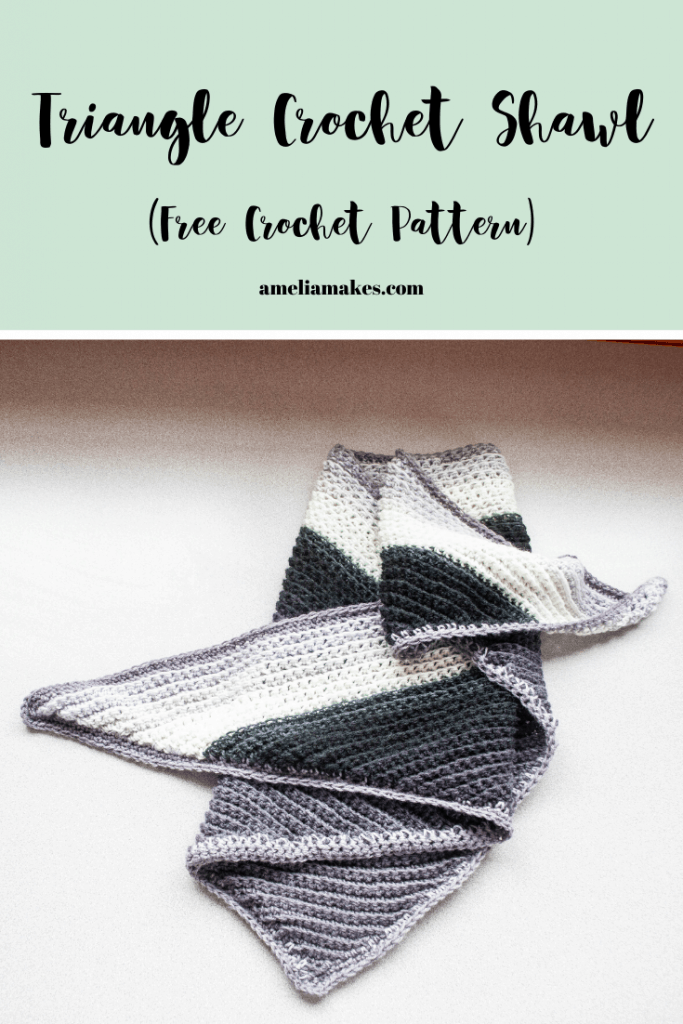 Ideas and Variation Ideas
After making this project, it's clear that the pattern could be used for a really wide variety of looks. Personally, I'm looking forward to trying it in a solid color or another variegated yarn with some different colors.

Another fun change would be adding tassels or pom poms on the corners for a very modern-looking twist.

Also, if you'd like to try making this shawl a bit faster, you could try using the exact same concept with a taller stitch, like double crochet. In a bulky yarn, this could make a nice warm shawl that would work up pretty quickly. Or, in a worsted or DK weight yarn this would be a very pretty summery shawl if it was done in double crochet.
Before you go…
Remember, you can still download the pdf version of these shawl instructions below. Plus, you can get updates and news from me as new things become available here on Amelia Makes.

Access the download by entering your details below. Then, you're all set!

I would love to see how you use the ribbed triangle shawl and make this project your own. Feel free to reach out with a picture or find me on social media!

Keep the crafting delightful,

Amelia
The Versatile Triangle Crochet Shawl is a stretchy ribbed scarf with endless variations in size and finished look.