As part of a series showing you all the basic crochet stitches, this post is going to dive right in and show you all about crocheting the single crochet stitch. This stitch is the shortest and simplest of all the basic stitches. Because it is a little more simple, it goes more quickly than the other stitches. It is a moderately tight stitch with many versatile uses.
However, since the single crochet stitch is shorter than other stitches, it works up a little slower. This certainly isn't a bad thing, but it may require a little bit of perseverance for you to see a lot of progress with this stitch if you are still somewhat of a beginner. For this reason, I actually recommend for people to first learn a slightly taller stitch like double crochet. However, if you are new to crochet and you would like to learn the single crochet stitch first, go right ahead!
Below you will find all the steps for completing your first row of single crochet, as well as how to start other rows. At the very bottom, you'll find my video for this stitch as well.
Step-By-Step
To begin using the single crochet stitch, start by making a chain to get yourself started. Any number is fine, but I like to recommend making your practice piece about ten stitches wide when learning a new stitch or pattern. If you'd like to do this, start by chaining 11 because you will need one extra.
If you need some practice with the chain stitch, check out my chain stitch tutorial here.
Next, you are going to insert your hook in the second chain stitch away from your hook(you will skip that first stitch, which is why we needed 11 to start). Yarn over and draw your yarn through the chain, so that you have two loops on your hook.
Finally, you are going to yarn over again and draw that loop of yarn through the other two.
That's it! Now you can continue to repeat the same steps for every other chain down your row, but you do not need to skip a chain any more. You can simply start each new stitch by inserting your hook in the next chain.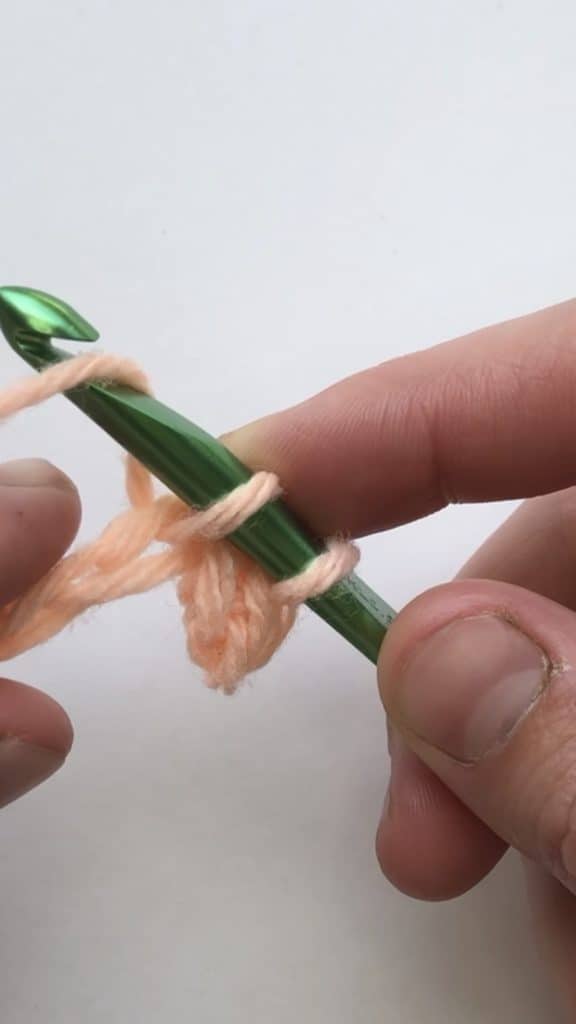 When you get to the end of your row, you should have ten stitches. To continue with another row, simply chain one, turn your work around, and start by inserting your hook in the top of the next stitch from row one.
You'll find that this stitch goes very quickly once you get the hang of it!
Overview of the Single Crochet Stitch
Here are those pictures one more time so that you can see the main steps all together:
And finally, here is a video version of the single crochet stitch that you can watch as you go along.
Final Encouragement
Now that you know the steps to single crochet, you can apply it to many, many projects. Applying this in a little bit more serious way, I'm so glad that when we sometimes struggle to learn something new, it gives us a reserve that we can use in so many life situations.
You see, I tend to make connections between what I'm doing with crochet to things that have more to do with the heart. This may seem odd, but I think it can be really encouraging to point out that even crochet as a hobby can help build and reflect some praiseworthy things about our character.
For example, working on single crochet and other small stitches reminds me that it is the small habits that we choose on a daily basis that with bring us to a place of accomplishment over time. Just like these little stitches seems to go slow at times but still add up to a beautiful and durable project, our small choices and habits are what truly shape us.
That's a rather heavy thought to give you while you're learning crochet! I truly hope you see what I'm trying to communicate, which is that the perseverance you are showing as you learn and practice new skills with crochet is a wonderful strength. I hope you cultivate it and use it for all sorts of other good endeavors as well(and for learning another stitch soon, too!)
Stay Connected
If you'd like to be notified of other new doses of crochet teaching and encouragement, you can sign up for emails and get my master list of ideas here:
As you work on practicing the yarn overs and other few steps to the single crochet stitch, feel free to comment or reach out to me showing your progress. I love to see the progress!
Keep it delightful,
Amelia