O I do not like clutter. Whether it's "useful items" I have a small chance of needing anytime soon, or trash that I just didn't throw away on the spot, clutter gradually becomes more of a nuisance for me until finally it gets taken care of. It would be so nice if I could just always prevent this type of clutter before it starts(or at the very least not be lazy about it when I know I should just put something away.)This is what I had on my mind with the design of this crochet bag.
Get your own copy of 101 Crochet Ideas
Nowhere is this dislike of clutter more prevalent than in my purse, and maybe you can relate. No matter how hard I try, eventually little things like crumbs, bits of paper, and things I needed one time all pile up, until I have a hard time finding the things that my bag is primarily for. And while there's probably no perfect solution to this dilemma, I do like the idea of a crochet bag that helps to deter this type of mess buildup.
The Solution
So with that in mind, I came up with a design that is both very simple to make(it's basically two granny squares) versatile to use and carry(the strap can be worn two ways) and although roomy, does not lend itself well to clutter(more about that later).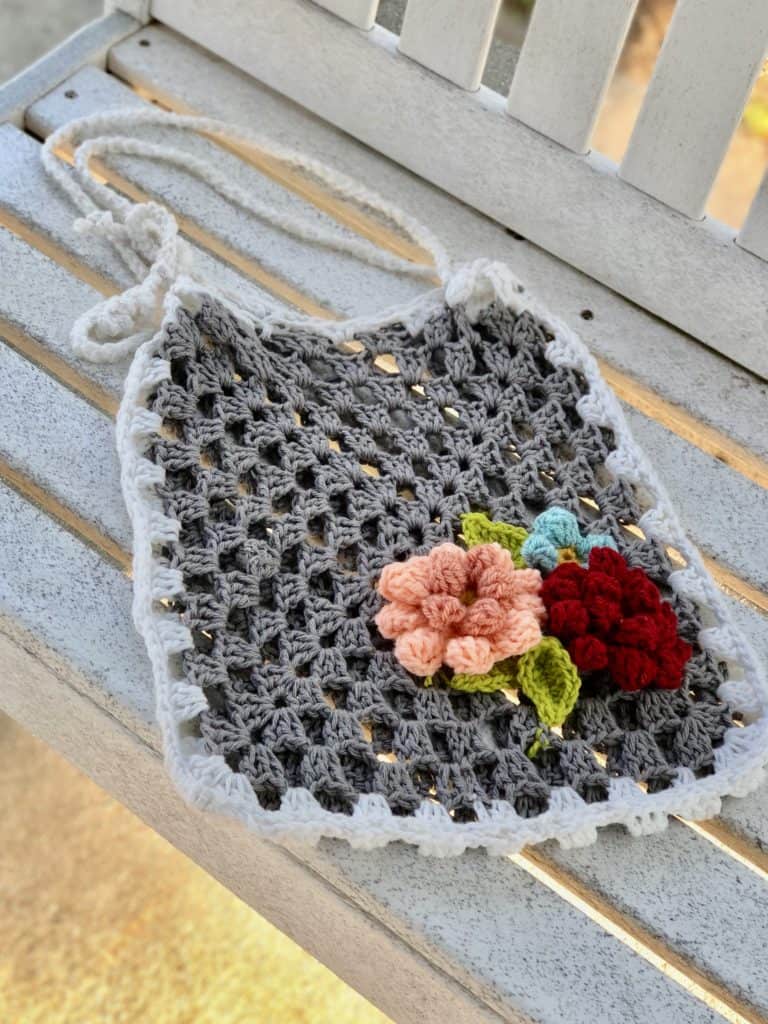 This bag is the result of my desire to have a light and airy summer bag and also to keep myself becoming burdened with clutter over and over again. It's open design means that using it will naturally not allow for just throwing everything in willy-nilly. Instead, taking a little bit of extra time to put things away properly, either in my wallet or in a little zippered pouch(or finding a trash can) will keep you from having to clean out a bunch of unwanted clutter. And in the meantime, you won't be carrying around a bunch of extra weight(Of course, you could also choose to sew a lining for this bag if you choose).
So if you want a roomy but anti-buildup bag, check out the pattern below and give it a try!
Pattern for the Living Lighter Bag
(Below are the written directions to crochet this bag for yourself. You also have the option to grab the free pattern for this bag in a handy download)
Materials Needed:
Size H Crochet hook
Approximately 200 yards of aran/heavy worsted weight yarn. This yarn will be a "4" if you are looking at the weight number of the yarn on the label found on most store yarns. My bag uses about 120 yards of grey total(my main color), plus a little over 70 yards of white/contrast yarn(about 36 of that for the outer rounds of the granny squares, plus about 5 yards for joining the sides, plus about 30 yards for the handle). Hopefully if you want to use different colors for the different parts of the bag this will help you know how much of each color you may need!
(Optional) smaller amounts of other colors if you wish to make flowers or other embellishments as I did.
Abbreviations:
ss-slip stitch
Repeats are shown in parentheses (repeat what's inside).
Step-by-Step
Note: If you are familiar with how to make a classic granny square, just know that this is made with 8 rounds of our main color, and one round in the contrast color.
To start: Ch 8, ss in first ch to make a circle.
From there, you will make the first layer of your granny square(Note: If you are familiar with how to do a granny square already you can simply note how many rounds we are doing of each color and then go to joining when you are done)
Round 1: ch 2, dc two into your circle, ch 2, dc three into your circle. (Ch 2 and dc three )two more times so that you have four sets of dc stitches going into your circle. ch 2 again and ss into the top of your starting chain.
Round 2: For your second round, start by ch 5. skip over the top of your first set of dc in the first round and instead dc 3 into the first ch space. Now, you will ch2 and dc 3 again into the same space. This doing two sets of dc stitches into the spaces is what makes our corners, and we will continue to do this as our corners get farther and farther apart.
After you complete that corner, ch 2 and immediately do the same thing into the next chain space from round one. Continue around your little square in this way until the last corner, where your second set of dc stitches will only need two. You will use the first part of the ch 5 that you started with to complete this set.
At the end of this round, you should have 8 sets of 3 dc stitches, two in each corner. They should all have chain spaces in the middle of the corners as well as one chain space on each side.
Rounds 3-8: Continue to make your granny square bigger by alternating your sets of 3 dc stitches and your chain spaces, and by increasing in each corner. Again, if you just need more help with the granny square design you can refer to this tutorial (add link).
Color change
Round 9: Change to your contrast color(white in my case) and add one more layer to your granny square.
That's it for the side! Go ahead and ss to end your first square after round 9. Then, make another square the same as your first, and you're ready to join them together!
Joining:
I used the simple slip stitch method to join my two granny squares on three sides. Here is a video for the slip stitch joining method if you'd like to see that demonstrated. If you have another method that you prefer, you are welcome to do that instead. The one thing I would suggest is that you make sure that the three sides you join to make your bag include the sides where you tied off your two squares. This way, it is easier to hide your ends and the opening of your crochet bag might be a little neater.
At this point, weave in your ends if you haven't done so already.
Making the strap/handle:
For the handle, I simply made 5 feet of Romanian Cord in my contrast color. This took about 30 yards of my white yarn and allows the bag to be used with one crossbody handle or two shorter handles.
If you need a tutorial for this, Click here for a Romanian Cord tutorial from Golden Lucy Crafts. There is a video there as well as step-by-step pictures.
Weave handle around top of bag in and out of the granny square pattern. I went in and out of every one except for the 3 center sections on each side. I kept the cord on the outside of these on both sides to create the handle.
Knot ends of cord and tie the ends together or make a bow to secure it.
Embellishments:
Although I cannot take credit for either of the designs I used to add some pops of color to my bag, I greatly enjoyed making both of them.
I made these flowers by following this crochet Dahlia pattern from My Hobby is Crochet. I really liked how easy this pattern was to follow and even memorize. I used the same yarn weight and hook as I used for the rest of my pattern and I think they turned out great!
The leaves I made came from this crochet leaf motif from Repeat Crafter Me. These were so quick to make that I had enough in no time!
Some Notes on this Design
As I said before, this design does not lend itself well to clutter. First of all, the granny square design with holes means that small bits and pieces actually wouldn't be safe. In my mind, if I have something small that actually needs to be saved, then I can take an extra few seconds and put it away properly(I do like to have pens handy, so with this bag I'm just keeping a pen clipped to the top for quick access.
Secondly, If I let clutter build up in this bad it would become visible and possibly create an unsightly bulge in the bottom of the bag. Even though I made this design large enough for things like a full-size planner or notebook, it's not meant to carry a lot of weight. Does the design have its limitations? Yes, but that's kind of the point. This bag keeps me accountable so that I don't use the space to continually cram in more stuff. It's supposed to serve as flexible, but curated bag space.
Tying it all together
So, if you are looking for a bag that is quick to make and also versatile, try out this design and see what you think! It's an easy design and also lends itself to a moderate amount of storage but not to clutter. It's also a great way to practice and use some granny squares.
Please feel free to let me know how this project goes for you. I'd love to see pictures of your finished projects! And before you go, remember to sign up for emails if you want to be notified when I post new projects, tutorials, and other resources. As a bonus, I'll send you my master list of 101 crochet ideas!
Don't forget to pin this for later, too!
Keep the crafting delightful!
Amelia