These Textured Crochet Bows work up quickly so you can add a touch of cuteness wherever it's needed!
Ready for some fun, easygoing crochet time? Today's project is something I'm so excited to bring to you because, as a quick little "win" these textured bows provide something cute that even new crocheters can make. Plus, they can be added to all types of different items for unlimited different uses. Simply put, they are an easy way to make anything cuter.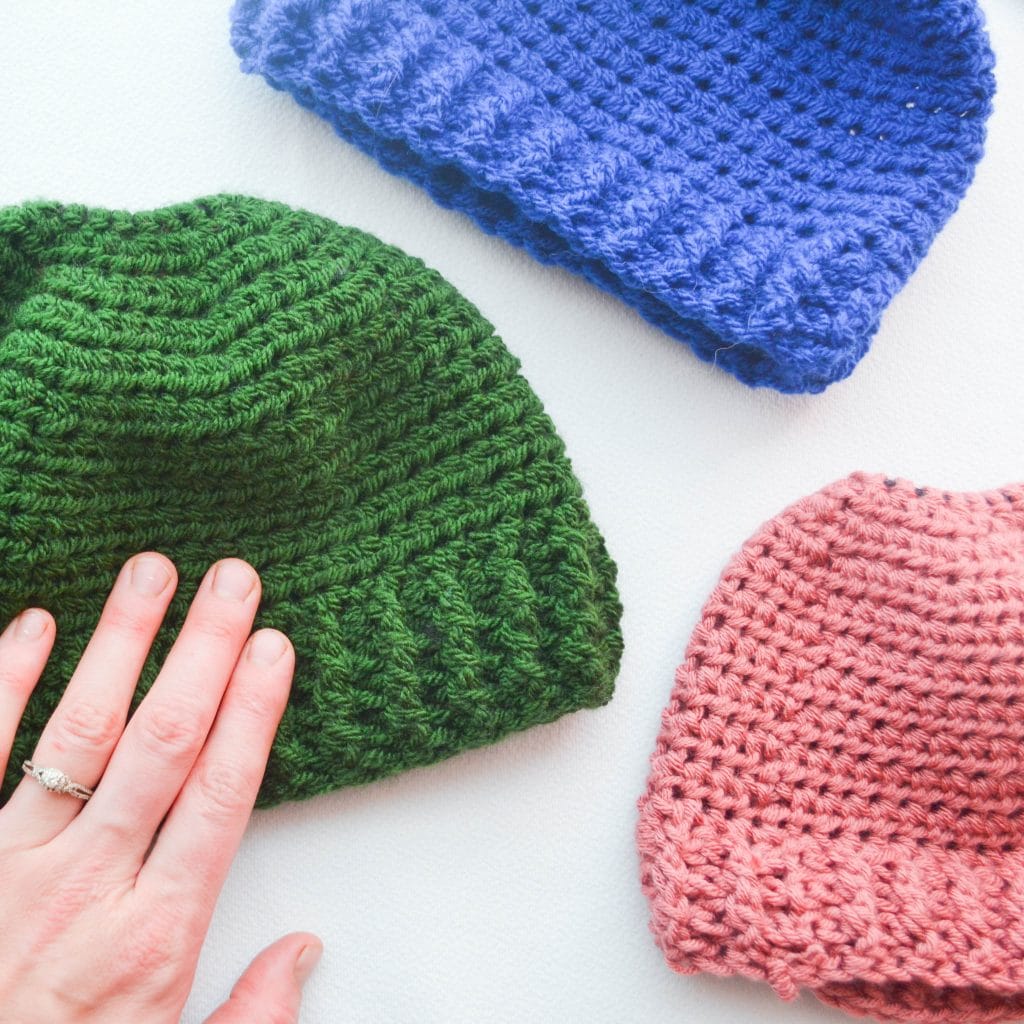 Want a few popular patterns as free PDFs?
About This Project
These bows are not only adorable, but they are versatile as well. As a small crochet piece, they can be added to many larger projects, including dolls, toys, and accessories. In fact, my very first use for these bows was to put them on some of my 1 Hour Messy Bun Hats
One of my favorite things to do with these as well is to stitch(or even attach with a hot glue gun) the bows to alligator clips like these. This gives you so many options for using these bows but keeps them removable. You can use them as hair bows, add them to bags and belts, attach them to presents, and pin them on pretty much anything else you want. These bows would also make a great scrap busting project.
Sizing
The pattern includes instructions for these textured bows in four completely different sizes. The mini bow(which works up extremely fast) is made in one single layer and cinched in the middle.
With each of the other three sizes, the bow is actually made with loops on either side. The main piece includes more rows, and gets folded in half and seamed to make both sides of the bow. Then, as with the mini bow, the middle is gathered in and secured. Whatever size you may be working on, the key to getting a really good finished bow seems to be (1) pinching the bow in the middle to shape it just right, and (2) wrapping the center tightly but not too tightly, being careful to preserve the shape you got while pinching it.
The actual dimensions of each size are:
Mini: 1.5" by 2.5"
Small: 2" by 3.5"
Medium: 3" by 4.75
Large: 3.5" by 5.5"
Materials Needed
To make any of these bows, you'll need the following:
4-35 yards of heavy worsted/aran weight yarn.
H/5.00mm hook
Scissors
Tapestry needle(for weaving in ends)
Obviously, the exact amount of yarn that you'll need will depend on the size of bow you're making. I would suggest you have extra yarn on hand for making extra bows in several different sizes!
SKill Level
Crocheting the textured bows is easily a beginner project, and one that I think a crocheter at any level would enjoy. The texture for them comes from the griddle stitch, which is a simple repeat of single crochet and double crochet stitches.
And while there is one short seam in each bow for the larger three sizes, it's very forgiving. The seam is easily hidden in the back of the bow, and completely covered as the bow gets shaped and wrapped in the middle. All you need to practice is being able to crochet a few slip stitches to keep the two layers/sides of the bow together. Like I said, very beginner-level and friendly.
Pattern Download
If you'd like to see more crochet pieces like this, be sure to sign up for emails. Each week I send out new projects, crochet tips and tutorials, behind-the-scenes info, and other resources for my readers. Plus, as a bonus for signing up you'll immediately get the current free pattern bundle with downloadable pdfs.
To make sure you can get ALL my patterns(including the Thankfulness Cardigan) be sure to check out the Makers' Crochet Vault .
This is where members can download unlimited pdfs, browse organized tutorials for certain projects, and reach out to me for any priority support you need.
you can get more information and enroll here.
Keep the Crafting Delightful!
Amelia
The Textured Bows are simple crochet bows that can be made in a variety of different sizes and added to all kinds of larger projects and uses.
You might also like:
PS- Don't forget to pin this for later!