The Thankfulness Cardigan is a Crochet Sweater for Everybody which is rich in texture.
Ready for your new favorite cardigan?
Hey there, fellow crocheters. It's time to talk about the new project the Thankfulness Sweater? This new crochet sweater cardigan is a size-inclusive pattern that comes with a full series of video tutorials to show you how to crochet it. The result is a textured, classic v-neck sweater that you can layer and cozy up in for years to come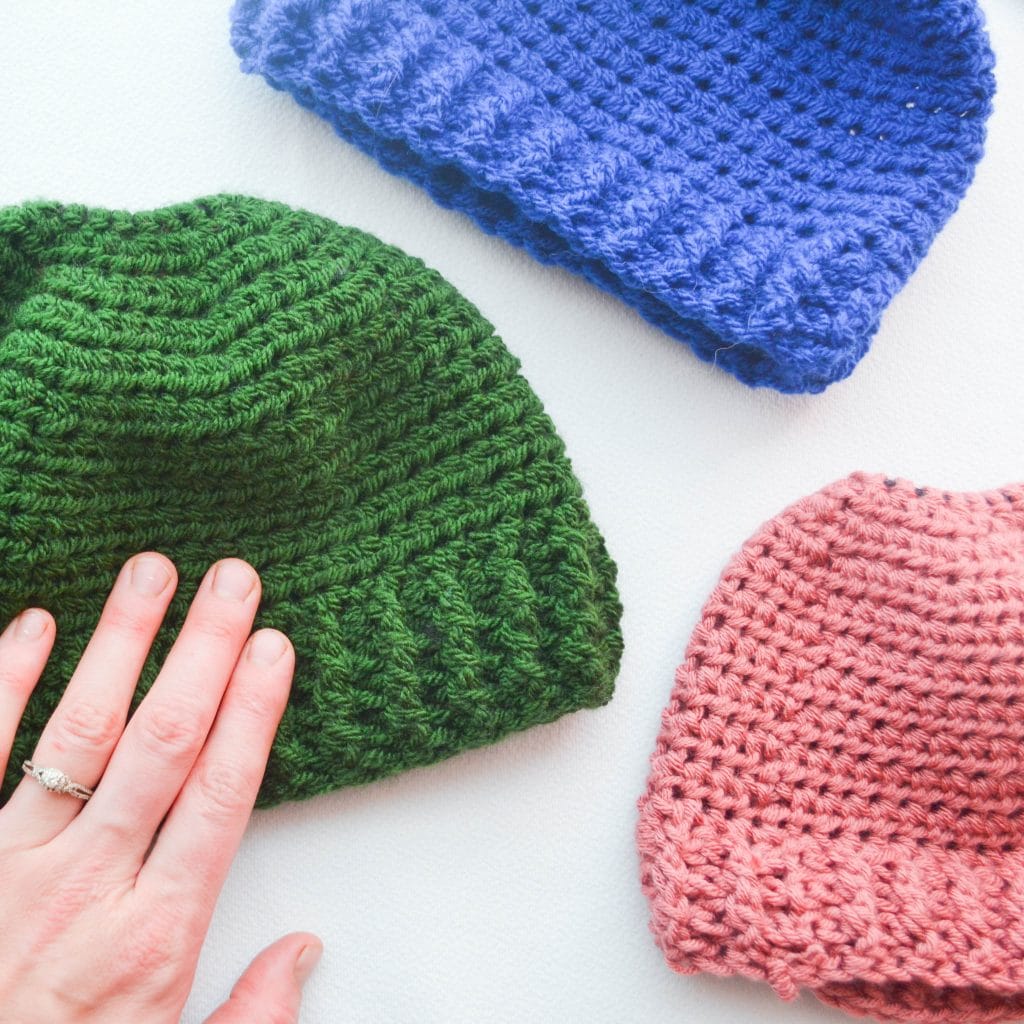 Want a few popular patterns as free PDFs?
Find more specific details about the Thankfulness Sweater below:
About This Project
The Thankfulness sweater is meant to be useful for just about anyone who enjoys a good "old man" sweater. The oversized shape and deeper "V" neckline give off the sort of feeling that smells like newspapers and peppermints. But, the shape itself is really quite versatile and can work with a lot of different styles. Sizes are included to fit the vast majority of adults(see below) and video tutorials make it easy to learn.
Gauge
The gauge for this project is 12 stitches and 11 rows of Griddle Stitch for a 4×4" swatch. Now, if that last sentence sounds intimidating because you haven't quite mastered gauge or aren't sure how it works, starting with this post should help.
Basically, the idea of making a gauge swatch is to create a "test piece" for your project before you dive in to start the whole thing. If you can get your test piece to turn out the correct size, then it follows that your whole project should be spot-on in how it is sized as well.
Sizing
Speaking of sizing, I'm happy to let you know that the Thankfulness Sweater is very size inclusive. The pattern download involves instructions for women's adult sizes XS-5XL. Shoulder measurements are provided to help you choose your size.
In addition, since this could be considered a unisex sweater, having the shoulder measurements can help you choose a size if crocheting it for a man.
Something to note is that this sweater has LOTS of positive ease. As an oversized cardigan, crocheting this design as written for your sizing and measurements will most likely leave you with plenty of room. If you would perhaps like a less roomy finished sweater, especially for a woman, consider sizing down.
Materials Needed
To create the Thankfulness Sweater, you'll need the following:
1,400-2,128 yards of worsted weight yarn(The PDF includes a size-by-size breakdown of estimated yardage)
H/5mm hook
Larger hook size such as a k/6mm
3-8 buttons 1″ in diameter
Sewing needle and thread
Scissors
Tapestry needle(for weaving in ends)
SKill Level
As a crochet cardigan, the Thankfulness Sweater is definitely an intermediate-level project. There is shaping used in all of the main pieces. The Griddle Stitch is used throughout the pattern, which uses double crochet and single crochet stitches. There are also
Variation Ideas
If you'd like to put your own "spin" on this sweater, there are definitely plenty of ways to do that. In fact, choosing the number of buttons for your sweater yourself is written right there in to the pattern. The original sweater that you see pictured was made with four buttons(although I originally planned for three). You can really use whatever number you wish and space them accordingly. You can even place the top button a bit higher if you wish.
This sweater is made in one solid color, but it would be easy enough to create it in stripes if you wanted to. Finally, one other easy way to change up this sweater design would be to crochet a cropped or extra-long version of it. The Thankfulness Sweater is designed to hit right at the hip, but since all the pieces are created from the top down, you could easily change the length based on where you'd like the finished sweater to hang. Just keep in mind that (1) the body ribbing will add a few more inches of length to whatever you crochet on the panels, and (2) that changing the length on your crochet cardigan will affect the total amount of yarn needed.
Video Tutorials
In addition to the pdf download for this pattern that is available inside of the Crochet Maker's Vault there is also a full series of video tutorials available to help you make this sweater! With eight videos total, I show you all the steps to crochet the Thankfulness Cardigan: 
Video 1: Gauge Swatch
Video 2: Front Panels
Video 3: Back Panel
Video 4: Sleeves
Video 5: Seaming
Video 6: Cuffs
Video 7: Ribbing
Video 8: Buttons
All of these videos are available for Community members as well, inside of the pattern library. Members also have access to a separate library just for tutorials, and a forum to connect with other members.
While the Community isn't always open for new members, you can easily check here and get on the wait list here. Then, you'll be the first to know when the doors open again!
Final Thoughts
If you'd like to see more crochet pieces like this, be sure to sign up for emails. Each week I send out new projects, crochet tips and tutorials, behind-the-scenes info, and other resources for my readers. Plus, as a bonus for signing up you'll immediately get the current free pattern bundle with downloadable pdfs.
To make sure you can get ALL my patterns(including the Thankfulness Cardigan) be sure to check out the Makers' Crochet Vault .
This is where members can download unlimited pdfs, browse organized tutorials for certain projects, and reach out to me for any priority support you need.
you can get more information and enroll here.
Keep the Crafting Delightful!
Amelia
If you want a comfortable, easygoing crochet cardigan that includes simple shaping and full video tutorials, you can learn quite a bit by following along with this design
You might also like:
Don't forget to pin for later!