The Dogwood Top is a light and easily customizable design perfect for spring and summer
Today I am so excited to be bringing you a free crochet top pattern that is perfect for some warm and sunny weather.
Right now, spring is coming in full force in my area, and real Dogwood Trees are starting to bloom. They first inspired the dogwood flower crochet pattern a while ago, and today's wearable project is based on the same motif.
You can also get the free download for this top in an easy download.
Would you like the free pattern download for the Dogwood Top?
My friend Janne at Joy of Motion Crochet, who also published the Fallglow Cowl, has this pattern published just this morning. You can head over there to see the pattern in full (be sure to check out the wealth of other patterns there too, because there's a lot of really sweet patterns that would be great as wardrobe staples.)
Construction of the Dogwood Top
Making this Dogwood Top takes quite a lot of flowers(made very similarly to my original dogwood flower design, but not exactly). They work up in only two rounds and are a great project to have in your purse or on the go.
Then, all of the flowers get arranged and connected together using chain stitches(see the pictures below). Because of how this works, you could technically make this top in any size just by adjusting how large your chains are. It has the potential to be very free-form if you want it to be.
And lastly, you may notice that the finished top has some trim around the neckline and sleeves. This gives it just enough structure and a bit more polish, but I did decide to leave the bottom edge unfinished so that the flowers create a sort of lacy edge.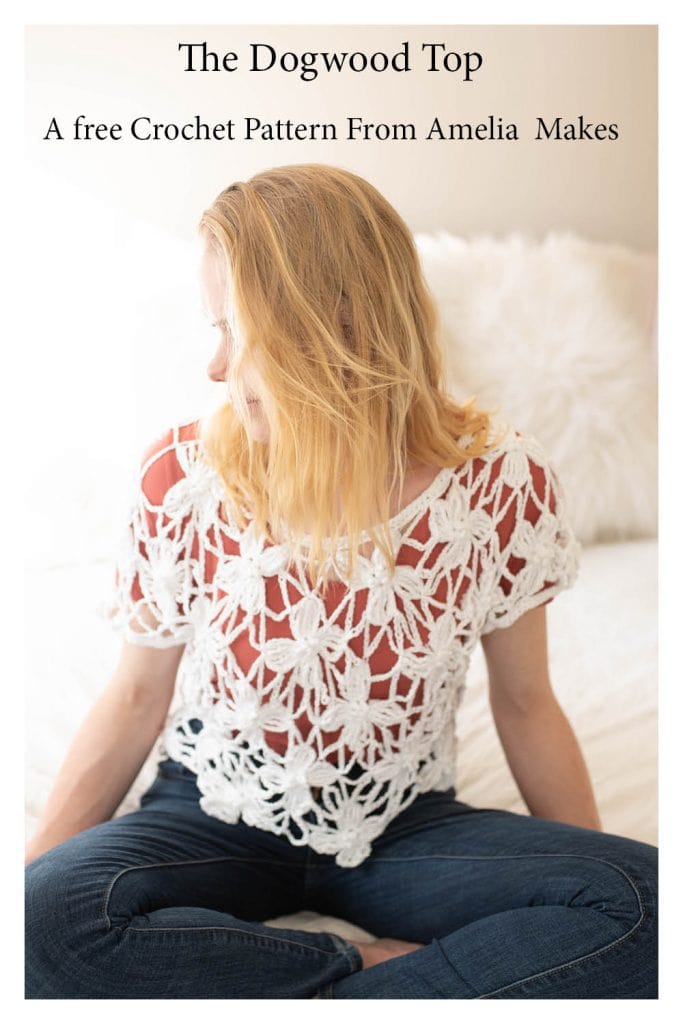 So if you'd like to make this unique and feminine top for yourself, there are a few options for getting the full instructions:
How to get the Pattern
You can see this pattern on the Joy of Motion crochet blog HERE, and you can also get the free pdf right here:
Keep the Crafting Delightful!
Amelia