The Holly Crochet Headband is a truly warm festive earwarmer pattern-perfect for wearing around the holidays or giving as a gift
There's a lot of simple satisfaction to be had from finding something that gives you great results, without being too challenging. This certainly rings true in our crochet projects, and today I'm excited to share a pattern that I think you'll enjoy. As an earwarmer, it delivers interesting texture and style while still being easy to make. Plus, it's very functional and warm to wear.
Would you like this pattern set as a free download?
This pattern is pretty trendy as well. Headbands and hats with twists, curved lines, and even a turban or cloche shape seem to be a lasting style right now, and also tend to be very flattering. And while I actually took my time to try out this trend for myself, it's certainly grown on me. This version-the Holly Headband or Holly Earwarmer- is a nice festive design with some extra pops of texture in the form of bobbles.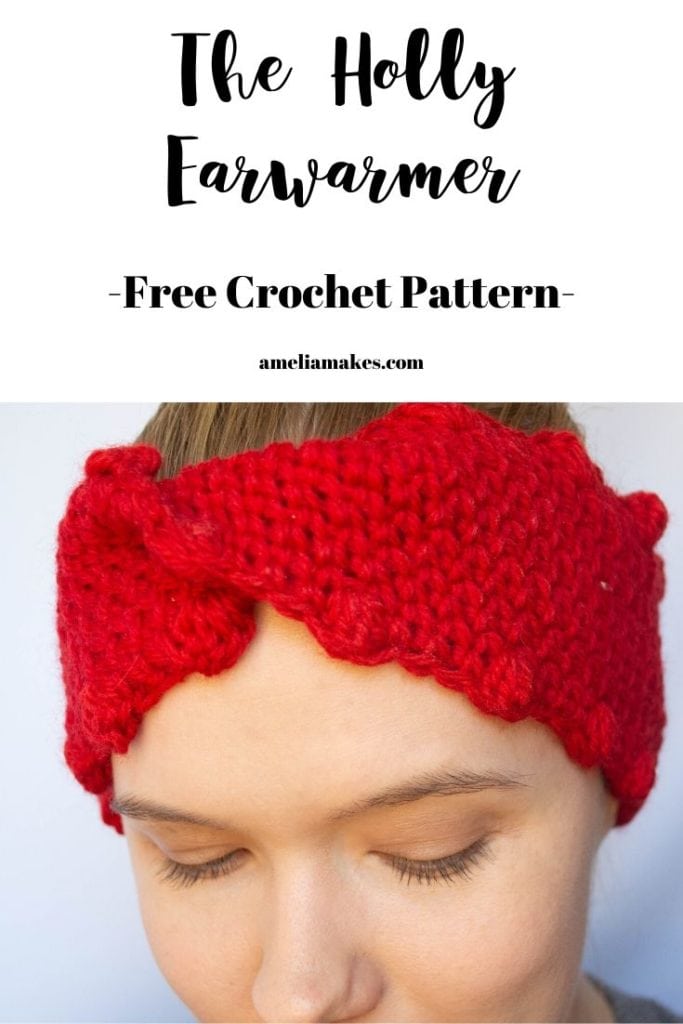 (If you'd like to see another example of this style, check out this pattern. It's not my design but I've been meaning to try it)
You can peruse more information about this project below, or even download it for free(check the bottom of the post for more information). Also, be sure to check back in a few more days for the matching boot cuffs pattern for this headband!
(Note: This post contains affiliate links, meaning that if you make a purchase it may benefit me at no extra cost to you. You can read all of my affiliate disclosures and other disclaimers on the disclaimers page. )
About this Pattern and Sizing
The Holly Headband is a thick(ish) and cozy earwarmer made with an edging of not-too-out-there bobbles to add some festive detail and texture. As a ladies headband, the pattern you'll find here is going to fit most people with some flexibility for those of you out there with different head shapes and hair that is so much thicker than mine.
The stitch that makes up most of this project doesn't stretch quite as much as many crochet stitches, and I've taken that into account. However, if you want to try making this headband without the twist in it, you will probably need to make your rows a bit shorter since the twist takes up some of the length.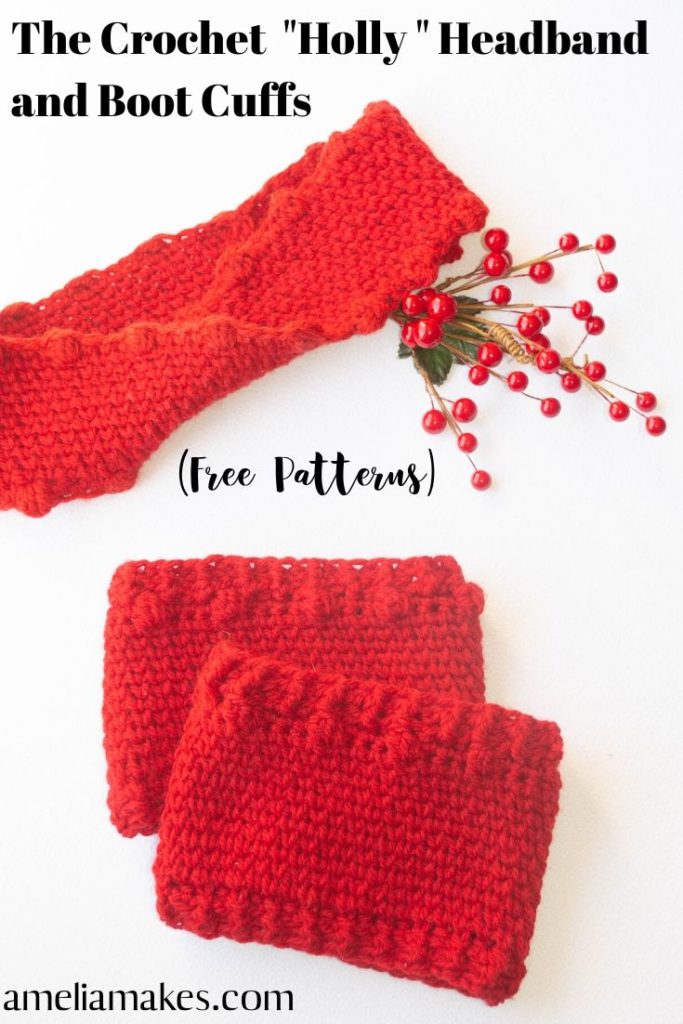 Skill Level
Although this earwarmer pattern uses stitches that are beyond the most basic ones, I would still consider it to be an advanced beginner pattern (or perhaps an intermediate project at most). The waistcoat stitch is really very simple to do once you realize that it's basically single crochet with a small variation. The bobbles in the pattern are simply several hdc stitches done together.
Now, one thing that is worth noting about the bobbles is that to make the pattern easy with the twist (getting the bobbles to show up on the right side of the earwarmer without working them on both sides and placing the twist just right) the pattern will actually have you push/"pop" some of the bobbles inside out, so that they show up on the back side of your work.

This bobble technique is remarkably easy to do, and if you make the pattern yourself I think you might just find this trick as neat as I did. But, if the idea of turning the bobbles inside out has you a bit skeptical, go ahead and try making a swatch(in any basic stitch) and adding a few bobbles to try the idea out for yourself. That way you can get comfortable with the idea in just a few minutes before committing to the 1-2 hours or so that the earwarmer will probably take.

Basically, the techniques used in this crochet earwarmer are all one step away from very basic stitches. Or, to put it another way, basic stitches with a twist…

Considering the fact that this project is done in rows and joined with one small seam, I think it's well within your reach to try it even as a beginner. I wouldn't make it your first project ever, but as a small and relatively quick accessory it's a good choice for trying these techniques if they're new to you.
Yarn Choice
To keep the ears extra warm in these chillier days, I opted to use 100% wool in the Holly Headband. Paton's Classic Wool yarn is one of the only 100% wools that I actually see consistently in "mainstream" arts and craft stores that carry yarn, and this bright red color is about as festive as you can get!

Of course, if you don't like the idea of using wool for whatever reason, any other type of yarn can be used instead. Just make sure that you choose something very close in weight(thickness) to the Paton's classic wool.

So with all that said, below you'll find the full pattern for this lovely little headband. If you'd like to download the pattern for yourself, you can find access to that(for free) by signing up at the bottom of this post
The Holly Headband: Crochet Earwarmer Pattern
Materials Needed
G hook
<70 yards of heavy worsted/Aran weight yarn like Patons Classic Wool
Scissors and tapestry needle for finishing. The tapestry needle is optional, but for weaving in ends this is my preference).
Abbreviations
Directions
Start by chaining (Ch) 61 stitches
Row 1: sc into second chain from hook and across the row(60 sts). Chain 1 and turn
Rows 2- 12 : waistcoat stitch across(60 sts). Chain 1 and turn.
For Bobble Edging:

Row 13: *waistcoat stitch 3 stitches, hdc4tog to make your bobble* (I inserted my hook for the bobbles in the same manner as the waistcoat stitch, because it helped me keep my stitch count correct.
Repeat 14 times down the row(15 times total). if you want, you can leave off the very last bobble and just finish with waistcoat stitch instead.
To do the other side:
Your bobbles on the two sides will probably be slightly offset, which ends up looking very pretty. At this point, we are ready to finish assembling the earwarmer:
Turn one end of the earwarmer just once so that it has a twist in it. Keeping the one twist, fold your earwarmer in half and seam up the two short ends with slip stitches(ss). When finished, cut your yarn and weave in your end(s).
At this point, about half of the bobbles are on the wrong side! Don't worry though, these bobbles will easily "pop" inside out of you simply press them that way with a fingertip. Simply turn your
seam to the inside of the earwarmer, get the twist where you want it, and then get all of the bobbles facing outward.
Optional: you can certainly put a stitch or two through your twist or even wrap the center of the twist with yarn to cinch it(as I've seen in some other designs). However, I like the freedom of adjusting the twist depending on the day and my hair.
Conclusion and Downloadable Pattern
If you like the look of this pattern and want it for yourself, or if you're just interested in staying connected for future projects, you can sign up below for access to current and future resources. As a bonus, I'll send you the patterns for this headband pattern as well as the matching boot cuffs.

I definitely don't want to be a bother, so you can try out my emails knowing that you are able to opt out at absolutely any time.

Thanks for hanging out with me and checking out this project!

Keep the crafting delightful,

Amelia
The Holly crochet headband is the perfect earwarmer for the trendy twisted shape created with warm and solid stitches