This thick crochet mug cozy can be adjustable for different sizes of mug, and has a nice ribbed texture.
Today's quick crochet project is something you can whip up quickly for gifts, or make several of for using yourself. It's a great design for sipping hot cocoa, coffee, or tea on a chilly winter morning.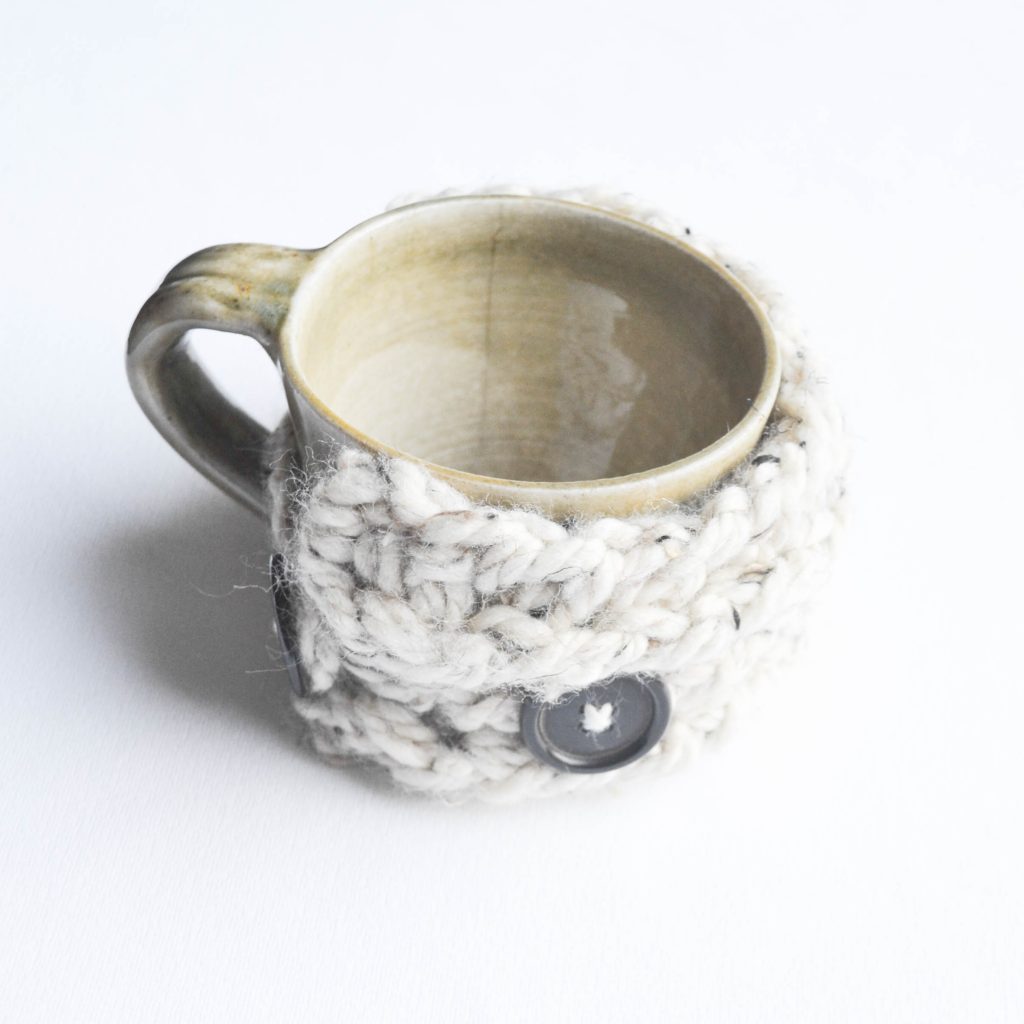 Would you like this pattern sent to you as a free download?
Keep reading below for a few more specifics on my "Cuppa Cuppa mug cozy pattern."
About This Crochet Mug Cozy.
This Crochet Mug Cozy design also happens to be the very first design to be published as part of the 2020 Crochet Spree. If you happen to be discovering it while the Spree is still going from November 27th to December 24th, 2020, be sure to enter the giveaway below! You can also see more details about the spree on this page.
Materials Needed
For each one of these cozies, you will need:
N/9mm hook
25 yards super bulky yarn
2 large(1-1 1/2" buttons)
Thread or thinner yarn for sewing on buttons.
Tapestry needle
Normal(sharp) sewing needle
Scissors
For my own mug cozy, I wanted a nice neutral color to go with my favorite earthenware mugs. Thankfully, I had some Wool Ease Thick and Quick leftover from making the Winter Windows Throw, so the one pictured is done in the color "Oatmeal".
This design can be made adjustable to whatever size(s) of mugs you have, based on where you place a couple of buttons. Above, I included a normal/smaller sewing needle and regular sewing thread in the materials list just because having those things on hand will make it easier to attach the buttons. Depending on what buttons you decide to use, your tapestry needle might work, but a smaller needle gives you more options.
Skill Level
To get the ribbed texture on this mug cozy(which gives your fingers a nice place to sit when you're cupping the mug in your hands), lots of front and back post stitches are used. Besides this technique, everything in this pattern is very basic. It's easily stilll a beginner pattern, at least for the crochet portion. Doing a bit of hand-sewing for attaching those buttons is technically a whole different skill, but in the sewing world that would also be considered beginner-level. 
Free Pattern Download
If you'd like to whip up one(or more) of these mug cozies, be sure to get on the list for updates from Amelia Makes. Each week I send out new projects, crochet tips and tutorials, behind-the-scenes info, and other resources for my readers. Plus, as a bonus for signing up you'll immediately get the free download for the Cuppa Cuppa Mug Cozy in your inbox.
Grab it here:
Keep the Crafting Delightful!
Amelia
The Cuppa Cuppa Mug Cozy is a very quick crochet project that easily works up in less than an hour.
You might also like: