This thick crochet mug cozy can be adjustable for different sizes of mug, and has a nice ribbed texture.
Today's quick crochet project is something you can whip up quickly for gifts, or make several of for using yourself. It's a great design for sipping hot cocoa, coffee, or tea on a chilly winter morning.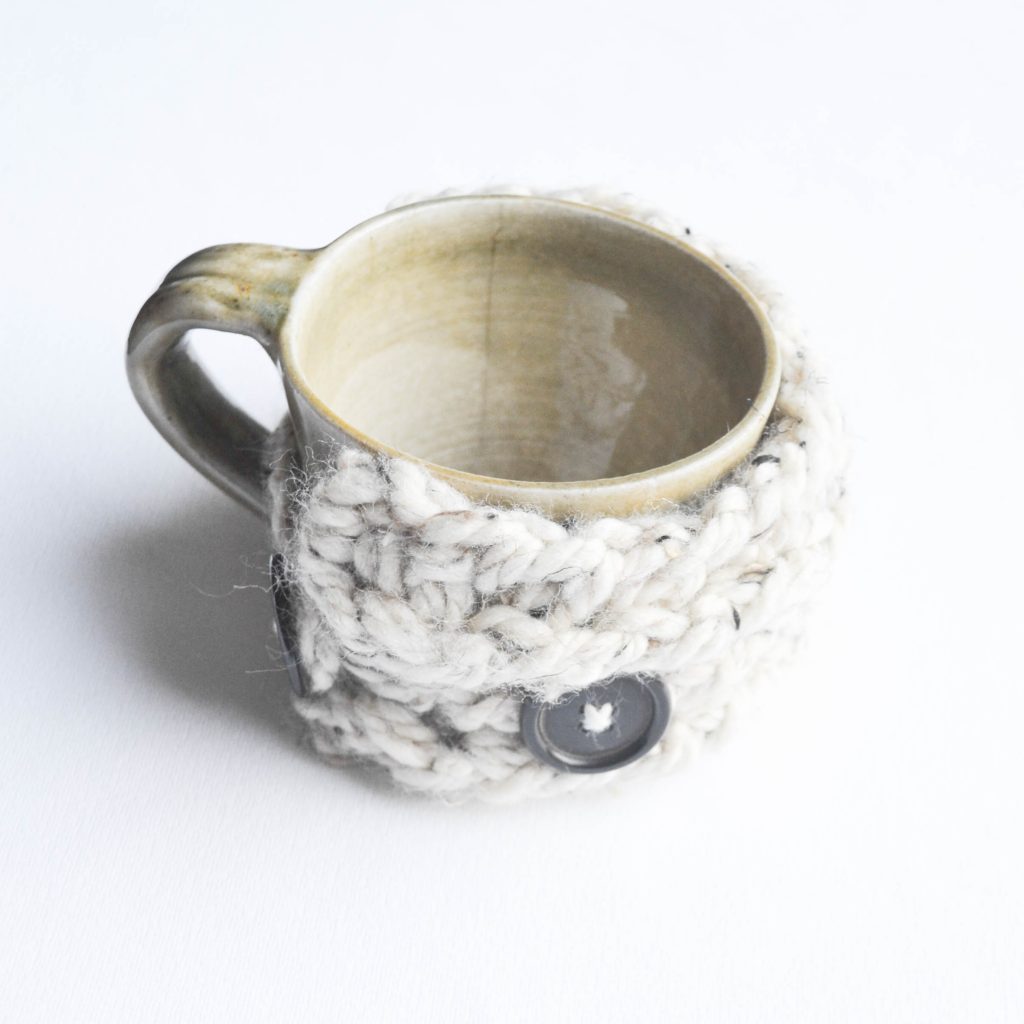 Keep reading below for a few more specifics on my "Cuppa Cuppa mug cozy pattern."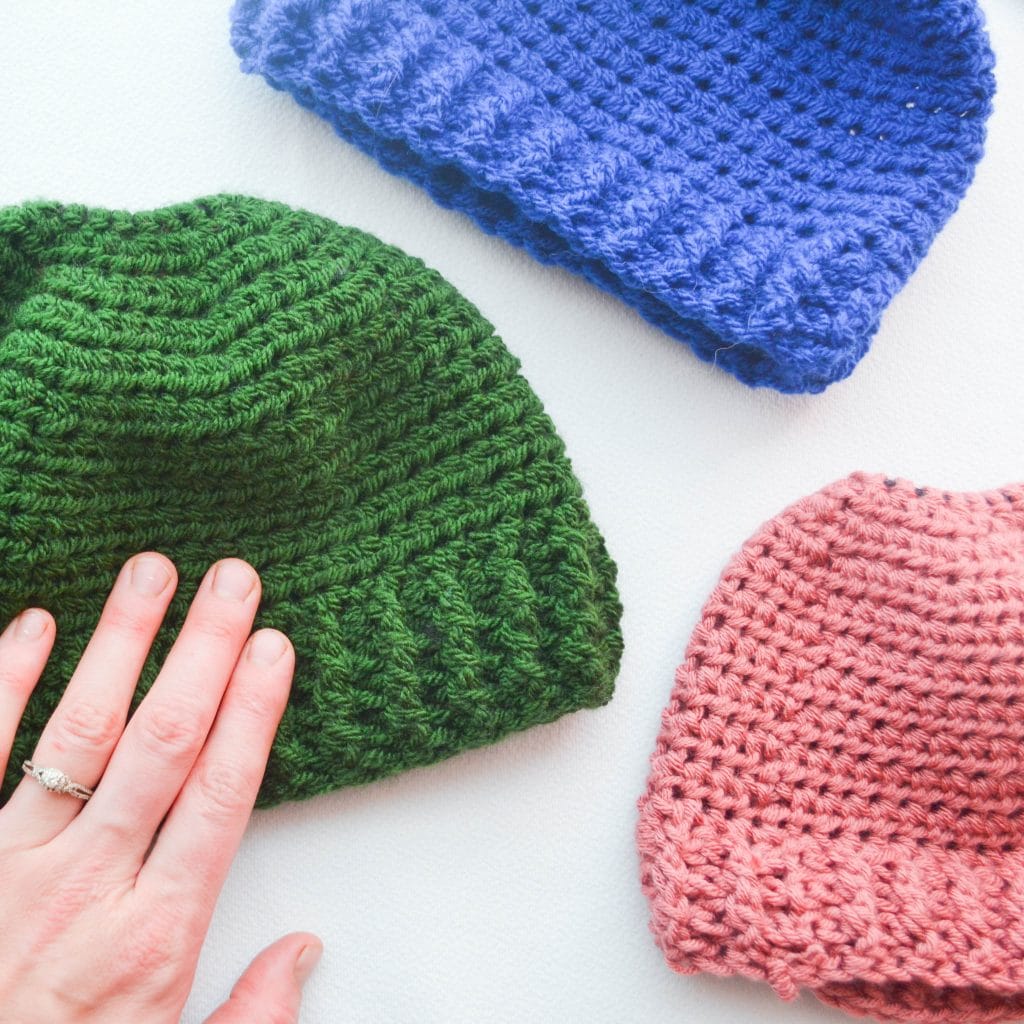 Want a few popular patterns as free PDFs?
About This Crochet Mug Cozy.
This Crochet Mug Cozy design came from wanting something that is VERY quick to work up, and something that could work with many different mug sizes/styles(through having an adjustable finish). This project came out fulfilling both of those things, and as a bonus the directions are also very short.
Materials Needed
For each one of these cozies, you will need:
N/9mm hook
25 yards super bulky yarn
2 large(1-1 1/2" buttons)
Thread or thinner yarn for sewing on buttons.
Tapestry needle
Normal(sharp) sewing needle
Scissors
For my own mug cozy, I wanted a nice neutral color to go with my favorite earthenware mugs. Thankfully, I had some Wool Ease Thick and Quick leftover from making the Winter Windows Throw, so the one pictured is done in the color "Oatmeal".
This design can be made adjustable to whatever size(s) of mugs you have, based on where you place a couple of buttons. Above, I included a normal/smaller sewing needle and regular sewing thread in the materials list just because having those things on hand will make it easier to attach the buttons. Depending on what buttons you decide to use, your tapestry needle might work, but a smaller needle gives you more options.
Skill Level
To get the ribbed texture on this mug cozy(which gives your fingers a nice place to sit when you're cupping the mug in your hands), lots of front and back post stitches are used. Besides this technique, everything in this pattern is very basic. It's easily stilll a beginner pattern, at least for the crochet portion. Doing a bit of hand-sewing for attaching those buttons is technically a whole different skill, but in the sewing world that would also be considered beginner-level.
Free Pattern Directions
Note: Turning chains in this design count as stitches.

Ch9

Row 1: skip 2ch, dc in every other stitch (7 stitches). Ch2 and turn

Row 2-11: FPdc, BPdc. Repeat 2x more. FPdc around the edge (8sts). Ch2 and turn.

Row 12: FPdc, BPdc, FPdc. Ch10 (button loop). BPdc in the next stitch , FPdc, BPdc, FPdc around the edge. Bind off.

Sew buttons at the beginning end of the cup cozy, along the middle. You can see themon to best fit the mugs you have, or simply put one at the edge(for larger cups) and one a little farther away(for the smallest cups).
Final Thoughts
If you'd like to see more crochet pieces like this, be sure to sign up for emails. Each week I send out new projects, crochet tips and tutorials, behind-the-scenes info, and other resources for my readers. Plus, as a bonus for signing up you'll immediately get the current free pattern bundle with downloadable pdfs.
To make sure you can get ALL my patterns(including the Thankfulness Cardigan) be sure to check out the Makers' Crochet Vault .
This is where members can download unlimited pdfs, browse organized tutorials for certain projects, and reach out to me for any priority support you need.
you can get more information and enroll here.
Keep the Crafting Delightful!
Amelia
The Cuppa Cuppa Mug Cozy is a very quick crochet project that easily works up in less than an hour.
You might also like: