The Luxury Twist Earwarmer pattern is perfect for creating Mommy and Me sets, crochet gifts, or making for yourself.
First, there were messy bun beanies. Now, the popular and flattering shape of handmade headwear has leaned heavily towards what I call "cinched". At some point the work is gathered up somehow to create a pretty curve rather than having one flat band going around the head.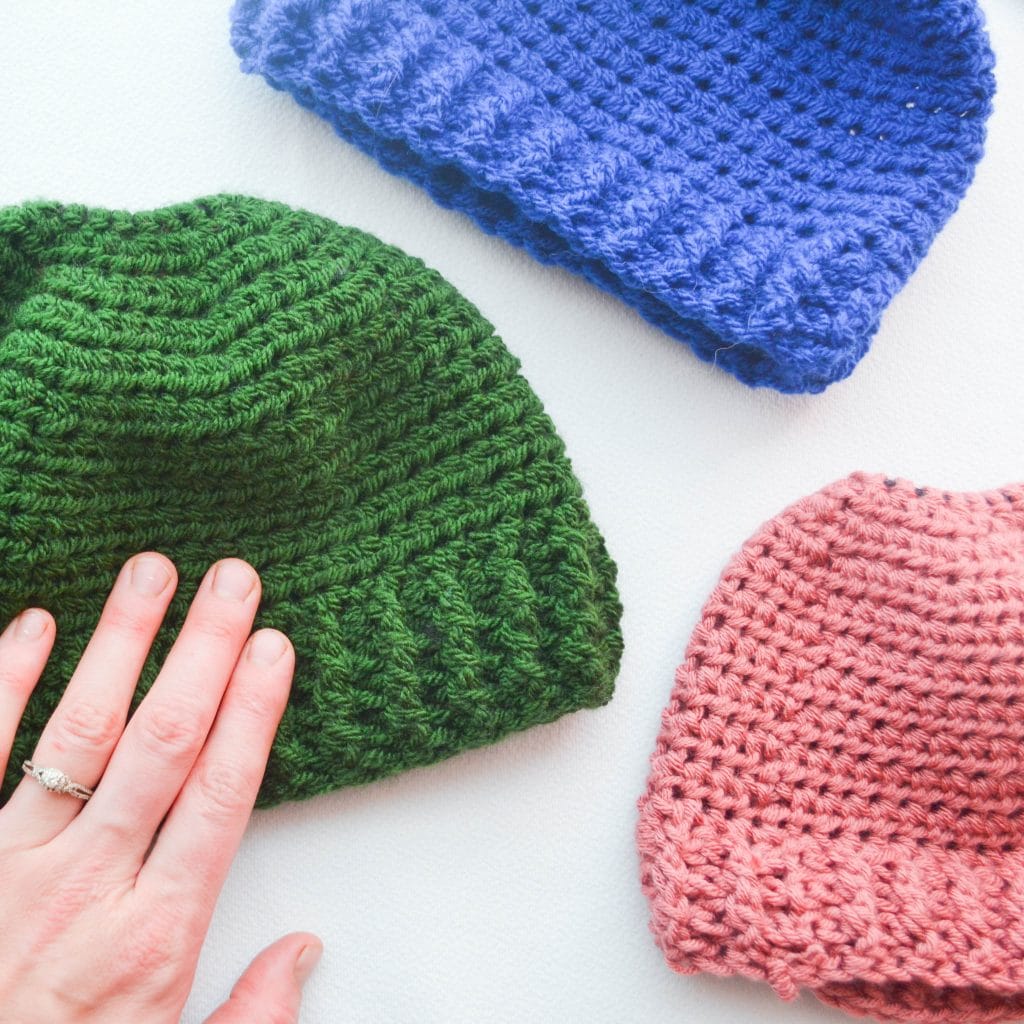 Want a few popular patterns as free PDFs?
There are actually a couple of ways to create this turban-like look, but one of my personal favorties is the twist look that today's pattern will feature. In the Luxury Twist Earwarmer design, the result is actually a headband that looks like it interlinks at the front.
Not only does this type of twist look interesting, but it can be done more easily than you think.
Below, you can read more details of this design and how to get it.
On this Page:
(Click on any link to jump down)
About The Luxury Twist Crochet Earwarmer
Gauge
The gauge for this crochet earwarmer is 20 stitches and 14 rows of spider stitch per 4×4" square.
Now, if you aren't familiar with the spider stitch, never fear. It's actually an incredibly easy combination of single crochet and chains. In addition to knowing the gauge, within the download for this pattern you will find separate, specific instructions for how to crochet a gauge swatch. While you can certainly play with exactly how wide you want to crochet your earwarmer, the gauge is quite helpful for making sure this project fits well for each specific head size that's included.
Of course, if what I just said just sounded confusing and you know you are new to gauge. Feel free to check out this post for a great explanation of this that will help you "get it" and understand why gauge is so important in creating well-fitting projects.
Sizing
The pictures on this page at the time of publishing show two sizes of the Luxury Twist Crochet Earwarmer. First there is the Junior/Adult Small size(on me) and then you can also see the 6-12 month size on my daughter. Altogether, there are 8 sizes:
0-3 months
3-6 months
6-12 months
Girls' small/toddler
Girls' large
Junior/Womens' small
Womens' medium
Womens' large
Within the pattern pdf, exact head measurements are given to help you choose the pattern size that is best for you or whomever you have in mind. The earwarmer does stretch comfortably and so that helps with getting a good fit as well. There is also an estimation of the yardage needed for each size.
Personally, I thouroughly enjoyed creating a "Mommy and Me" set:
Materials Needed
To crochet your own Luxury Twist Earwarmer, you will need the following:
Approximately 37-127 yards of worsted yarn(WeCrochet Capra yarn in "Sagebrush" is shown.) Again, a size-by-size pattern can be found in the pattern notes of the pdf version.
Size G/4.00mm hook
Scissors
Tapestry needle(optional, for weaving in ends)
It was an absolute pleasure to work with WeCrochet's Capra Yarn for this project. Not only was the yarn itself luxurious to stitch up(a blend of merino wool and cashmere) but the resulting warm softness has made this earwarmer a go-to for me this winter. The icy blue "sagebrush" color of my earwarmers turned out to be a great neutral, and if you take a look at the other colors here. you'll find that all the colors are very classic, with many being on the earthy side as well. Overall, I would love to work with Capra some more!
Capra DK
Skill Level
One of the very best things about this earwarmer design is that it is absolutely suitable for beginner crocheters. Even though the actual twist feature of the band requires seaming in a specific way, the step-by-step photos in the pattern file itself show it very clearly.
In fact, I found that the crochet pattern that you are doing in the spider stitch(an easy combination of single crochet and chains) is actually more easy than many basic stitch patterns.
Why?
Well, the spider stitch actually requires you to work in to chain spaces(open spaces created by chain stitches). This makes it very easy to just move along the rows and not have to count your stitches, at least not as closely. This quality makes the Luxury Twist Earwarmer a great project to take on the go, especially since it's a small one.
Pattern Availability and Video Tutorial
At this time, the Luxury Twist Earwarmer is currently only available with a subscription to my Maker's Crochet Vault. This subscription gives you access to ALL of my patterns and makes them easy for you to browse through and download. AND, members also get exclusive access to video tutorials for some designs(including this one).
For more info on the pattern Vault or to join, you can see this page.
Final Thoughts
If you like the Luxury Twist Earwarmer, be sure to get on the list for updates from Amelia Makes. Each week I send out new projects, crochet tips and tutorials, behind-the-scenes info, and other resources for my readers. Hearing about what you'd like to learn and crochet makes my day as well!
Plus, as a bonus for signing up you'll immediately get my free pattern bundle in your inbox as a way of saying "thank you" the specific patterns are a surprise, but you can be sure that you'll get a handful of some of my most popular designs.
Grab it here:
Keep the Crafting Delightful!
Amelia
Crocheting a headband or earwarmer with a twist or cinched shape to it is an easy way to create an accessory that is both flattering and trendy.
You might also like:
Don't forget to pin for later!