It can seem like such a waste to throw away scraps of yarn. Instead, here are five ways that you can repurpose leftover yarn pieces of any size.
Pretty much any crochet project has them. When you're done putting your piece together and weaving in the ends, there is some amount of leftover yarn. Usually, we keep larger bits of yarn and wind them into small balls for scrapbusting projects. However, many times small bits of fluff and yarn-for me these are pieces 12" or less-can easily just be thrown away. This can really help with keeping our yarn stash tidy, but sometimes it seems wasteful and unneeded. In this post, I'm sharing five ways that any size of yarn "waste" can be used to be practical and pretty.
Get your own copy of 101 Crochet Ideas
If you don't already have your own container for yarn ends, get ready to start one!
1. Use Yarn Scraps for Keeping a Record of What You've Used
The first way that your yarn scraps can be useful is by keeping your own yarn and project records. This can be all sorts of different things where you take a small piece of yarn and attach it to your notes. Several of these ideas can be used with my Easy Peasy Yarn Organization System.
You can keep a notebook or binder with records of your different projects. Whenever you finish a project, simply take a piece of yarn and attach it with your notes and maybe a picture or sketch of the finished item. This is also a great place to track when you worked on a project, who it went to, the different techniques or patterns you may have used, and even what you learned while you were working on it!
Outside of a specific project, yarn scraps can be used to remember information about yarns you have used, currently have in your stash, or may want to use again. Writing down information like fiber content, color names and brand information can make yarn shopping and pattern searching much easier when you are planning out your projects. If you've played around with making swatches at all, it will also help you a lot to remember what hook sizes you prefer with a yarn, and what the gauge works up to be in the different stitch patterns you have tried.
Finally, yarn scraps can be used in your records as a way of putting together different yarn "collections" this can be color palettes, yarns by weight, and even yarns with similar fiber content. All of those groupings can give you wonderful ideas and insight about what you can do with your stash or with yarns you already have experience with.
2. Use Yarn Scraps for Stitching Details
For yarn pieces that are at least several inches long, there is a chance they could be useful as stitched details on one of your projects. This could be anything from adding eyes to crochet dolls to putting little polka dots on an animal. Below, I'm getting ready to add "sprinkles" to my crochet donut design using yarn scraps from other projects.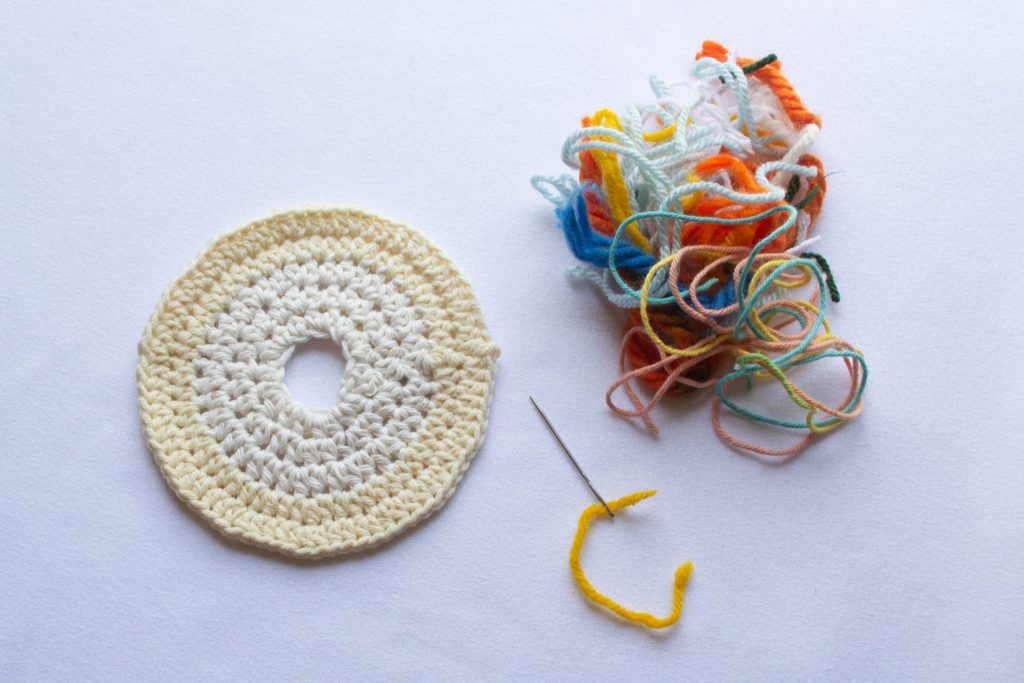 3. Use Yarn Scraps Stuffing
Another way that I used yarn scraps in my little donut projects was in the stuffing. A different size scraps can be used for this, especially pieces that are too small for anything else. In fact, now when I make my own pom poms(link the tutorial), trimming off a ton of little fuzzy ends doesn't seem wasteful! They just go into a jar for the next time I need to stuff a little amigurumi-type project.
Using pieces of yarn as stuffing can be combined with normal fiberfill. It would certainly take a lot of ends to stuff something like an average soft toy! However if you do have enough, it's perfectly fine to use up all your ends.
If stuffing your project mostly or all with yarn scraps, just keep in mind how the yarn inside the toy might behave over time. In particular, make sure it's likely to wash well. For example, if stuffing a cotton project it would not be advisable to use all wool ends inside. In washing, the a lot may felt up and affect how well the project holds up (although one piece of felting fiber here and there isn't likely to cause a problem).
4. Using Yarn Scraps as Stitch Markers
Another easy use of leftover yarn is keeping them around as stitch markers. While I enjoy using this type of stitch marker, sometimes they aren't right at hand. In those times, it is nice to have some scrap yarn at hand to weave through a row or a stitch, wherever I need to mark a place in the work. In fact, now I try to throw a few scraps of yarn in a sandwhich bag and have them in each of my project bags.
5. Using Yarn Scraps as Add-ons for Your Projects
And finally, small balls of extra yarn, or longer scraps, are great for adding extra details to your projects(other than the embroidered details from #2). You can combine one or more colors of leftover yarn to make things like pom poms, tassels, fringe, and even crochet buttons.
The neat thing about these and other ideas is that you may create color combinations and add-ons to your creations that otherwise you may not have thought of.
Bonus Idea: Using Yarn Scraps to Make Your Own Multicolored Yarn Cake!
There is one last idea that I decided should go in here, because even though you can use much larger lengths of yarn, the idea works for any scraps that are at least 8" or so. Basically, the idea is that you can take yarn leftovers and attach them end to end. Then, you can wind up that yarn into a cake or a ball that's ready to be used for a very colorful project!
My favorite way to attach yarns for this is definitely the Russian Join. This makes your DIY multicolored yarn look clean and very pretty, and keeps you from having to deal with knots later. If you do have your own yarn winder(add affiliate link) it makes it possible to actually make those cute yarn "cakes".
Below, I shared a closeup of a scrap cake that turned went in to a scrappy pillow I was making.
Final Thoughts
All of these ideas are ways that I've personally re-used space yarn pieces. Can you think of any more? If you have your own creative ways of keeping yarn waste to a minimum, I would love to about them in the comments.
Now if you enjoyed this post and found it helpful, be sure to sign up for updates before you leave! I send out new tips, projects, and other crochet-related info every week. Plus, when you sign up for emails with Amelia Makes, you instantly get sent my list of 101 crochet ideas as a bonus.
Enjoy using your yarn pieces in new ways, and keep the crochet delightful!
Amelia
Finding ways to use up yarn scraps is not only good for reducing waste, it can also give us very unique combinations to add to our projects!